Credit Card Products
Compare credit cards by provider or bank to find the right card for you.
In Australia, there a number of organisations to choose from when comparing credit cards. To help assist your search, you can use this guide to compare these institutions and the credit cards on offer to find the right product for you.
You can find a list of Australian credit card issuers and banks below. When you click on the name of the organisation, you will be led to a comparison and overview of the credit card products on offer.
---
Compare credit card providers by alphabetical order
How to compare Australian credit cards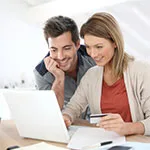 As there are so many credit card products on the Australian market, it can be overwhelming to find the right one for you. You can ask yourself the following questions to help narrow down your comparison:
What fees and rates will I have to pay? The fees and interest rates you'll incur will vary depending on how you use the card, but some of the common costs you should compare include: annual fees, purchase interest rates, cash advance interest rates, balance transfer fees and late payment fees. See the product reviews on finder for a full list of the relevant rates and fees for a particular card.
What is the credit limit? The bank will base your credit limit on factors such as your income and credit history, but you should make sure that the card offers a credit limit that will support your finances without tempting you to overspend.
Are there any promotional offers? Some credit cards come with introductory offers, such as 0% on balance transfers, annual fee waivers or bonus reward points, which can give you extra incentive to apply. These offers can add extra value to the card, but make sure you understand the terms and conditions of the promotion before you apply.
Does the card come with extra features? As well as a line of credit, some credit cards offer extra features such as interest-free days, complimentary insurance, rewards or frequent flyer programs. These can also give your card extra value, but make sure the benefits of these features outweigh the costs of the card before you apply.
Do I meet the eligibility requirements? Credit cards come with specific eligibility requirements including minimum annual income, age, residential status and credit history. You can use the product reviews on finder to confirm you meet the eligibility requirements before you apply.
See our guide on how to apply for a credit card for more tips.

Types of credit cards to compare
As well as considering the credit card provider, you can also base your card comparison on the type of credit card you're looking for. Whether you're hoping to earn reward points as you spend, take advantage of a promotional purchase rate to save on interest costs or a 0% balance transfer to consolidate your debt, here are some of the credit card types you can compare:
Balance transfer credit cards
A balance transfer credit card allows you to move your existing credit card balance to a new card with a low or 0% interest rate for a promotional period. These periods can sometimes last from 6 to 24 months, but will vary from card to card.
Once this introductory period ends, any remaining balances will start to collect the revert interest rate. Sometimes a one-time balance transfer fee will apply, but a 0% balance transfer credit card can help you save hundreds or thousands of dollars in interest depending on the size of your debt and your ability to repay before the promotion ends.
You can compare and learn more about balance transfer credit cards here.
Low purchase rate credit cards
If you're looking to save on interest costs while you spend, there are two types of credit cards that could come in handy. 0% purchase credit cards offer interest-free periods on purchases for a promotional period. The length of the promotional offer will differ depending on the card, but some can offer 0% for 6 to 18 months. Once the introductory period ends, the standard purchase rate will apply to any remaining balances.
To save on interest costs, you can also compare credit cards with low ongoing purchase rates. So, rather than offering 0% for a promotional period, these cards offer competitive purchase rates for the life of the card. These purchase rates usually range from 11% and 14%, but will vary from card to card.
The right low-interest option will vary on your spending behaviour and ability to repay, so make sure to compare your options.
No annual fee credit cards
If you want to save on card costs, you can compare credit cards with no annual fee. Some cards offer no annual fee for the life of the card, while others are waived for the first year or a promotional period.
Rewards and frequent flyer credit cards
If you're a regular credit card spender who often clears their balance in full each month, a rewards or frequent flyer credit card can help you get extra value from your credit card. Rewards credit cards allow you to earn points with your credit card provider's unique rewards program. These points can often be redeemed for cashback, gift cards, products from the online rewards store or can be exchanged for frequent flyer points with partnered programs.
On the other hand, frequent flyer credit cards are linked with a specific airline loyalty program. This means that you can earn points directly in your frequent flyer account as you spend.
These cards often come with bonus points offers and other travel perks that can help give the card extra value. Make sure to compare eligibility requirements, points earn rates and conditions, as well as the associated costs of the card before you apply.
Premium credit cards
Gold, platinum and black credit cards are suited to big spenders and high-income earners who want to get more from their credit card. The features vary between cards, but some cards offer high credit limits, competitive rewards programs, complimentary insurances, airline lounge passes and concierge services. These cards usually come with high annual fees and interest rates, so you should make sure that the product is affordable and that the extra features outweigh the cost.
These are just some of the credit card types available on the market. You can compare a more comprehensive range of credit card types here.
---
While there are plenty of banks and credit card providers to choose from, the right card for you will depend on your individual financial needs. Rather than applying for a card purely based on the issuer, make sure to compare your options to find the right card for you.
Pictures: Shutterstock
Back to top
Credit Cards Comparison
* The credit card offers compared on this page are chosen from a range of credit cards finder.com.au has access to track details from and is not representative of all the products available in the market. Products are displayed in no particular order or ranking. The use of terms 'Best' and 'Top' are not product ratings and are subject to our disclaimer. You should consider seeking independent financial advice and consider your own personal financial circumstances when comparing cards.