Best home insurance
Use our expert advice to help you compare and find the best home insurance.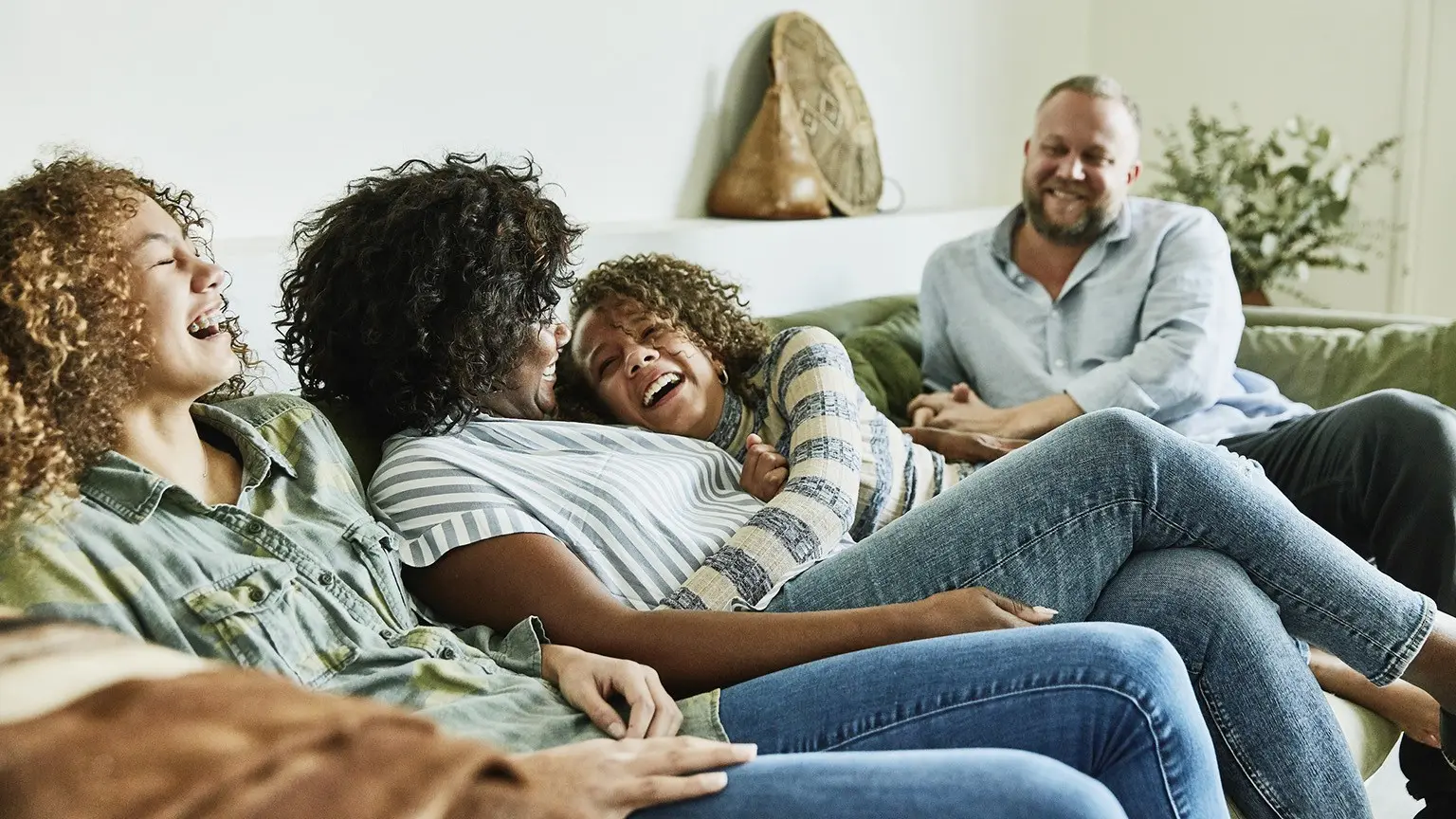 We're reader-supported and may be paid when you visit links to partner sites. We don't compare all products in the market, but we're working on it!
Finding the best home insurance can be easy - all you have to do is compare policies and see what benefits are best for you.
To make it even easier, we reveal which Finder partner is most popular with our readers and share tips on cutting the cost of your policy, without sacrificing on coverage.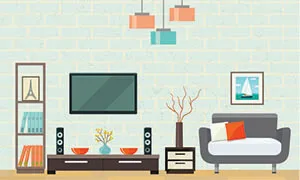 Stuck on who to choose? The 3 most popular home insurers on Finder are:
30
%
off
on your first year's premium
Fire, storm & theft cover
Rebuilding cover
Underinsurance protection optional
Lodge a claim online 24/7
Save 30% on your first year's premium when you purchase a new combined Home & Contents insurance policy online. T&Cs apply.
Looking for the best home insurance? Compare policies here
Our table lets you compare the benefits offered by Finder partners, side by side. Once you see a policy with the benefits you like, just request a quote. It's that easy.
Tip:
You can request a quote from more than one insurer. In fact, that's the best way to save money. Review benefits, request quotes, compare prices.
Here are the types of home insurance policies. Which is best for you?
The first step in finding the best home insurance is choosing which type of policy is best suited to you. Take a look at the types below to see which might be right for you.
✅ You own your home
✅ There is no strata
✅ You have filled your home with many belongings
✅ You own the property
✅ There is no strata
✅ You have few belongings at the property
✅ You rent your home
✅ You have furnished it yourself
✅ You keep many belongings in your home
If you're still unsure, take a look at the statements below. Decide which one best describes your situation to find out which home insurance policy might be best suited to you.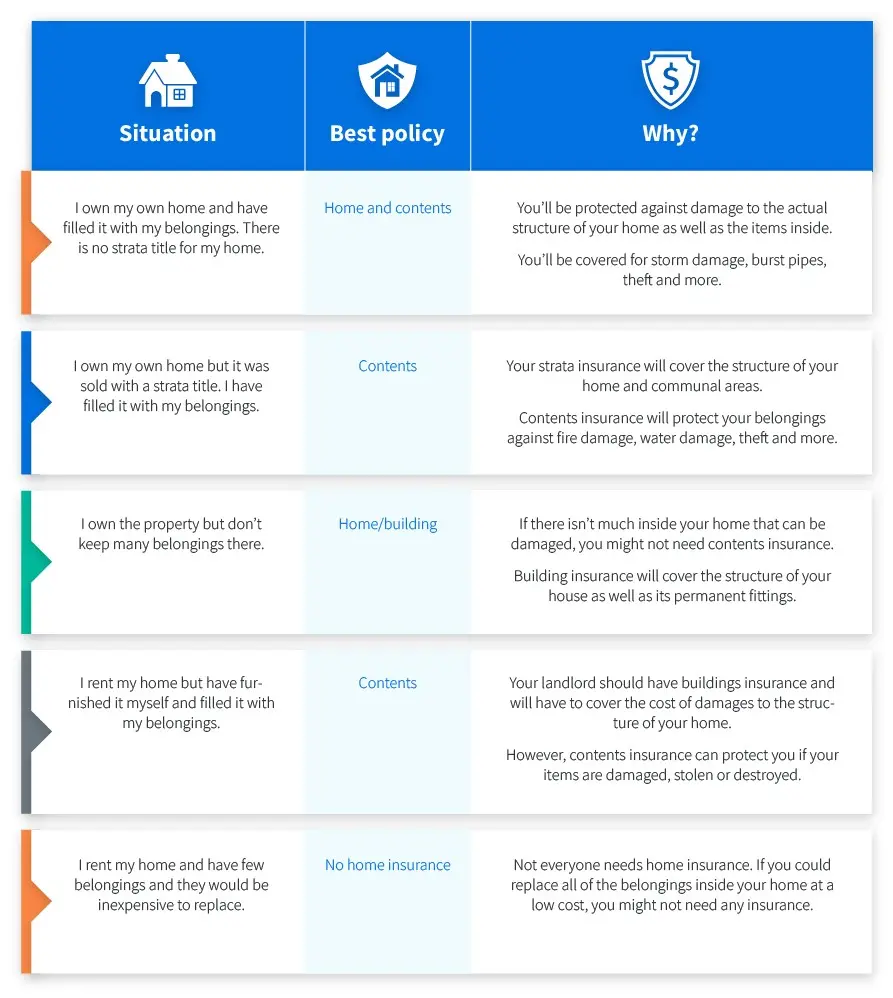 Find some of the best home insurance deals in January 2021
Hopefully by now you've figured out the best home insurance for you. Now see what offers are available to sweeten the deal.
Ready to compare policies side-by-side?
More questions about the best home insurance
What do I need to look for in the best home insurance for Qld?
Far north Queenslanders often face bigger home insurance premiums because the area is prone to cyclones and flooding. That's why it's particularly important to compare prices from different insurers to find the best
home insurance policy in Queensland
.
Remember, if you live in an area which is prone to flooding, make sure you get a policy with flood cover added on (or included). Storm damage should be included as standard in your policy.
How do I get the best home insurance for Perth?
As with any area, finding the best home insurance is all about knowing what you want, getting quotes online, and then comparing prices from different companies.
The price of houses in Perth are on the rise so it makes sense to protect something that you spent so much money on. Try reading our guide on finding home insurance in Western Australia to get started.
Flood insurance will pay to repair your home if a body of water - such as a lake, river, or reservoir - overflows and spills into your home. However, not all flood insurance covers coastal flooding or tidal waves.
If you live close to the ocean, it may be worth finding a policy which covers this type of flooding.
When looking for flood insurance, don't forget to get cover for both the physical building and damage to your belongings.
Does the best home insurance change based on where I live?
It certainly can. As an example, you might find that some brands have more cover for storms and floods, so if you live in a flood-prone area, these brands may be better suited for you.
Here's a list of our state guides that can help you decide what kind of policy is best for you.
What is the best engagement ring insurance?
There are a few different ways to get engagement ring insurance. You might want to get it through your home insurance, through a specialist, or through single-item insurance.
When looking for the best cover, make sure to get your ring valued and that your policy will cover that amount. Remember, to take depreciation into consideration. If you're getting cover as part of your home insurance, make sure to add portable contents on your policy so you're covered if you lose your ring outside of your home.
You can read our guide on finding engagement ring insurance for more info.
How do I find the best laptop insurance in Australia?
You can add cover for your laptop to your contents insurance, or you can take out single item insurance.
Some of the best policies will also let you add portable contents cover so that your laptop is covered in and outside of your home.
You can find more information in our guide to laptop insurance
How do I find the best home insurance if I'm a first-time buyer?
What is a home insurance key facts sheet and why should I read it before choosing a policy?
Every home insurance policy should come with a key facts sheet. This is a simple document that outlines exactly what you are covered for and other policy specifics you need to know. It is written in clear, non-technical language. Always read through the key facts sheet (and the PDS) before buying a home insurance policy.
Picture: GettyImages
More guides on Finder