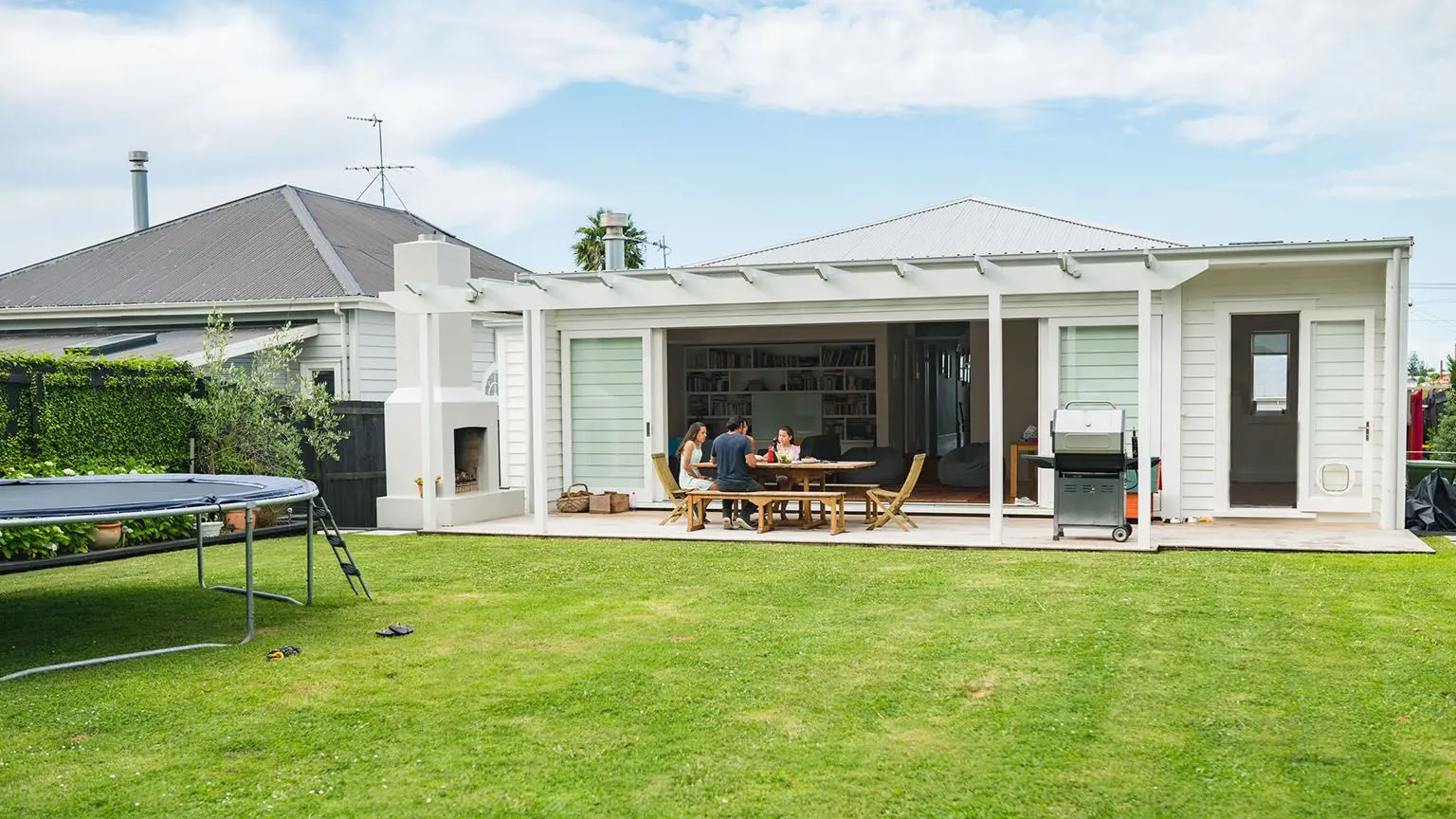 Building insurance covers your home in addition to other fixtures on your property - such as garages, fences, and sheds - against a wide range of events such as fire, storm, and flood damage. Compare building insurance policies, find the perfect cover, and protect yourself today.
15
%
off
on your first year's premium
Fire, storm & theft cover
Building modification cover - $5,000
Underinsurance protection
Money magazine's Insurer of the Year in 2017-2020
Covers the cost of rebuilding or repairing your home if disaster strikes. Save 15% when you purchase cover online. T&Cs apply.
Want to cover your home?
Compare building insurance special offers for August 2020
What does building insurance actually cover?
Whilst contents insurance covers the things you own, building insurance protects your actual house. The policies are designed to cover your residential home, including flats, units, and townhouses. Your home is the most important asset you'll ever own, so you need to make sure you have adequate cover in place for protection against a range of risks beyond your control.
Whilst no two building insurance policies are the same, there are some basics that you should be covered for.
What fixtures does building insurance cover?
Building insurance covers your residential home, including flats, units and townhouses. These policies also include protection for other structures and fittings on the property such as:
garages and carports
sheds
fences, gates and outdoor walls
decks, patios, pergolas and verandahs
outbuildings
fixed swimming pools and spas
garden borders and pathways
driveways
permanently housed or wired electrical appliances
permanently fixed outdoor items like solar panels and satellite dishes
clothes lines
permanently attached fixtures including wall, ceiling and floor coverings
boat jetties and pontoons.
What fixtures aren't covered by building insurance?
Before you decide on the right policy for you, you'll need to make sure you're aware of the fixtures, fittings, events and co
sts that building insurance generally does not cover. Most policies will not provide cover for loss or damage involving the following:
your contents
any new building in the course of construction
any part of the building which is used for farming, for example a barn or a silo
temporary or mobile structures such as caravans or houseboats
inflatable or portable swimming pools and spas
carpets, rugs, blinds, drapes and curtains
air conditioning units which are attached within a window
plants, trees and shrubs
hotels, motels and guest houses.
How much does building insurance cost?
We looked at quotes from 11 Australian brands for the exact same house. We got two sets of quotes - one with a rebuild cost of $500,000 and another with a rebuild cost of $1 million. We found that prices can differ by hundreds each year depending on who you insure with.
How do I choose a policy?
It's easy to sometimes get overwhelmed by a policy's product disclosure statement. There are a few things that you should be looking at in a policy to determine if it's really all it's cracked up to be.
Defined events. Many policies only cover defined events. This usually means that you're covered for things like fire, explosion, storm, earthquake, and vandalism damage. You will not be covered for any events that aren't classified under their events category. Read the PDS in detail and determine if you've got enough cover.
Accidental damage. Spilt a glass of red wine on your carpet? Accidental damage covers those unforeseen events that can lead to damage to your home and possessions. It is a great safety net for those who may not have savings on hand to cover life's mishaps.
Sum insured. The sum insured is the maximum amount that your insurance company will pay out in the event that your home is totally destroyed. It will typically cover the costs of rebuilding your home. Ensure that you value your home and contents adequately to prevent underinsurance. For a guide to underinsurance, head here.
Safety net. Safety net home protection provides a buffer if the cost of rebuilding exceeds your sum insured. It's typically around 25-30% of your sum insured.
Total replacement. Total replacement cover pays whatever it costs to repair your building. This means that you don't need to worry about any cost shortfalls, making it a great option for avoiding underinsurance. However, it is only available from a few insurers.
Are there any other policies that might suit me better?
Commercial building insurance
If you've got a commercial property as opposed to a residential then commercial building insurance might be a better fit. These policies provide cover for your business' contents, fixtures and fittings against a variety of events that can result in loss or damage.
Strata building insurance
This type of insurance is designed to provide cover for strata title properties and to be taken out by a body corporate or owners corporation. It includes cover against risks like fire, flood, storm and earthquake, as well as loss of rent if property damage forces tenants to leave. Theft, malicious damage, water and oil leaks, broken glass and legal liability are also included in cover.

The fine print: what should I be looking out for?
There are a few things to be aware of when reading your policy's product disclosure statements. Some of these include:
Termites. Damage from pests such as termites is usually not covered as insurance companies see pests as the homeowner's responsibility. It's perceived as a preventable damage, rather than an accident. If your property is prone to termites it's best to become aware of this as soon as possible and treat it as necessary.
Strata. If you live in strata such as an apartment block, your body corporate will have their own strata insurance that generally provides cover for your building, parking, and other shared areas. In most cases, you will be required to pay strata fees. Strata does not cover you for interior fixings, so most homeowners with a strata-titled property will also take out a contents only policy.
How much cover do I need?
Having the right level of protection in place can save you thousands of dollars in the long run. However, some estimates suggest that as many as 80% of Aussie's are under-insured. Whilst it may seem appealing to cut costs at first, the risk of not having enough cover in place is not worth it.
The building insurance policy you take out should cover the total replacement cost of your property, including other expenses which may arise such as temporary accommodation. If you're under-insured, you'll have to pay the gap between what your policy covers and the replacement cost for your building, which in many cases could be a substantial amount of money.
The building insurance policy you take out should cover the total replacement cost of your property, including other expenses which may arise such as temporary accommodation. If you're under-insured, you'll have to pay the gap between what your policy covers and the replacement cost for your building, which in many cases could be a substantial amount of money.
Compare building insurance policies
*The products compared on this page are chosen from a range of offers available to us and are not representative of all the products available in the market. There is no perfect order or perfect ranking system for the products we list on our Site, so we provide you with the functionality to self-select, re-order and compare products. The initial display order is influenced by a range of factors including conversion rates, product costs and commercial arrangements, so please don't interpret the listing order as an endorsement or recommendation from us. We're happy to provide you with the tools you need to make better decisions, but we'd like you to make your own decisions and compare and assess products based on your own preferences, circumstances and needs.
Read more:
Picture: GettyImages