We're committed to our readers and editorial independence. We don't compare all products in the market and may receive compensation when we refer you to our partners, but this does not influence our opinions or reviews. Learn more about Finder .
Compare gas plans and get rates in your state
Select your state in the filter below (or in the dropdown if you're on mobile) to see what gas plans are available. Note: The following comparison is a general guide of what brands are available in your state. Always check on the providers website if your postcode is covered
Compare
up to 4

providers
Compare, switch and save
How much money you can save on natural gas varies widely based on your location, but the difference between the most expensive and cheapest options can be significant. For example, in QLD and the ACT, there's over a $100 gap between their cheapest and most expensive providers. Note: This price gap is subject to change.
Get a cost estimate for gas from Australia's most popular energy brands
🧪How we determined popular brands
The most popular brands were based on market share using figures from the Australian Energy Regulator (AER's) Annual retail markets report 2018-19 (Table 1.1.). Keep in mind that the most popular brand may not always be the best for you, and you're encouraged to compare for yourself to find one that works for you.
Compare energy market rates against your bill
What is the average cost to use gas in Australia?
Although it depends on your provider, here's a snapshot of how much gas costs per MJ in a few of the major states in Australia.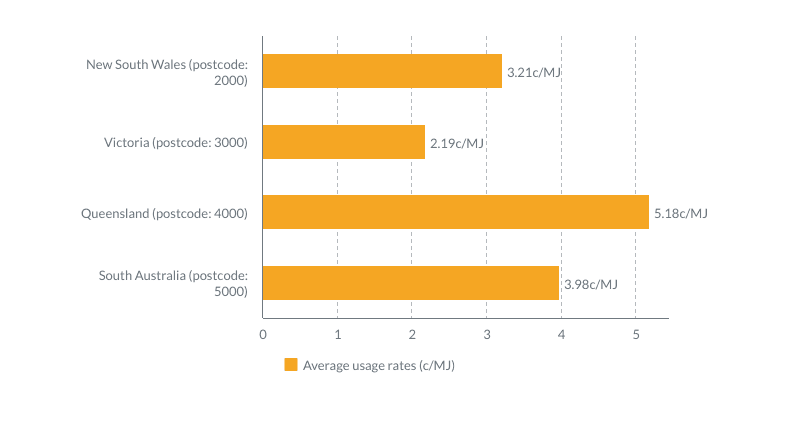 What affects your gas bill?
Struggling to find the important info on your gas bill? While there's a lot on there, you only need to worry about a few key sections, such as the rates, tariffs and your total gas usage.
Here's what to watch out for and where to find it:
Top of your bill
Bill period. This is the date range that the bill covers. Natural gas can be billed quarterly or once every one or two months. You'll find this near the top of your bill.
Everything else
Supply charge. This is the amount you pay daily for being connected to the gas network, independent of usage. Your total supply charge is this amount multiplied by the number of days in the bill period. This is usually on the second page of your bill in the "your gas usage" calculation or detail section.
Usage charge. This is how much you are charged per MJ of gas consumed. This is found in the same section as the supply charge.
Total usage. This is the total MJs of gas used across the whole bill period. It's the difference between your current meter reading and your meter reading at your last bill. It's found in the same section as the usage charge.
Discounts. Discounts will reduce your total bill or usage charges by a flat amount (e.g. $30) or a percentage (e.g. 10% reduction). These will be listed in the usage section and will show how much they've saved you.
Tariffs. Your tariff will affect how you're charged. For example, a single-rate tariff charges the same for all usage. A block tariff charges you one rate for the first "block" of consumption in a day, and a different rate for subsequent usage (e.g. your rate falls for all usage after 27MJ). Details of your tariff are found in your usage and supply section.
Seasonality. Some plans have seasonality, where your rates will vary between winter and non-winter seasons. This will be labelled in your usage section.
Are you on a good deal?
It's not fun to constantly wonder if there's a better gas deal available. Fortunately, gas plans are simpler than electricity, so there are only three things to focus on when weighing up how good a plan is.
Price. Look at rates, not estimated prices. Usage rates will be the majority of your bill, so if one plan has lower rates than another, you should end up paying less. Discounts can be temporary or conditional, so try not to rely on them when judging a plan.
Fees. Aim for plans with fewer fees. Some of the fees companies charge include fees for paying by credit card, fees for moving and fees for receiving a paper bill. All fees will be listed in the "Fees" section on the plan's information sheet.
Contracts. Some plans may lock you in for a set period of time and charge you early exit fees if you leave early. If the plan involves a discount you're keen on, check whether it expires at the end of a benefit period (usually 12-36 months).
How to get cheaper gas
Compare usage rates ($/MJ). Lower base usage rates mean you pay less per MJ of natural gas. Putting all other discounts aside, you want usage rates to be as low as possible to save.
Check your previous bill. Having a copy of your previous gas bill handy can let you get an idea of what you'll pay on a new plan for the same general usage. Knowing how much gas you use daily will let you know whether you can save on a new plan.
Check tariff rates. Natural gas is often charged on a block tariff, where usage rates fall after you hit certain thresholds of gas use per day. If you use quite a lot of natural gas daily, finding a plan where usage rates drop significantly with use could benefit you.
Compare regularly. Most benefits, fixed rates, and discounts run out after just a year or two, meaning your rates may rise or change significantly after the benefit period ends. Comparing your plan every year or so can help you keep costs down and take advantage of new offers.
Key terms to understand when comparing gas
Rates. Your natural gas plan will have two rates attached. The supply rate tells you how much you pay per day simply to be connected to the grid. The usage rate is how much you get charged for your actual usage per MJ of energy.
Tariffs. There are two main gas tariffs:

Flat rate: Single price for gas no matter when you use it.
Block: Different usage rates are charged depending on how much gas you've used so far that day. Generally, usage rates drop for each successive block.

Contract types. A contract can either be ongoing or have a benefit period. Ongoing contracts retain the same terms over time. Contracts with benefit periods will have their benefits and discounts expire once your benefit period is up.
Where can you find the terms and conditions of your gas plan?
Legally, every retailer is required to clearly lay out all the terms, conditions and details of its plans on a free, easy-to-access document. These are known as Basic Plan Info Documents (BPIDs) in most of Australia or as Energy Fact Sheets in Victoria.
These sheets are designed to be as clear and accurate as possible, describing fees, billing details, contract details and more.
If you're after a plan document, you can obtain them from the following places:
Our comparison table. Click "Basic Plan Information" or "Energy Fact Sheet" (for Victorians), located in the "Name" column box.
Your retailer. These documents are freely available on the retailer's website, or you can request one at any time.
The government. The government's Energy Made Easy website has documents and information for every plan offered in Australia.
Is your gas provider reputable?
In our experience, the more accessible and responsive a retailer is, the more reputable they are.
That's why we've put together the Finder customer service score, which rates companies based on a number of factors, including the following:
Call centre service. When can you call them and what are the weekend hours?
Website/app usability. How easy is it to navigate the site or app to pay bills or compare plans? Does the site have extra features such as usage charts?
Help and support online. Do they have live chat? Facebook support? How can you contact them?
Application process. How easy it is to apply online? Some providers may require a query or phone call to set you up
Financial hardship program. When you're struggling financially, how much support does the company offer in the form of payment plans or financial counsellor referrals?
The higher the score, the more reputable we think they are. You can find a provider's Finder customer service score on its provider page or listed under each plan in our energy comparison table.
These scores are different from customer reviews, which are subjective and not always reliable.
How easy is it to switch gas providers?
Switching gas providers should be easy and straightforward. Before doing anything else, check if you're on a contract with your current provider. If you are, you may have to pay an early exit fee to switch.
Otherwise, all you need to do is the following:
Find a new plan. You can find a better deal using our comparison engine to see what's available.
Contact your new supplier. Have your details on hand, including your address, bank details and Delivery Point Identifier for your meter (found on your bill). They'll send a request to your distributor, who will send it to your current retailer.
Wait. After your next meter read, you'll receive a final bill from your old supplier with any outstanding fees included. Your gas account will then be switched over to your new provider.
And that's it. You shouldn't need to do anything else for your gas to be up and running on your new plan.
Where does gas come from?
Natural gas accounts for around half of the energy used to power households in Australia. Gas in Australia is sourced from onshore and offshore sources and is not considered to be a source of renewable energy. Gas produced in Australia is exported to countries around the world and 37% of the gas used in Australia is used for electricity generation.
How does the gas market work in Australia?
There are three gas regions in Australia:
The East Coast Region includes Queensland, Victoria, New South Wales, South Australia, Tasmania and the Australian Capital Territory.
The Western Region includes Western Australia.
The Northern Region includes the Northern Territory.
What is natural gas?
Natural gas is generated from organic matter that was initially plants or animals that had been buried. Through heat and pressure forces over hundreds of millions of years, these organic chemicals were compressed to form inorganic fuels. This is where the name "fossil fuel" comes from, it's literally a type of fossil.
About half of Australian homes rely on natural gas as a source of energy. These are predominantly in Victoria, New South Wales and the Australian Capital Territory. The gas we use mostly consists of methane, which is colourless and odourless. If you've ever smelled gas in your home, that smell is actually added to make it easier to detect.
Natural gas releases about half of the carbon that burning coal releases. However, it isn't as good for the environment as solar, wind or hydroelectric. If the environment is your number one concern, check out our comprehensive guide to going solar.
Gas options by state
Whether or not you have a choice in your gas retailer depends on where you live. For more information on energy options where you live, click on your state:
How to request a gas connection in 5 steps
If your home isn't already connected to a natural gas pipeline, you can request a connection through your chosen gas supplier. Keep in mind, installation can be costly and might not be possible if your property isn't within range of a gas main.
Check if gas is available for your home by asking your energy retailer. If it is, you can lodge a new connection request.
Your gas provider will arrange to connect your home to the pipeline.
Buy gas appliances and have them installed and connected to your new gas system.
Arrange to have a gas meter installed through your retailer.
Can I get gas with my electricity?
The answer to this question is yes, unless you live in the Northern Territory. Every other state has one or several providers who offer both utilities, meaning that you can purchase electricity and gas from a single retailer. Some even have bundle offers or incentives to encourage you to buy both together.
Is there much benefit to bundling?
Bundling is buying more than one service from the same company, such as electricity and gas. While it could help you save money, you're almost always better off buying separate, competitive plans.
The real benefit of bundling is that you'll receive your bills from the same company, making budgeting and billing less of a hassle. Occasionally, companies offer bundling discounts for combining services, but these are rare on the current market.
To read more on bundling and if it's worth it, plus current bundling offers, read our guide to bundled gas and electricity plans.
Should I use gas or electricity appliances?
In short, it depends. We go into detail about gas vs electricity in this guide, exploring environmental concerns, running costs and more.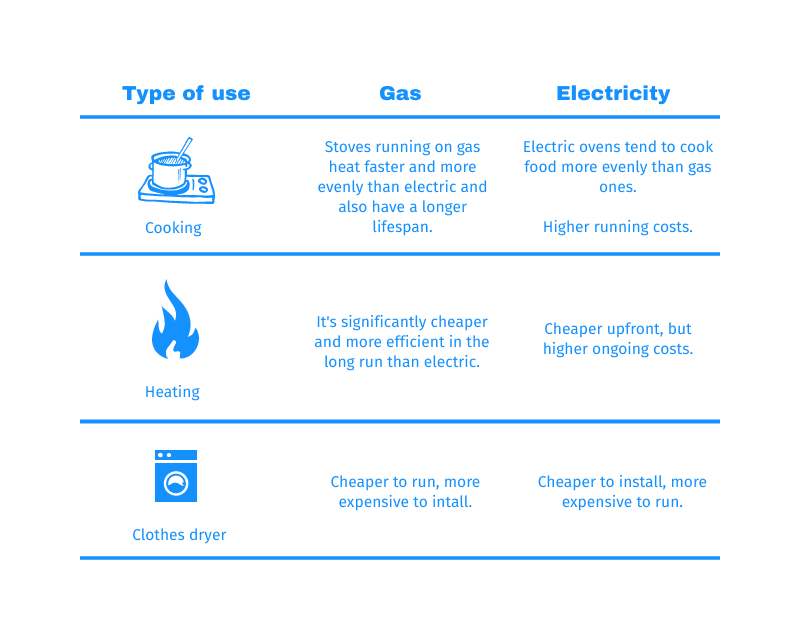 Mostly, this will depend on how your home is set up as well as on what appliances you already have. Some houses will benefit from going all electric and supplementing it with solar power, while others will save with gas.
Look at heaters, for example. An electric tower heater may cost you $160 over the winter months, while a gas convection heater will only cost $108 to run for the same period. But the convection heater will cost much more upfront, and the electric heater could benefit from your solar panels.
How can you reduce your gas usage?
There are three main uses for gas in most households: cooking, heating and hot water.
Here are some tips to reduce your use with each of them if you're using gas appliances.
This advice applies to gas ovens and cooktop stoves.
Skip preheating. Gas ovens heat up much faster than electric versions, so don't bother. Turn it on when you need it.
Check the seal. Older ovens or ones that aren't fitted properly may have loose seals. Check for escaping heat when cooking, and keep the door closed as much as possible.
Use residual heat. Many recipes can be finished by turning off the stove a little early and using the leftover heat to complete them.
Tighter lids. Use tight-fitting lids to prevent heat from escaping from your pots and pans. More heat escaping means more wasted gas.
Gas heaters are more efficient than electric heaters, but there are still ways to reduce your use.
Get the right heater. Figure out how much space you need to heat. Central heating is more efficient if you need to warm your whole house, but you can get a room heater if you're worried about one main area.
Choose a reasonable temperature. The most efficient setting is 18-20 degrees Celsius. Each additional degree above that can increase your heating bill by around 10%.
Buy a more efficient appliance. Not all gas heaters are the same. Buying a heater with a better efficiency rating can save you money in the long run, even if it costs more upfront.
If you have a gas water heater, the key to reducing your use has more to do with your water use and systems than the heater itself.
Insulation. If you can install insulated hot water pipes in your house, this will complement the insulation on the heater itself. This can prevent tons of heat loss.
Water efficiency. Appliances have various water efficiency ratings. Higher hot water efficiency does double duty – it saves on your water bill as well as your gas bill from heating.
Pay attention to temperature. Running hot washes in your dishwasher or washing machine all the time will consume a lot of gas. Consider going for colder rinses where possible to save.
Showering. Showers are more efficient than baths, and shorter showers are even better. Check that your taps aren't dripping and consider installing a more water-efficient showerhead. These can make a surprisingly large difference!
[/fin_tab
How do MJs work?
"MJ" is an abbreviation for megajoule, a unit of energy used to measure gas consumption. Your gas bill will summarise your total natural gas consumption in megajoules.
Gas appliance efficiency is described in terms of MJ/h, or how many MJs of gas this appliance consumes in one hour of normal use. For more details on how gas is measured and the average cost of gas in Australia, see our guide.
Frequently asked questions about gas in Australia
---
Prefer to compare with an energy broker?
Expert Advice

No obligation to sign up

100% Free Service
---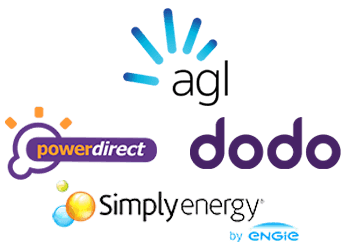 Read more on this topic
Lower your household bills