Kogan Energy: Electricity and gas plans
Kogan has added to its extensive range of services with energy plans for residents of VIC, NSW, QLD and SA.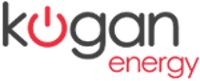 Kogan has been offering tech, home insurance, furniture and more for years. Now it's selling power with Kogan Energy. It has partnered with Powershop to bring power to residents in four states, promising uncomplicated plans to help customers save.
Although Powershop is Australia's greenest energy supplier, there's no evidence that Kogan Energy has the same green approach to power.
Is Kogan Energy right for me?
| | Details |
| --- | --- |
| | A single electricity plan for NSW, VIC, QLD and SA, plus gas to residents of VIC. |
| | Basic electricity and gas services with no confusing promotions or offers. |
| | Having solar will raise your usage rates considerably. |
Find out how much you can save by switching to Kogan Energy
What plans are offered by Kogan Energy?
Kogan has a single electricity plan for residents in NSW, VIC, QLD and SA. It also provides gas to VIC residents.
Electricity: Kogan Energy Market Offer
This is a basic residential electricity plan available in multiple tariff structures: single variable rate, time of use or either of the above plus controlled load. This plan is only available month to month with no contract.
Gas: Kogan Energy Market Offer
This is a single variable rate residential gas plan available to customers who live in Victoria. Like electricity, this is only available month to month.
Does Kogan Energy offer solar?
Kogan Energy doesn't support solar installation, but its plans do include solar tariffs as required by law. These are below average across the board and in most cases having solar power will raise your usage rates. If you have solar, it may be better to choose a different retailer.
How green is Kogan Energy?
Since Kogan Energy is such a recent addition to the energy market, it wasn't part of the 2018 Green Electricity Guide. However, it doesn't offer GreenPower on any of its plans, meaning customers can't guarantee that any part of their electricity comes from renewable sources.
Does Kogan Energy offer any special incentives to sign up?
No, Kogan Energy does not have any special discounts or incentives on offer for new customers who sign up to a plan.
Can I manage my plan from my phone?
Yes. You can pay your bills, manage your use and view your account history using the Kogan Energy app, available for iPhone and Android on both the Apple Store and Google Play.
Read more on this topic