Kogan Energy: Electricity and gas plans
Kogan has added to its extensive range of services with energy plans for residents of VIC, NSW, QLD and SA.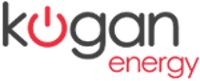 Is Kogan Energy right for me?
What does Kogan Energy offer? Electricity and gas in Victoria as well as electricity in New South Wales, South East Queensland and South Australia.
Product highlights: Get basic electricity and gas services as well as solar feed-in tariffs for customers with solar panels.
Watch out for: Kogan doesn't offer any energy plans for business customers. There are also no GreenPower options.
---
Kogan Energy electricity and gas
After over a decade of selling everything from TVs to car insurance, Kogan has expanded into the energy market. Kogan Energy launched in September 2019 in partnership with renewable energy specialist, Powershop.
Residential customers in New South Wales, South East Queensland and South Australia can sign up for electricity services with Kogan Energy. Victorian residents can sign up for both electricity and gas services. Kogan doesn't yet offer any energy options for business customers.
All Kogan Energy customers are required to have a smart meter. If you don't already have one installed, Kogan will handle the installation for an additional fee. It generally takes around three or four weeks to get fully set up with Kogan Energy.
Once you have a smart meter, you can download the Kogan Energy app from the App Store and Google Play. The app connects directly to your smart meter to show your energy use in almost real-time. You can also use the app to pay your bills.
| State | ⚡ Electricity | ♨️ Gas |
| --- | --- | --- |
| NSW | ✅ | ❌ |
| VIC | ✅ | ✅ |
| QLD | ✅ | ❌ |
| TAS | ❌ | ❌ |
| ACT | ❌ | ❌ |
| SA | ✅ | ❌ |
| NT | ❌ | ❌ |
| WA | ❌ | ❌ |
---
Can I get solar power?
Yes, Kogan offers solar feed-in tariffs for customers with solar panels. You can get estimates of solar feed-in tariffs in your area at the Kogan Energy website.
However, Kogan doesn't offer any solar installation services. If you don't already have solar panels, you'll have to arrange installation before signing up for an energy plan.
Explore your options in our guide to solar power
Can I get GreenPower?
No, while Kogan partners with Powershop, the "greenest" electricity provider in Australia, Kogan Energy isn't GreenPower certified and doesn't offer any carbon-neutral options.
---
What else does Kogan offer?
Kogan is best known as an online retailer that specialises in low-priced electronics and home appliances, including their line of smartphones.
Check out our regularly updated list of Kogan promo codes
In addition to retail products, Kogan offers the following:
---
How can I pay my bills?
Kogan Energy only offers one option for bill payments: direct debit.
When you sign up for an energy account, you'll need to provide credit card or bank account details. The amount you owe will then be taken out of your account or charged to your card automatically on the due date each month.
---
Why consider Kogan Energy?
Hardship program. If you're having trouble paying your energy bill, contact Kogan customer service to check if you're eligible for a hardship program or any rebates and concessions in your state.
Cooling-off period. If you change your mind after you sign up for a new energy plan, you'll have a 10-day cooling-off period to cancel without having to pay a fee.
Bill smoothing. If you opt for bill smoothing, the retailer will estimate your annual energy bill and break it up into regular payments. This helps make your payments more manageable so you can avoid quarterly bill shock.
---
How do I contact Kogan Energy for support?
---
Ready to save on your energy bill? Find out how to switch energy providers
Read more on this topic
Lower your household bills