Public Liability Insurance in Australia
No matter what industry you work in, getting public liability insurance should be at the top of your checklist.
We're reader-supported and may be paid when you visit links to partner sites. We don't compare all products in the market, but we're working on it!
Whether you're in the construction business or run a small motel, the risk of injuring someone or damaging their property shouldn't be ignored. In 2018-19*, there were over 37,000 liability claims reported in Australia over the course of a single year.
Luckily, public liability insurance can protect you. It can cover compensation costs, legal fees, medical costs and more, protecting you and your business from serious financial repercussions.
*General Insurance in Australia report, April 2020
What would you like to do next?
Compare quotes online Speak to a broker Learn more
---
If you are ready to speak with a consultant about different business insurance options available, simply enter your details in the form. Keep reading if you want to learn more about the different types of cover available.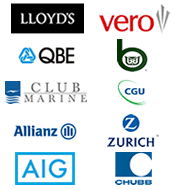 What is public liability insurance?
Public liability insurance is a type of cover that protects you if your business becomes legally liable if someone is injured or their property is damaged.
It refers to damages from the physical surroundings and physical property rather than damages from services you provide. For example, it will cover you if someone slips and falls on your property, but not if you splash bleach into their eye while dyeing their hair.
What costs are covered?
If approved, your public liability claim will cover what you owe the person suing you, plus your legal fees.
What does public liability insurance cover?
Public liability insurance will generally cover you for the following:
Legal liability. Public liability insurance provides cover when a court finds that you are legally responsible to pay damages and additional costs for:
Damage to someone else's property
Personal injury to someone else
Advertising liability
Legal costs. If a legal liability claim is made against you, your public liability policy will cover the costs incurred in your legal defence.
Differing levels of cover. Many insurers will offer you a choice of the maximum level of cover, for example $5 million, $10 million or $20 million.
Property in your care. You may be able to take out additional cover for damage to property in your care, custody or control. Covered items include personal belongings, temporarily occupied or leased premises and vehicles in a car park.
Cover for other people. Public liability will not only include you but any director, business partner, executive officer, shareholder or employee.
Cover for other activities. Many policies will allow you to extend cover beyond your normal business activities to include the provision of sports and child care facilities, first aid and ambulance services, and the provision of food and beverages to employees and visitors.
Products liability. Some policies will also include products liability cover for injury or damage caused by your products.
Damage to goods in possession or legal control. Provides cover for physical damage to goods that are not owned by the insured but are in their possession or legal control.
First aid expenses. Provides cover for expenses incurred by the insured for first aid given to other parties at the time of an injury.
Note: Professional indemnity insurance is offered by insurers in conjunction with public liability insurance.
Who needs public liability insurance?
After workers compensation, public liability insurance is one of the foundational forms of cover that very few occupations can afford to go without. It's not mandatory in most cases, but lawsuits of this sort can affect almost any type of business and leave you owing large sums of money.
Almost all businesses would benefit from public liability cover. Regardless of business size, public liability insurance is suitable if the business has a physical premise or operates in public (such as a mobile business). Here are some obvious examples:
Retail. Grocery stores, book shops and department stores have physical locations with lots of foot traffic, increasing the chances of someone getting injured.
Health and beauty. Gyms, physical therapy centres and hair salons also bring the public into their premises. Even solo professionals may need public liability if they carry equipment that could damage or injure a member of the public.
Hospitality. Restaurants, bars, clubs and cafes bring in lots of people while also creating a fast-paced environment where injuries are more likely.
The trades. Any business or independent contractor operating on a work site would benefit from public liability insurance, and in some cases are required by law or by contract to have it.
Entertainment. e.g. dancers, performers, event organisers, etc.
Real estate e.g. Landlords, strata management etc.
It's important to remember that public liability will protect business in these industries if they cause injuries or damage that are not related to the professional service provided.
Ask yourself these questions:
Does your work impact the public?
Are you willing to cover the costs of a claim against you out of your own pocket?
How might your business suffer if you were forced to take time off to attend court hearings or hire alternate staff to cope?
If your business had to close temporarily as a result, would you be able to handle losses from clients taking business elsewhere?
Could you afford to lose staff if you can't pay wages after damages?
If any of these questions leave you unsure, public liability insurance is likely a good idea.
Look no further than the claims data
A snapshot of Australia. In 20171 there were over 30,000 claims reported for accidents that occurred in 2017 and 36,000 reported for accidents that occurred in 2016. If we go back four years to 2013, we can get a snapshot of liability incidents by state and type.
Australian Prudential Regulation Authority, 2014. Note: incidents takes into account claims reported and an estimate for claims unreported.
How do I compare public liability insurance policies?
There's a lot more to business insurance than just public liability. You can speak to a broker or get quotes from different insurers to find what cover you need, at a price that makes sense for you.
Here are a few questions to ask yourself as you mull your options:
Does the insurer offer other products you need for your business? There are dozens of cover types a business might need beyond just public liability, and those business are better off going with someone who offers the whole package. It's more efficient, you might receive a discount and you can be comfortable knowing you're with an insurer who has a holistic view of your business risks.
What will your out-of-pocket costs be? Whenever your claim is approved, you'll almost always have to pay a small portion of the payout yourself and the insurer will cover the rest up to the insured amount. This is your excess. All else being equal, the policy with the higher excess will be the worse deal.
What will your payout be? If you need to make a claim, your insurer will have a limit on what they will pay out. The higher the benefit limit, the better for you. So make sure you take this into consideration when comparing policies
What's included? Not every policy will cover every instance of liability. For example, one policy may only cover you if the damage occurred on your property. Others will extend this to include damage you cause elsewhere, such as on house calls. Don't buy a cheaper policy over a more expensive one until you are sure it includes the cover you need.
Is anything excluded? Every policy has a list of reasons they won't pay your claim. For example, most won't pay for damage related to asbestos, and most won't pay your claim if you've done something illegal that caused the damage or injury. When comparing policies, make sure you can live with your chosen policy's exclusions.
How much does public liability insurance cost?
The average small business owner can expect to pay about $80.75 per month in public liability insurance. But you can expect costs to go up to over $600 if your business is considered high-risk. Finder took a look at two industries - food and construction - with a different number of employees to get a gauge on how much it costs to get cover. Here were the results:
| Industry | Food | Food | Construction | Construction |
| --- | --- | --- | --- | --- |
| Employees | 5 | 10 | 10 | 30 |
| Estimated Annual revenue | $200,000 | $400,000 | $500,000 | $1,000,000 |
| Insurer 1 | $60.61 | $64.56 | $346.09 | $670.79 |
| Insurer 2 | $60.87 | $69.19 | n/a | n/a |
| Insurer 3 | $144.41 | $230.79 | n/a | n/a |
| Average cost (per month) | $88.63 | $121.51 | $346.09 | $670.79 |
Quotes were taken from BizCover's Insurance engine in March 2018. All policies have an excess of $500.
Ready to look at your options?
Whatever your business needs are, you can choose to get a quote online or speak to a broker. It's totally up to you.
What affects the cost of public liability insurance?
Here's what an insurer will generally take into consideration when coming up with your premium:
What your business does. Some businesses simply attract more risk than others. For example, the risk of injury or damage on a construction site will be higher than that of a retail store. Insurers will analyse what you do, compare this to past claims in that industry and factor this into your premium.
How big your business is. The larger the business, the higher the risk of injury or damage. For example, a sole trader (which makes up some 1.3 million businesses in Australia) or a company with just one employee could expect to keep its costs to a minimum, well below $100 per month. But when a small business enters the "10 to 19" employees category, the cost of the monthly premiums could skyrocket to an average of over $1,5001.
Your business location. You can expect a higher premium if your business is in a high-risk location, such as an airport, construction site, railway station or mine site.
The structure of your policy. You can affect the price of your policy by choosing a higher or lower excess or higher or lower benefit limits.
1.Bizcover.com.au
What's not covered by a public liability insurance policy?
There are two very important features that public liability insurance does not cover you for. These are:
Negligence in your service. This is covered by professional indemnity insurance (e.g. cover if you incorrectly install a kitchen sink)
Injuries to your employees. This is covered by workers compensation (e.g cover for injuries, illnesses in the workplace)
General exclusions
Every policy also has a list of general exclusions. These may differs between insurers, but your claim will typically not be paid if:
It relates to asbestos
It relates to your responsibility to injured workers (workers compensation)
It relates to punitive damages
It's caused by the operation, possession or use of an aircraft or watercraft
It arises due to defective work done or undertaken by you
It relates to products liability
It's for damage to property you own or that is in your care, except for certain items such as vehicles and business premises
It arises due to the use of a vehicle
It relates to the cost of recalling, withdrawing, replacing or repairing products, or making a refund on the price paid for products
It's for certain types of advertising liability, for example a mistake in the advertised price of a product or service
It's for any liability or obligation that you assume under contract or agreement
It's caused by a deliberate act or omission by you or any employee
It's caused by electromagnetic fields or electromagnetic interference
It results from your Internet operations
It's for damage to computer data or programs caused by the use of any computer hardware of software
It's caused by a claim of defamation brought against you
It arises from the communication, display, distribution or publication of electronic data
It arises from the total or partial destruction, erasure or corruption of electronic data
It's caused by any breach of professional duty by you
It results from an act of war or terrorism
To find out exactly what is not covered, read the general exclusions of the product disclosure statement (PDS).
FAQs
More guides on Finder