Best Mobile Phone Plans for March 2020
After the best mobile phone plan to meet your needs? We've analysed the market and chosen our top picks for you.
Best Mobile Phone Plans - March 2020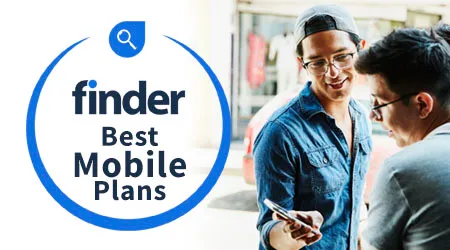 Curious to know how we picked this list?
Every month, our team of experts looks for the best mobile phone plans from hundreds of products in the market. We look at the most popular phone models based on user preference, and break down plan details and costs to find you the best value plans. Keep in mind that our "best" picks may not always be the best for you, and you're always welcome to use our
mobile phone plans comparison table
to find one that works for you.
We all use our mobile phones differently, which is why there's such an enormous amount of mobile plans out there. While there's no single plan that we can shout as being the "best" for everyone, we've divided our choices into multiple categories to help you find the best value mobile plans currently available. Whether you're budget-conscious, data-hungry or after a new phone, we've got you covered with our expert picks of the best mobile phone plans.
Best iPhone plan
Why we like it: With so many iPhones to choose from, it's near impossible to pick the 'best' one. We've gone with the iPhone 11 64GB since it's the latest model with sufficient storage space. In our opinion, Optus has the best value iPhone plan, coming up slightly cheaper than its competitors, Vodafone and Telstra's, plans for the same model. You also get 60GB a month which should go a long way.
Alternative pick: If you're worried about going over your data allowance, have a look at Vodafone's Red Plus plan, which gives you 60GB for $99.95 a month (this includes your handset repayment). Whilst it's the same data allowance that Optus sets, Vodafone won't charge you extra for going over 60GB, but will throttle your speed down to 1.5Mbps instead.
---
Best Samsung Galaxy plan
Why we like it: With the new Samsung Galaxy S20 range being released last month, we've gone with the S20 5G model as our choice of phone for this category. While there are a whole heap of plans and special deals from the big three providers (Telstra, Optus and Vodafone), Woolworths Mobile gets our tick of approval for best plan this month. They've got competitive pricing for their S20 plan, as well as some added deals for extra savings and more data.
Alternative pick: If you'd still prefer a plan with one of the major telco providers, the Optus Choice 60GB plan gives you a major boost in data usage.
---
Best cheap mobile plan
Why we like it: Circles.Life is a new player in Australia from Singapore, and their plans are absolutely jam-packed with value. Even after the first 3 months on this plan when the price goes back to $28, it's still quite a competitive deal compared to other plans out there. Their bill shock protection gives you time to consider adding an extra data pack if you need it.
Alternative pick: Another great offer at the moment is Moose Mobile's 5GB Promotional Plan, which is $19.80 and gives you 10GB in bonus data each month for your first 12 months on the plan.
---
Best mobile plan for data
Why we like it: amaysim tops the list for best value for big data this month, giving you 35GB for $10 during March. When the offer ends next month, you'll still get 30GB for $30 which is still pretty good value. They've also got a postpaid version of the same plan if that's what you prefer.
Alternative pick: Optus's Prepaid Epic Data plan delivers on its name with 35GB for $30 and is another great option for value on data. Rollover options are also available, so make sure you read up on their terms and conditions.
---
Best mobile plan on the Telstra network
Why we like it: Boost Mobile is in the enviable position in that it has access to the full Telstra 4G network. It won't hit the full speeds you'll get on a Telstra connection in capital cities, but you do get the full coverage. When paired with its affordable prepaid plans, this makes Boost Mobile the pick of the bunch.
Alternative pick: Another provider that uses the Telstra work is Lycamobile. They've got a great offer with their SIM Only Unlimited S plan currently giving you 40GB for $15. If you transfer you number over to them, they'll even give you a bonus 15GB for free.
---
Best mobile plan on the Optus network
Why we like it: With amaysim being covered under the Optus network, it should be no surprise that our pick for best mobile plan for data also comes out as our top choice for this category. Together with the 35GB of data, you'll also get unlimited standard calls and texts to cover all your communication bases.
Alternative pick: The Optus Prepaid Epic Data $30 is also tremendous value, costing $30 for 35GB for the first three recharges. You also get all the benefits of the provider's own network, with unlimited standard international calls to 15 selected destinations, expiry extension, and add-ons such as Optus Sport available.
---
Best mobile plan on the Vodafone network
Why we like it: Lebara's Medium 30-day plan is quite a deal. You'll get 24GB data for $29.90 along with unlimited standard calls & texts — plus a 12GB recharge bonus, which we don't think too bad at all! Couple that with unlimited international calls and texts and this plan packs quite a punch.
Also Consider: Vodafone's Combo Plus Starter Pack currently offers bonus data which makes it a good choice if you'd rather stick to the actual network provider.
---
Best mobile plan for international roaming
Why we like it: Thanks to its $5 a day global roaming inclusions, Vodafone has this category pretty much locked up, as no other provider offers anything near the same level of value. By paying $5 for every day you use your phone's service in eligible countries, you get to access your phone plan's regular inclusions. As a bonus, the $5-a-day fee is waived if you happen to be travelling to New Zealand as well.
Alternative pick: If you can do without the data but still want the freedom to call home, Vodafone's $30 Combo Plus plan has unlimited talk and text plus 10GB of data for just $30 per recharge.
---
Best long-expiry mobile plan
Why we like it: Optus's Prepaid Epic Value 365-day plan is among the best deals you'll find going around. Its latest deal gives you 120GB for $150. Even without the current offer, this plan is a great long-expiry mobile plan to consider but it's even sweeter now that you've got double the usual amount of data.
Alternative pick: Some users opt for a long expiry plan just to have an active number for receiving calls rather than trying to save over a longer period of time, and for these users inclusions are a much lower priority compared to price. If this sounds more like your needs, it's hard to go past the ALDImobile Pay As You Go plan, which costs $15 and has a 365-day expiry, with $15 worth of calls but no data included in the price.
What makes the best mobile plan?
There isn't a single answer to this, because it depends entirely on what you're looking for and your personal mobile habits. With that in mind, here's what to consider when narrowing down the right mobile plan for you:
Cost. This can go anywhere from $15 to over $100 a month, depending on what you get. For a prepaid plan, consider how frequently you'll need to recharge. Figure out your maximum monthly mobile budget and remember the cheapest plans aren't always the best due to very limited inclusions.
Data inclusions. Not just how much data you have, but whether you get free streaming, international roaming or data rollover between months.
Network and coverage. Telstra's, Vodafone's and Optus' 3G/4G networks may have variable coverage over where you live, work and travel. Certain devices might enjoy faster speeds with some 4G networks like Telstra's.
Excess data and charges. What happens when you go over your data limit? Some providers like Telstra or Vodafone may just lower your connection speed to 1.5Mbps, while others will charge you an extra $10 or so for additional GB blocks.
Should I get a prepaid or postpaid plan?
Prepaid
Postpaid
Bills are paid
At the beginning of the month
At the end of the month
Bill shock
Never
When you go over your data or talk limits
Value
Generally low in data per dollar
Can be high, though watch out for early termination fees on contracts
BYO phone?
Yes
Yes with a SIM only plan, or included handsets are available on contracts
Data/credit rollover
Sometimes
Rarely
Promotional deals
Often
Often
Best for

Infrequent or light mobile users
People whose usage changes month to month
Seniors and kids

Heavy mobile users
People who use their phone roughly the same amount each month
Anyone who wants a new phone with their plan
Is it better to buy a mobile outright or with a plan?
The first thing to know is that whether you buy your mobile upfront or on a plan, the actual cost you pay for the handset doesn't change. The main difference is that you'll be locked to a particular phone plan for the length of the contract and you'll be paying the phone off over a period of time rather than all at once.
Generally, you're better off buying the phone outright and picking a cost-efficient SIM only plan to go with it. However, if you can't afford the handset outright or want the convenience of getting everything from a single provider, a contract could be the way to go. Just be aware that the plans available with handsets may not be the best mobile deal you can get.
Which is better: an MVNO or the actual provider?
A mobile virtual network operator (MVNO) is a third-party retailer that offers mobile plans on Telstra's, Vodafone's or Optus's networks, rather than owning or building its own infrastructure. The biggest difference between an MVNO and one of the big three carriers is usually cost, but you can see our guide on MVNOs to find out more.
Pros
Cheaper plans. Because MVNOs don't have to pay to build and maintain network infrastructure, they usually have cheaper plans on offer than a provider like Telstra, which has more overheads.
Flexibility. Almost all MVNOs provide phone plans on a month-to-month basis rather than a multi-month contract, meaning you can switch plans easily to get the best value or as your needs change.
Cons
Reduced coverage. Most MVNOs use the wholesale network of a particular carrier, which offers slightly less coverage overall – usually only relevant in certain regional areas.
Limited handset options. Few MVNOs have handsets on contracts. If you want a new phone with your plan, you'll likely have to go with a major carrier.
Fewer extras. Lower costs mean fewer features. You probably won't get as many plan extras like free streaming from an MVNO compared to a more expensive major carrier plan.
Frequently asked questions
Can I bring my existing number to a new phone plan?
When switching to a new plan, you should almost always have the option to bring your old number with you at checkout. Always check with your new carrier first and do not cancel your current plan before buying a new one or you could lose your number. Read our guide on
mobile number porting
for more in-depth instructions.
What are data only SIM plans?
A data only SIM plan is a form of mobile broadband where you purchase a certain amount of GBs but don't get access to mobile network communication features. This means that if you insert a data only SIM into your phone, you won't be able to make calls or send texts, but you will be able to browse the Internet.
However, a data only SIM can be inserted into any SIM-enabled device, including some laptops, tablets and other devices. You can also plug them into certain wireless modems, which can then be used as hotspots to provide network access. Learn more on our mobile broadband page.
What if I want to change phones/plans before my contract has ended?
If you want to change your plan but stay with the same provider, many will allow you to switch between a limited set of plans freely. But if you want to change your provider or phone entirely before the contract is up, you'll usually have to pay out the remaining value of the handset and maybe extra cancellation fees.
This is why choosing the right contract length is important: a 36-month plan will give you lower monthly costs on your handset, but you should ask whether you'll want the latest model in the next couple of years or whether your phone will even last that long. 12- and 24-month plans have higher monthly repayments, but offer greater flexibility if you decide you want a change.
How do plans without excess data charges work?
Both Telstra and Vodafone offer a wide range of plans that claim no excess charges, unlike other plans which will automatically charge you for extra data blocks when you go over your limit. These excess-free plans function by allowing you access to more data for free, but at a severely reduced speed of 1.5Mbps, which will restrict your ability to do more data-intensive activity like streaming and downloads.
Image: Shutterstock
Related Posts
Latest mobile plan deals on Finder