Moose Mobile plans
Moose Mobile provides a range of high-value 4G SIM-only plans designed to help you save on your mobile bill.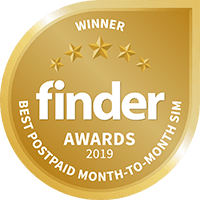 2019 Finder Awards
Winner: Best Postpaid Month-To-Month SIM
The standout for monthly SIM plans over $40 is the Moose 49, a $49 plan with 40GB data, international call credit and unlimited national calls.
Is Moose Mobile right for me?
Product highlights: High dollar-to-data ratio, bonus data for committing to a 12-month contract, international call credit on select plans.
Watch out for: Committing to a 12-month contract with Moose Mobile nets you better value for money, but be aware you'll have to pay for the full year of service even if you cancel before the contract is up.
---
Moose Mobile SIM-only plans
Moose Mobile's SIM-only plans explained
Moose Mobile's primary SIM-only offerings are a range of month-to-month and 12-month plans that operate on the Optus 3G and 4G networks. All but the base-level plan include unlimited standard national calls and unlimited standard national along with a wide range of data caps. Higher-tier plans also include a sum of international call credit for chatting with friends and family overseas.
In terms of base pricing, here's how Moose Mobile's month-to-month 4G plans stack up:
Moose Mobile 8.80: 300 minutes of calls, 1GB data $8.80
Moose Mobile 23.80: unlimited calls, 8GB data $23.80
Moose Mobile 27.80: unlimited calls, 15GB data $27.80
Moose Mobile 46.80: unlimited calls, $400 international call credit, 40GB data $46.80
Moose Mobile's 12-month plans offer slightly more bang for your buck to offset the longer commitment:
Moose Mobile 9: unlimited calls, 1GB data $9
Moose Mobile 14: unlimited calls, 5GB data $14
Moose Mobile 23: unlimited calls, 18GB data $23
Moose Mobile 29: unlimited calls, $200 international credit, 35GB data $29
Moose Mobile 36: unlimited calls, $400 international credit, 50GB data $36
Moose Mobile 46: unlimited calls, $400 international credit, 80GB data $46
If you go with one of Moose Mobile's 12-month plans, bear in mind you'll have to pay the full minimum cost of the plan even if you decide to cancel your service before the year is up. Upon cancellation, Moose Mobile will charge you an early termination fee equal to your plan's monthly rate multiplied by the number of months remaining in your contract.
How does Moose Mobile compare?
A lot of data for your dollar, especially if you commit to a 12-month contract
International call credit is an enticing value add for higher-tier plans
---
Why should you consider Moose Mobile?
Moose Mobile's plans are simple and flexible, with no lock-in beyond your current contract month and decent data inclusions to offer superior value. There's no real additional extras with its plans, so if you crave streaming inclusions, international call packs or data-quota-free activities, it may not be the best match, but if you're after simple value it's certainly worth considering and comparing.
Moose mobile deals
Deals last updated on 2020-03-28 at 6:10:06
Postpaid deals
| | 2.5GB included + 3.5GB/month bonus data for first 24 months. New Customers only. Limited time offer. | View eligible plans |
| --- | --- | --- |
| | | | |
| --- | --- | --- | --- |
| | Moose Promotional Plan - $14.80 2.5GB 1 Month | Unlimited standard calls | Go to site |
| | 5GB included + 10GB/month bonus data for first 24 months. New Customers only. Limited time offer. | View eligible plans |
| --- | --- | --- |
| | | | |
| --- | --- | --- | --- |
| | Moose Promotional Plan - $19.80 5GB 1 Month | Unlimited standard calls | Go to site |
---
---
Read more on this topic
Latest mobile plan deals on Finder