Funeral insurance can help your family out during a difficult time.
Funeral insurance provides a nominated person (e.g. your spouse) with the financial ability to cover your funeral expenses when you are no longer around. Some policies offer up to a $15,000 benefit.
Get quotes for funeral insurance at an affordable rate
Updated February 18th, 2020
Funeral insurance is not the right choice for everyone. Always consider your own financial and personal situation when selecting products to fund your funeral. Funeral insurance does not provide funeral, burial or cremation services. Instead, it provides a sum of money to cover these expenses.
Comparison of funeral insurance in Australia
Note that these are not all the brands available in Australia; only the brands that Finder works with.
Useful guides on Funeral Insurance Finder™
When will (and when won't) my family receive a payout?
Some criteria you'll need to meet includes:
Passing away or developing a terminal illness
The death or illness not happening in the first 12 months of holding a policy.
The cause of your death or illness being accidental (if in the first 12 months)
Payout comparison: Here's how few different brands set their rules.
Policy
First 12 months
After 12 months
Real Funeral Flexi Plus

Causes other than accidental death are not covered

Death from any cause covered

InsuranceLine Funeral Insurance

Causes other than accidental death are not covered

Premiums are refunded if your death is not an accident

Death from any cause covered
*Data last confirmed on April 26 2018. A 12 month waiting period is the standard waiting period in most policies however this can vary depending on the policy. Always check with your insurer for exact conditions.

Why do Australians take out funeral insurance?
Funeral insurance is important to ensure your loved ones are not left with a financial burden when you pass away. Most funeral insurance plans in Australia offer a range of benefits as standard, including:
1. Fast, simple application process. Funeral insurance is designed to be straightforward so you can apply quickly.
2. Flexibility in the way you pay. Funeral insurance offers features that can help you control how much you'll pay for your insurance and how you will pay.
3. Payout benefits. Funeral insurance offers various benefits in the way it pays out to your family.
4. Features that look out for you. Many funeral insurance policies now have certain features to help you get the most value out of your policy and protect your from being ripped off.
Bonus options worth looking out for
Depending on the insurer, additional benefits are also offered with funeral insurance such as:
| Extra option | How does this work? |
| --- | --- |
| | You can receive a 20% discount on premiums if you and your partner takes out a joint policy. |
| | Some policies give you the option to receive 10% of your premiums back for every 3 years you remain covered. |
| | Some policies give you the option to automatically increase the amount covered, to keep up with inflation. This option is typically a 5% increase per year and will also increase your premium paid. |
| | Some policies include a free legal will kit when you take out a policy. |
---
What expenses can funeral insurance cover?
Funeral insurance is designed to provide your dependants with a lump sum payment in the event of your death. This payment can be used to cover the different types of funeral costs, including: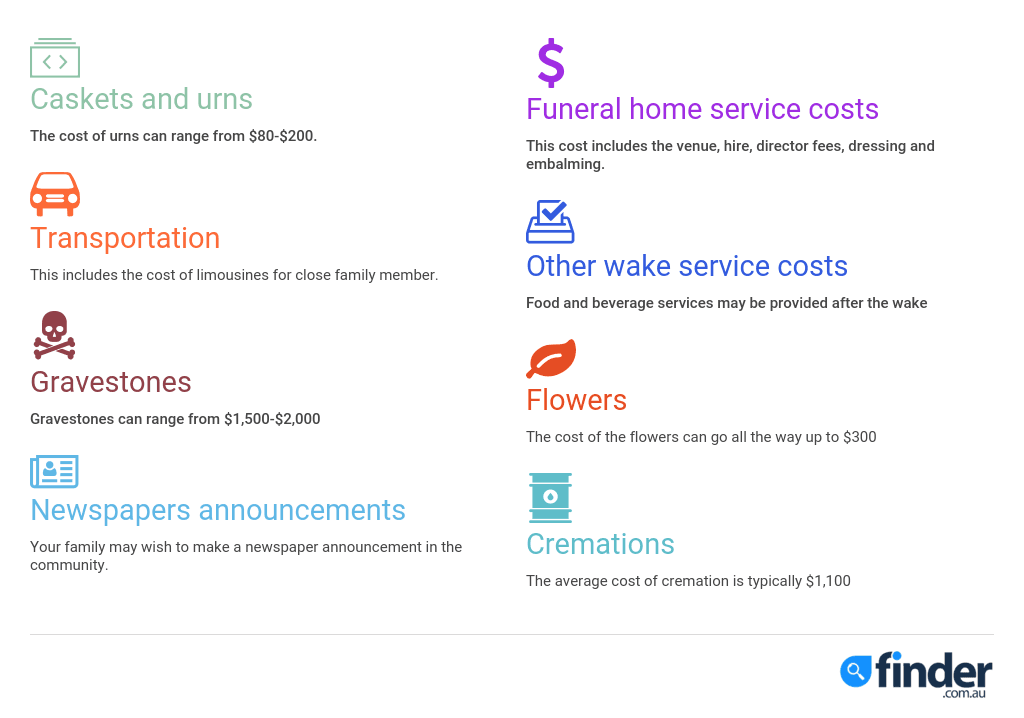 How much is funeral insurance going to cost me?
The cost of your funeral insurance will depend on a range of factors including:
Sum insured. This is the amount you originally agree to insure. Most policies can go up to $15,000.
Age of the insured person. The older the person is at application, the higher the premiums will generally be.
Whether or not the applicant smokes. Smokers will have a higher premium.
Gender. Women tend to have a greater life expectancy than men, and hence cheaper premiums.
Applicants State or Territory. Government fees to insurers may differ from state to state. This is passed onto your premium.
The average annual cost of premiums by age group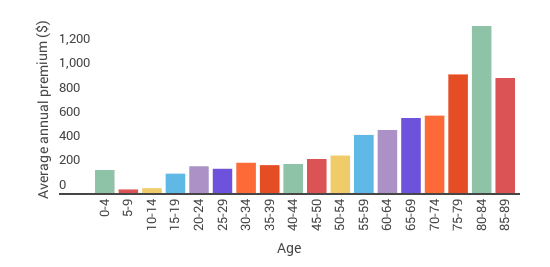 Figures are based on Australian Securities & Investments Commission's 2015 study of the funeral insurance sector.
To get a more accurate idea of how much funeral insurance will cost you, get a personalised quote
How can I pay my premiums?
As with other forms of insurance, funeral insurance plans often include the option of stepped or level premiums.
Stepped premiums. Your premium is based on your age, your sex and the sum insured and is then recalculated every birthday, becoming progressively more expensive the older you get.
Level premiums. Your premium is also based on your age, your sex and the sum insured, but you are insured for an agreed amount and your premium remains the same for the life of the policy (apart from yearly CPI increases).
| Time holding the policy | Stepped premium | Level premium |
| --- | --- | --- |
| 0 - 3 years | $320 | $400 |
| 3 - 6 years | $360 | $400 |
| 6 - 9 years | $410 | $400 |
| 9 - 12 years | $500 | $400 |
These figures are made for illustrative purposes only. The actual cost of your premium will depend on your policy and other factors including your age and sex.
So which one is right for me?
The advantage of stepped premiums is that you pay less at the beginning of your cover, while the advantage of level premiums is that you always know roughly what your premium will be and can budget accordingly. The option you choose on whether or not you expect your income to increase over time.
To get a better understanding, you can read more about funeral insurance premiums here.
Traps to avoid
Funeral insurance has come under scrutiny in recent years, due to the long term cost of some premiums being greater than the cost of a funeral itself
Make sure you steer clear of these traps
While funeral insurance has a lot of benefits and is easy to obtain compared with other forms of insurance, there are some traps to be wary of when applying for cover. These include:
Buying a policy without comparing. Customers can find themselves buying bad policy after seeing a television ad or after being cold called for funeral insurance. Make sure you understand the policy and how it compares with its peers before buying. Remember, you're entitled to cooling off rights, which means you can cancel a policy for any reason within 30 business days.
Paying more in premiums than a funeral would cost. Avoid this by looking for policies that offer capped premiums once the sum insured is reached or a guaranteed payout.
Buying the cheapest policy. You could find yourself underinsured if a cheap policy doesn't contain the basic benefits listed above.
Not checking the length of the cooling-off period. If you change your mind about buying a policy and wait too long before notifying the insurer, you may not be able to get a refund.
Not being aware that premiums rise over time. Premiums and benefits increase over time to keep pace with inflation. If you're on a fixed income, this needs to be factored into your budget or your funeral insurance could become unaffordable.
Levelled premiums that rise with inflation. Although this means your sum insured may rise with inflation as well, this can be an unaffordable cost for some. Check with your insurer to see if your sum insured is automatically increased.
Is funeral insurance a rip off?
Funeral insurance has come under scrutiny in recent years, due to the long term cost of some premiums being greater than the cost of a funeral itself. Steps have since been taken to make funeral insurance a more transparent product.
These features are a must (if you don't want to get ripped-off)
When you apply for funeral insurance you should always look for a value guarantee feature. This will ensure that you never pay more than what you insured at the start. Here are two types to look out for
1. Guaranteed payout
A guaranteed payout means that you'll be paid out the greater amount between your premiums paid and the sum you originally insured.
2. Premium cap
Premium caps ensure that your premiums are stopped once they reach the sum you originally insured.
3. Flat premiums (levelled premiums).
Premiums that never go up during the life of the policy.
4. A grace period
If your policy is cancelled due to an inability to make premium payments, you're given grace period where your policy can be reinstated e.g. 3 months.
5. 'Paid up' insurance clause
If your policy is cancelled due to an inability to make payments but you have held the policy for at least 10 years, the policy will become a 'paid up insurance' product. This means that you can receive a percentage of the sum insured e.g. 40% of $15,000, and premiums are no longer payable.
6. Premium discounts
You can receive a premium discount after a certain period of coverage, specified by the policy e.g. 5 years
How else can I pay for my funeral
If you're unsure about whether you want or can afford funeral insurance, there are other funeral payment options you can explore.
Prepaid funeral. This is where you pay for your funeral upfront so the funds are there when needed.
Funeral bond. .This is where you pay in a lump sum or by instalments and have your money invested by an insurance company or friendly society
Super or life insurance. This is where you have life insurance or life insurance through your superannuation that provides cover for funeral expenses
Savings account. This where you put your money into an account regularly to save for your funeral expenses.
Breakdown of my options
Scenario
Pros
Cons
Prepaid funeral

You may get you money back if you stop making payments
If your state allows it, you can get your plan through a registered fund to ensure financial protection for your money

Funeral costs can rise over time, so you may end up being underinsured if you live to a ripe old age
If you decide to move away, some funeral companies may not refund your previous payments

Funeral bond

Your money grows over time as an investment to fund your funeral and is exempt from asset tests
If you stop contributing to the bond, your family can get the remaining balance on the bond minus any ongoing fees when you pass away

You will have to pay ongoing fees

Super or life insurance

The main benefit of funeral expenses cover through your life insurance is that your also provided with life insurance benefits (e.g. on payments to replace income) for your dependants

Medical underwriting can be extensive
Possible delays in payment

Savings accounts

This money can go grow as an investment to fund your funeral

If you pass away earlier than expected you may not have enough to fund your funeral

Funeral Insurance

If you pass away earlier than expected (but after 12 months), your family can receive the full sum insured
Little no medical underwriting in comparison to life insurance

If you stop paying your premiums, you may loose what you have paid in premiums and your family may not receive a payout
If you can no longer pay for your funeral insurance
If you think you might not be able to pay premiums, speak to your insurer as soon as possible. Some policies provide a grace period (of up to 3 months) where you're still covered for accidental deaths.
---
What questions should I be asking about funeral insurance cover?