Low rate credit cards
A low interest rate credit card will help you save money on your bill if you don't pay in full every month.
We're reader-supported and may be paid when you visit links to partner sites. We don't compare all products in the market, but we're working on it!
If you don't pay off your credit card in full every month, you can save money with a card that charges a lower interest rate. Competitive interest rates typically range between 8.99% p.a. and 14.99% p.a., and the average Aussie cardholder could save about $100 per year just by switching.
Coles Credit Card - Exclusive Offer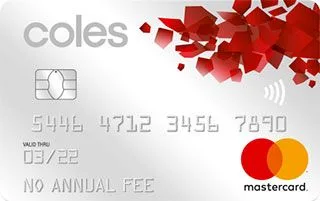 Coles No Annual Fee Mastercard - Exclusive Offer
0% p.a. for 12 months on purchases and balance transfers

10,000 bonus Flybuys points
Eligibility criteria, terms and conditions, fees and charges apply
Coles Credit Card - Exclusive Offer
Reward your spending with Flybuys points and save with 0% interest on balance transfers and purchases for the first 12 months.
Ongoing $0 annual fee
0% on balance transfers and purchases for 12 months
Collect 10,000 bonus Flybuys points when you make your first eligible spend within 30 days of approval
Earn Flybuys point per $1 spent on eligible purchases
Compare the latest low rate credit card deals
Some low rate credit cards offer promotional 0% interest or low rates for an introductory period. Make sure to check those offers and their revert rates while you're comparing.
*The selection criteria for a low interest rate credit card are: an introductory interest rate less than 15% p.a. for any number of months, or, an ongoing purchase interest rate less than 15% p.a. There is no perfect order or perfect ranking system for the products we list on our Site, so we provide you with the functionality to self-select, re-order and compare products. The initial display order is influenced by a range of factors including conversion rates, product costs and commercial arrangements, so please don't interpret the listing order as an endorsement or recommendation from us. We're happy to provide you with the tools you need to make better decisions, but we'd like you to make your own decisions and compare and assess products based on your own preferences, circumstances and needs.
Who are low interest rate credit cards best suited to?
Low interest credit cards are designed to help you save on interest costs. As most cards have 44-55 days interest-free, you'll only pay interest if you carry a balance from month to month. So these cards can help if you often struggle to pay your balance in full by the due date on your statement.
🗓 What is the interest-free period?
This is the maximum number of days where interest is not charged on new purchases. For example, if your credit card offers 55 interest-free days and you make a purchase on the first day of your statement period, you'll have 55 days to pay it back before you're charged interest. If you make that purchase on the twelfth day of your statement period, you'll have 43 interest-free days, and so on. This only applies if you pay the amount required by the provider by the specified due date as listed on your statement.
Cards that offer a 0% purchase interest rate for an introductory period are ideal if you've got some large purchases, like a holiday, wedding or renovation, coming up. These offers allow you to pay no interest during that period and can give you the breathing room you need as long as you're making the minimum repayment.
---
Pros and cons of low interest credit cards
Pros
Savings. These cards can be a cheaper option as you pay less interest on purchases, which will help you save money and avoid falling into unmanageable debt.
Low fees. Many low interest rate credit cards also have lower annual fees, which will also help you save.
Promotional offers. Low interest rate credit cards sometimes offer 0% promotions on purchases and/or balance transfers, allowing you to avoid interest altogether for an introductory period.
Cons
Less competitive rewards. If a low rate credit card offers a rewards program, it usually has a lower earn rate and smaller bonus points offer than more expensive cards.
Fewer extra features. Lower rates generally mean fewer extra features, unlike platinum cards which often come with insurance covers and concierge services.
Revert rates. If your card charges 0% on purchases for a promotional period, it will revert to a higher purchase rate after that.
How to compare low rate credit cards
With so many competitive low interest rate credit cards on the market, here are some of the features that can help you narrow down your options:
Interest rates
From low ongoing interest rates to promotional 0% deals and interest-free days, here are the key factors to look at when comparing interest rates:
Promotional interest rates. Some Australian credit cards offer 0% interest rates on purchases for a promotional period. The length of the interest-free offer usually varies between 6 and 15 months depending on the card. These offers can give you breathing room to repay your purchases and save without any additional interest costs. At the end of the promotional period, any remaining debt will collect the standard interest rate, so it's wise to know when this rate applies and aim to clear your debt beforehand.
Standard interest rate. On a low rate card, the purchase interest rates typically start at 8.99% p.a. and go up to around 15% p.a. If you want a long-term option, a card with an ongoing low interest rate could potentially be a better fit than a card with 0% for a promotional period.
Balance transfer rates. Some low interest credit cards also come with 0% balance transfer offers that can last for up to 26 months. If you're paying off an existing debt, you can use a balance transfer to save interest and repay your debt faster. If you're struggling with credit card debt, it's wise to concentrate on paying it off instead of using a card to make additional purchases.
Cash advance rates. The interest rate for cash advances is usually higher than the rate applied to purchases and can be as high as 23% p.a. This rate is charged for transactions such as ATM cash withdrawals, foreign currency purchases and gambling. Cash advances also aren't eligible for interest-free days.
Interest-free days. Most credit cards also come with interest-free days when cardholders pay their balance in full in the previous statement period. The number of interest-free days will vary between products, but usually range between up to 44 or 55 days.
Fees and charges
Annual fee. Some low rate cards come with a $0 annual fee for the first year or for life, while others charge annual fees that can be as high as $100 or more. Before you apply, you should weigh up the savings you'll get from the interest rate against the annual fee to determine which card is right for you.
International transaction fees. If you use your card to make a purchase overseas or online with an international merchant, you may be charged a foreign transaction fee (for example 3% of the transaction). But there are some credit cards that are more tailored to international use and offer 0% foreign transactions fees.
Minimum repayments. Each statement period, you're required to make a minimum repayment. This is usually a small percentage (which can range from 2% to 10%) of your total balance owing. If you don't pay this, you'll usually be charged a late payment fee. However, if you want to minimise your interest payments and avoid falling into debt, it's wise to pay as much as you can before the statement due date.
Additional features
Credit cards with low interest rates generally come with fewer frills than costly cards, but here are some of the extra features you might want to consider:
Rewards programs. Competitive frequent flyer or rewards credit cards usually come with higher interest rates and fees, but you can earn points on some low rate cards in the market. These cards usually come with less competitive earn rates, but can still be rewarding without the high price tag.
Cashback. Some low rate cards also come with cashback offers, although you'll usually need to meet a certain spend requirement to get the money back. As long as the spend requirements align with your budget and you can afford to pay it off, this can be another way to get extra value from your card.
Complimentary insurance. Some low rate cards offer cardholders complimentary travel insurance and purchase cover. These features can help you reduce other necessary costs, but make sure you check out the eligibility requirements, inclusions and exclusions of the cover before you apply.
If you often carry a balance, a low interest credit card could be right for you. However, as there is no one best low interest card on the market, it's wise to compare a few options before you apply. As well as interest rates, remember to consider other features, such as introductory offers, annual fees and complimentary extras, to help you find the right card.
Frequently asked questions
Something still not clear? Check out these answers to common questions about low interest credit cards. If you have a question of your own, you can also get in touch with us using the comment box below.
What is the lowest interest rate credit card?
As of 6 May 2021, Finder's database shows that the lowest credit card interest rate in Australia is 7.49% p.a. on the G&C Mutual Bank Low Rate Card. However, credit card interest rates are variable, which means they can change regularly. So the lowest interest rate card can vary depending on when you're comparing cards. You can click on the "Purchase rate" column of our comparison table to order the credit cards based on their current interest rates.
Just keep in mind that the lowest interest rate credit card could be listed as one with a promotional 0% interest rate. When that's the case, you can continue scrolling through the table to find the card with the lowest ongoing interest rate.
I'm looking for a cheap credit card. Which is the cheapest?
The cheapest credit card will depend on how you use it. If you pay off your balance every month, a $0 annual fee credit card would likely be the cheapest option.
If you regularly carry a balance from month to month, the cheapest credit card will have a low interest rate and a modest annual fee (less than $100). There aren't many cards on the market that offer both a $0 annual fee and a low rate, but using the table above you can find what you consider to be a cheap credit card.
What is the best low interest rate credit card?
There is no one "best" low interest rate credit card in Australia. With so many cards on the market, a card's individual features have an impact on how well it suits your circumstances. So the card that's right for you may not be right for someone else. Comparing low interest rate credit cards based on the features you're looking for will help you find a card for your individual needs.
How are credit card interest rates calculated?
Credit card interest rates are usually advertised by the annual rate that applies to the account, shown as "per annum" or p.a. However, interest on your account balance is typically calculated daily and then charged monthly on the statement due date. This means that for every day that you don't make a payment, the interest charges will build up (or compound).
If you want to learn more about credit card interest in detail, you can check out Finder's comprehensive guide to interest rates.
Does the low interest rate on a credit card apply to balance transfers?
This depends on the credit card and any applicable balance transfer offers. If the card allows balance transfers, it may come with a 0% interest rate for a promotional period before reverting to a standard rate. Some low interest rate cards apply the standard purchase rate to balance transfers after the introductory period while others apply the cash advance rate.
Is a low interest rate card the cheapest credit card option?
There isn't a single "cheapest" credit card option because everyone uses credit cards differently. There are also other costs to consider beyond the purchase rate, such as annual fees and interest rates for cash advances or balance transfers. On the flip side, some people might find cards with high rates and fees "cheap" because of all the complimentary extras.
Simply put, the term "cheapest credit card" is really subjective and varies from person to person. So when you're trying to find a credit card that's affordable, make sure you consider all of the potential costs based on how you plan to use the account. That way, you'll be able to find one with rates and fees that are affordable for you.
Pictures: Shutterstock
More guides on Finder