Macquarie Bank Credit Cards
Macquarie Bank credit cards give you the ability to earn rewards, enjoy platinum features or take advantage of a low interest rate.
We're reader-supported and may be paid when you visit links to partner sites. We don't compare all products in the market, but we're working on it!
Macquarie Bank operates as a global business in more than 25 countries. In Australia, Macquarie Bank offers customers an array of financial services and products, including credit cards. Whether you're looking for a platinum or rewards credit card or want to save with competitive interest rates, you can compare your credit card options with Macquarie Bank below.
Macquarie Bank Credit Card Offer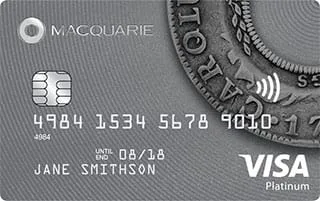 Macquarie Platinum Card
Receive
20,000
bonus Macquarie Reward points
Eligibility criteria, terms and conditions, fees and charges apply
Macquarie Bank Credit Card Offer
Receive 20,000 bonus points when you spend $2,000 on eligible purchases in the first 60 days from approval.
Earns 1.25 Macquarie Reward points per $1 spent
$99 annual fee
Interest rate of 20.7% p.a. on purchases and cash advances
0% international transaction fees
Compare credit cards from Macquarie Bank
Types of credit cards that Macquarie Bank offers
You can compare Macquarie Bank credit cards to find a product that best suits your needs below:
A low rate credit card can be good to have if you don't regularly pay your balances in full each month. The Macquarie Visa RateSaver Card comes with a 0% p.a. balance transfer offer for 14 months as well as up to 55 interest-free days on purchases. Please note that this card also comes with an annual fee.
Macquarie Bank currently offers cards linked to the Qantas Frequent Flyer program, Hilton Honors and the bank's own rewards program. Some of these cards also come with bonus points, which can help you redeem rewards faster. If you like the idea of earning reward points as you spend, you can compare your rewards credit card options below.
Macquarie Bank platinum credit cards come linked to rewards programs and offer extra perks including complimentary insurances and a 24/7 concierge service. These cards come with annual fees and high interest rates, though, so it's important that the value of the extra features outweigh the cost of the card.
Macquarie Bank offers black-tier credit cards, providing cardholders with another level of benefits beyond platinum cards. Black cardholders can look forward to airport lounge access, higher earn reward points rates and concierge services.
Benefits of banking with Macquarie Bank
Banking with this institution allows you to have all your financial needs met under a single umbrella, be it through savings accounts, transaction accounts, term deposits, loans, online trading, specialist investments or financial advice. Getting a credit card through Macquarie comes with a number of advantages.
Irrespective of the credit card you choose, you can access the Macquarie Bank service centre at any time of the day or night on 02 8232 3333.
If you're applying for the Macquarie Visa Platinum Card you have the option to apply for the card with Macquarie reward points or Qantas Points. It's also the only bank that directly earns Hilton Honors points. Depending on the card you choose, cardholders can look forward to competitive earn rates and bonus points offers.
The Macquarie Visa Platinum Card with Macquarie reward points gives you access to MyChoice Travel, your personal travel agent. You can use this service to redeem your reward points and pay for part of or all your travel expenses including flights, hotels and tours.
As a Visa product, you can use Macquarie Bank cards internationally. You'll also enjoy Visa perks including Visa Entertainment to access exclusive offers as well as access to upcoming sporting events, live shows, movies, and more. Visa's Zero Liability policy offers protection to all cardholders, and 24/7 online account monitoring provides advanced fraud protection.
Applying for a Macquarie Bank credit card
You can apply for a Macquarie Bank Credit Card by visiting any of the bank's branches, over the phone or online. Before you apply, make sure you've met the eligibility requirements and organised the following information:
Eligibility criteria
You're older than 18 years of age
You're a permanent Australian resident
You have good credit history
You meet the minimum income requirements (which vary from card to card)
Required documents
Applicant details. These include your complete name, date of birth, marital status, number of dependent children and driver's license number.
Identification details. This section requires your mother's maiden name as well as the name and phone number of a friend or relative who does not share the same address with you.
Contact details. Enter your residential address, time spent at this address, phone numbers and email address.
Professional details. This section requires your employment status, occupation, name of your employer, time at current job, your employer's contact details, your gross annual income and income from other sources.
Expenses. You have to provide details about rent, mortgage repayments, living expenses, your total available credit limit on existing credit cards and the minimum repayments towards other loans.
What happens next?
You might receive a call from a Macquarie Bank representative if the bank needs any extra information. If you let your employer's payroll department know of an impending income verification call in advance, the process can move a little quicker. New Macquarie Bank customers have to go through an identity verification process, as stipulated by the Australian government. You might have to visit a branch to complete this formality.
Frequently asked questions
Listed below are a range of questions and answers about Macquarie Bank's credit cards. To ask a question that isn't listed below you can use the form at the end of this page.
More guides on Finder