Latitude Financial Services Credit Cards
Take your pick of no-frills cards, platinum cards, rewards cards and store cards with Latitude Financial Services.
We're reader-supported and may be paid when you visit links to partner sites. We don't compare all products in the market, but we're working on it!
Latitude Financial Services (formerly known as GE Money) offers an array of financial services and products, including loans, personal insurance, retail finance, and credit cards. Its offerings of credit cards include Mastercard and Visa credit cards. Use this guide to compare the credit cards you can apply for with Latitude Financial Services in Australia.
Latitude Financial Services Credit Card Offer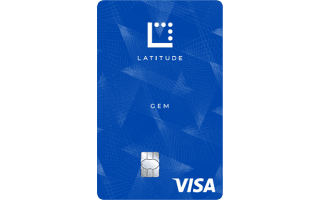 Latitude Gem Visa
0%

p.a. for 6 months on purchases
on purchases of $250 or more

Eligibility criteria, terms and conditions, fees and charges apply
Latitude Financial Services Credit Card Offer
Receive a 0% purchase offer, a protection insurance and three interest-free payment plans.
0% p.a. for the first 6 months on purchases of $250 or more, reverts to 24.99% p.a.
Up to 55 days interest-free on purchases
Annual fee: $99 | Cash advance rate: 24.99% p.a.
Minimum credit limit: $1,000
Comparison of Latitude Financial Services Credit Cards
Types of credit cards from Latitude Financial Services
Latitude Financial Services offers a number of no annual fee credit cards, some with special promotions and some that reward your spending with points. Latitude Financial Services also offer a credit card with extended interest-free terms and rewards credit cards. You can compare credit cards from Latitude Financial Services by the card type below.
No annual fee credit cards
Pay your balance in full when your statement arrives and a no annual fee credit card could cost you nothing to own and use. If you don't use your card often, a card with no annual fee could help cut your card costs when you're not using it. Some no annual fee cards come with rewards point, international fee waivers and complimentary insurance, so look out for these extra features to get more value from your card.
Interest-free credit cards
Cut down your interest costs with cards that offer 0% on purchases for a promotional period or interest-free credit cards that charge no interests for up to 55 days when you pay your balance in full.
Latitude Finance offers three different credit cards that let you earn reward points as you spend. If you're a regular spender who usually pays their balance in full, reward points are an easy way to get more value from your card. As some of these cards may come with annual fees, make sure that the dollar value of the rewards you earn exceed the cost of the card to ensure it's really rewarding you.
Latitude Financial Services credit card benefits
Getting a credit card through Latitude Financial Services comes with its share of advantages, and here's what you can look forward to as a Latitude Financial Services cardholder:
The Latitude Financial Services Hardship team can provide cardholders with assistance in the event they have difficulties in keeping up with their payments. If you feel you're having trouble making repayments, you can contact the team on 1800 220 718 from Monday to Friday between 9am and 5pm.
Both Visa and Mastercard find global acceptance, so you should have no trouble using any Latitude Financial Services credit cards overseas or in Australia. Plus, both cards come with either Mastercard's PayPass and Visa's payWave technologies, allowing you to make contactless payments of up to $100. You'll also benefit from various security covers when shopping in-store and online.
Ongoing interest-free finance
Not many credit card issuers give you the ability to avail of long-term interest-free periods, and this is something you can look forward to when using a suitable Latitude Financial Services credit card. A growing number of retailers are part of Latitude Financial Services' retailer partner list, so you can expect to buy just about anything you need and save on interest.
Through the GO Rewards program or Infinity Rewards program you can earn points per $1 spent on some Latitude credit cards.
How to apply for Latitude Financial Services credit card
You can apply for a Latitude Financial Services credit card online with ease. Before you do so, though, make sure you've met the eligibility requirements and prepared the necessary documents to improve your chances of approval:
Eligibility criteria
You're a permanent Australian resident
You're at least 18 years old
You have a steady source of income.
Required documents
Your complete name, residential status, residential address, phone number, and email address
Details from your Australian passport, driver's license, or proof of age card
Your employer's name and contact details
Your income details
Details of all your existing debts.
Latitude Financial Services offer a variety of credit cards to suit many types of cardholders. In order to find the right card for you, compare your options and the cards that best compliment your financial situation.
Frequently asked questions
More guides on Finder