Black Credit Card Comparison
Enjoy big bonus points offers, airport lounge passes, higher credit limits and other premium perks with a black credit card.
We're reader-supported and may be paid when you visit links to partner sites. We don't compare all products in the market, but we're working on it!
Black credit cards are the top rung of the status ladder for credit cards, offering even more premium features and services than platinum, gold or standard options. These cards are designed for the highest earners and spenders, with features ranging from generous rewards programs and exceptional complimentary insurance policies to dedicated concierge services, travel extras and more.
Use this guide to compare black credit card offers and features, including those with introductory bonus points. You can also find out what features set black credit cards apart, whether or not you should apply for one, and how to get the most out of a black credit card when you use it.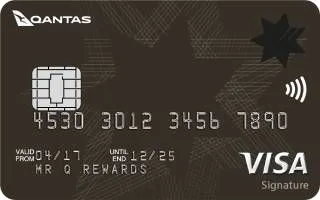 NAB Qantas Rewards Signature Card
Earn up to
110,000
bonus Qantas Points


Discounted $295 first year annual fee
Eligibility criteria, terms and conditions, fees and charges apply
NAB Credit Card Offer
Earn up to 110,000 bonus Qantas Points, take advantage of complimentary insurance covers and a 24/7 concierge service.
90,000 bonus Qantas Points (spend $3,000 within the first 60 days) and 20,000 points after 12 months
First-year annual fee of $295 ($395 p.a. thereafter)
19.99% p.a. purchase interest rate | 21.74% p.a. cash advance rate
Minimum credit limit of $15,000
Compare Black Cards
*The credit card offers on this page are chosen from a range of credit cards available to us and are not representative of all the products available in the market. The use of the terms "best" and "top" are not product ratings and are subject to our disclaimer. There is no perfect order or perfect ranking system for the products we list on our Site, so we provide you with the functionality to self-select, re-order and compare products. The initial display order is influenced by a range of factors including conversion rates, product costs and commercial arrangements, so please don't interpret the listing order as an endorsement or recommendation from us. We're happy to provide you with the tools you need to make better decisions, but we'd like you to make your own decisions and compare and assess products based on your own preferences, circumstances and needs.

How do black credit cards work?
A black credit card is a super-premium credit card that offers more status and benefits than standard, gold or platinum credit cards. The use of the term "black" for this type of credit card refers to the level of the account, similar to the way frequent flyer and other rewards programs have different status levels. So in the case of credit cards, black is generally the best you can get.
There are a number of major credit card companies in Australia that offer black credit cards, including ANZ, Commonwealth Bank, Citi and Westpac. Sometimes "black" level credit cards may also have another name to help them stand out from other cards – such as the Commonwealth Bank Diamond Awards Card or the Citi Prestige Card. But even when that's the case, these cards carry the same prestige as other black credit cards.
What benefits can I get with a black credit card?
Black credit cards offer a range of exclusive features that vary between cards. Some of the most exciting black credit card features you can get include:
Higher credit limits (up to $100,000)
More reward or frequent flyer points per dollar
More flexible reward programs (such as high or no rewards caps and more ways to use points)
Travel vouchers or free flights
Greater financial coverage for insurance and/or lower excess payment requirements
Complimentary status upgrades for loyalty programs such as Starwood Preferred Guests (hotels)
A complimentary night's stay at a premium hotel every year
Access to hundreds of airport lounges around the world (through complimentary membership to a program such as Priority Pass)
Complimentary airport transfers
Flight upgrades
Dedicated travel booking services
A personal concierge service
A personal shopper
Invitations to exclusive events or promotions
These features give you some idea of the status that comes from having a black credit card, but the specific details do vary between accounts. So when you're looking for a black card, it's a good idea to go through all the features listed or even ask the credit card company for more information about specific benefits you want from a black credit card.
How much will a black credit card cost me?
The high status of a black credit card is designed for big earners (and spenders), so these cards often have higher annual fees and interest rates than other credit cards. For example, black credit card annual fees range from around $300 to $700 and most cards offer standard interest rates of between 18% p.a. and 22% p.a. (variable).
Both of these costs are on the higher end of the scale when you're comparing different types of credit cards. The theory is that all the features and benefits that come with a black credit card justify these costs – but that does depend on how you use the card.
Who should get a black credit card?
Black credit cards are designed for people with high incomes who also spend a lot on credit cards each month. You can see this in the application requirements, which include minimum incomes of around $75,000 or more. You will also need to have a good or excellent credit rating.
But meeting the application requirements doesn't necessarily mean you should get a black credit card. If you rarely use credit, for example, you won't be able to make the most of the benefits. This could mean that the annual fee costs you more than any value you get from the card. On the other hand, if you're a big spender, frequent flyer or someone who will take advantage of features such as travel insurance and airport lounge access, the benefits could help offset the costs of getting a black credit card.
Ask these questions to decide if a black credit card is worth it
Figuring out whether or not you should get a black credit card can be hard, so we've come up with some questions to consider when you're comparing your options.
Do you use credit a lot? If you regularly pay with plastic, the higher credit limit of a black credit card could help you avoid maxing out your account. It will also help you get the most out of features such as rewards.
Do you regularly pay off your credit card? Black credit cards often have high interest rates that could make them expensive if you're used to carrying a balance. If you regularly pay off your card, then you will get more value out of a black card without adding too much to your credit costs.
How many of the features will you actually use? It's great to have access to the wide range of features that black credit cards offer but the value comes from actually using them. If you consider what features you want and how often you will use them, you can also work out whether or not a black credit card is worth it for you.
How many credit cards do you have? Most Australians have more than one credit card in their wallet. With a black credit card, you'll get more value the more you can use it. So having multiple cards could make it more expensive and less valuable.
Is there a black credit card you actually want? It's important to find a credit card that ticks as many of your boxes as possible. Comparing a range of cards before applying will help make sure you choose the right one for your circumstances either way.
Back to top
How to compare black credit cards
Black credit cards may have high flying features and rewards but they are essentially the same as any other credit card with a high credit limit. This means comparing them is incredibly important for finding the right card for you. So here are the major factors you'll need to consider to compare black credit cards:
Some black credit cards have their own rewards program, such as the ANZ Rewards Black. Others are linked to frequent flyer programs including Qantas, Velocity and Emirates Skywards. There are also black credit cards that let you choose between a credit card rewards program or a frequent flyer program.
For example, the Westpac Altitude Black can earn either Westpac Altitude points or Qantas Frequent Flyer points depending on what you prefer. Take some time to look at the different reward program options, and particularly the number of points you'll earn per $1, so you can tell which one will give you the best bang for your buck.
Compare complimentary extras based on what's practical and valuable to you. For example, someone who frequently pays for entry to airport lounges might want a black card that has complimentary Priority Pass membership, while someone else might place a higher value on a card that offers a complimentary night's stay in a hotel.
The terms and conditions for complimentary extras, as well as the level of service you get with a black credit card, impact its overall value. The quality of customer service offered, for example, could be very different depending on the credit card company and the way it's set up. Likewise, the coverage available with complimentary insurance could be more or less limited depending on the partnering insurance company, so be sure to read the Product Disclosure Statement carefully.
When you're looking at several black credit cards, make sure you check the annual fees and other potential costs so that you can work our how much each card will cost you. Remember that the benefits should outweigh the costs of the black credit card that you choose.
Interest rates and interest-free days
Even a difference of 1% p.a. could save you a lot of money if you carry a balance, so it's always important to check the standard interest rates when comparing cards. Interest-free days, on the other hand, offer greater convenience and value if you regularly pay your balance off in full. You could get a lot more flexibility if a card offers up to 55 days interest-free compared to one that offers up to 45, for instance.
Introductory offers
If you want to get a new black credit card, you could also enjoy bonus points, a low or 0% interest rate or a reduced or $0 annual fee for the first year. Some cards may offer a combination of introductory offers, which all have the potential to add value to the card you choose in the short term. Make sure you check the details of introductory offers and look at the ongoing or standard costs to determine the long-term value of each black card you compare.[/fin_must_read]
Remember, even though black credit cards are definitely at the pinnacle of premium options, the most important thing is always finding the right card for your circumstances so that it really works for you (and not the other way around). If you don't think a black card is for you, start comparing other cards down the ladder to find an option that suits your needs.
What does a black credit card represent?
There's a selection of black credit cards available in the Australian market for those looking for the ultimate level of prestige and the features that come with it. These cards may seem like the perfect balance of rewards and features, but remember most of them come with hefty fees.
Since most people don't know the difference when it comes to black credit cards, you can get the same level of awe by flashing any other premium credit card. In terms of features, be sure you'll be able to use what is offered. If you have no intention of taking advantage of the concierge service and other benefits that cards like the American Express Centurion Card offer, then there really isn't any point in paying a few thousand a year just to show it off.
Regardless of which black credit card you opt for, the fact is that people could treat you differently the moment you whip it out of your wallet, which might be one of the reasons you want one. So, if you want to be treated like a star, it might be time to consider getting a black credit card.
Back to top
Frequently asked questions about black credit cards
If you want something about black credit cards explained in more detail, here you can find answers to frequently asked questions about them. If there's a specific question you'd like answered, you can also get in touch with us directly using the comment box below.
Pictures: Shutterstock
Back to top
More guides on Finder