Personal loans for debt consolidation
This guide will teach you about debt consolidation loans, how to lower your repayments and the best ways to get out of debt.
We're reader-supported and may be paid when you visit links to partner sites. We don't compare all products in the market, but we're working on it!
A debt consolidation personal loan can help reduce your interest rate and fees by combining your existing loans and debts into one. Avoid the stress of dealing with multiple rates and fees, so you can focus on paying off your debt more quickly.
Harmoney Unsecured Personal Loan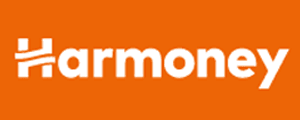 Harmoney Unsecured Personal Loan
Borrow up to $50,000
3 and 5 years terms
No hidden fees

100% confidential application
Harmoney Unsecured Personal Loan
An unsecured personal loan up to $50,000. You'll receive a tailored interest rate between 6.99% p.a. and 25.69% p.a. based on your risk profile.
Interest rate from: 6.99% p.a.
Comparison rate: 7.79% p.a.
Interest rate type: Fixed
Application fee: $575 ($275 for loans of below $5,000)
Minimum loan amount: $2,000
Maximum loan amount: $50,000
Compare debt consolidation loans in Australia
The reality of Australia's household debt
In 2014, the Australian Bureau of Statistics (ABS) commissioned a study titled Australian Social Trends, 2014. The study examined various forms of household debt using data from the ABS National Accounts and the ABS Survey of Income and Housing.
The study revealed interesting trends of how Australians handle their debts.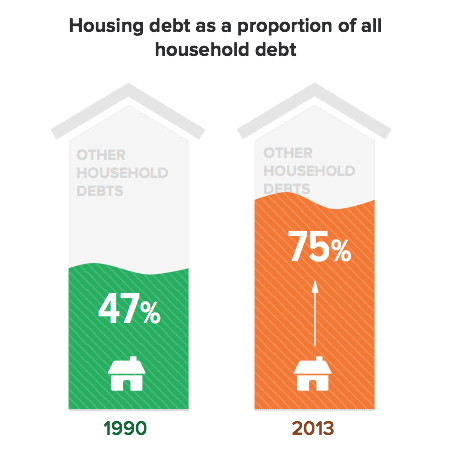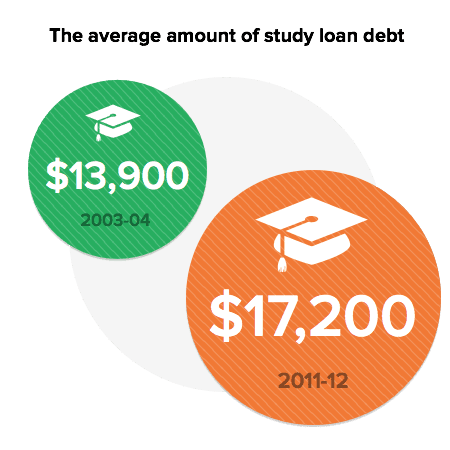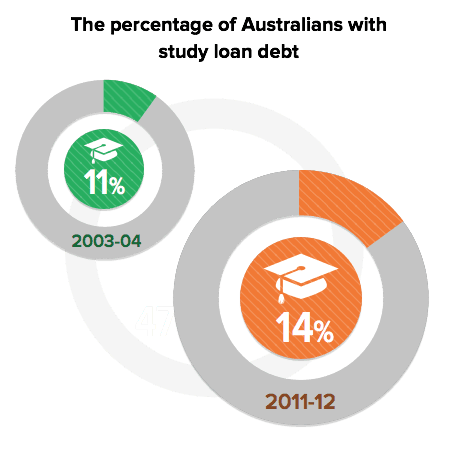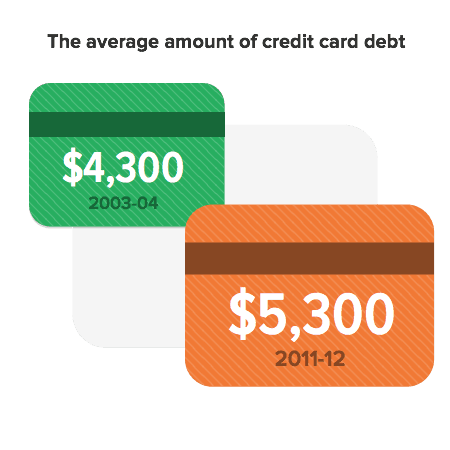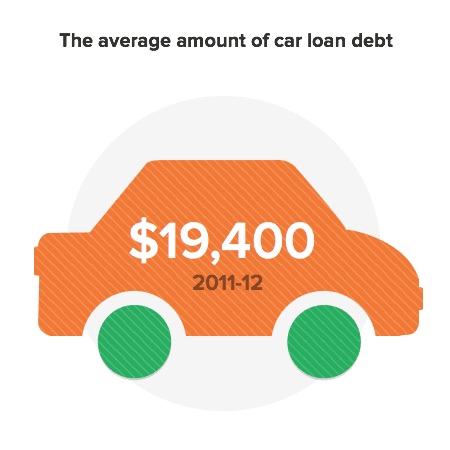 Why do people struggle with debt?
A look at the numbers above reveals that debt is a part of the majority of Australian households. While some of us continue to struggle with debt, others manage their debts with complete assurance. A different approach and a different mindset make a big difference when it comes to dealing with debt responsibly. How do you deal with your debt? People who struggle with debt typically do the following:
Do not monitor their income and expenses – this may be due to not knowing how to budget properly or not sticking to their budget
Have expenses that typically exceed their income
Are experiencing financial distress brought on by conditions such as a reduced income, being underemployed, etc.
Engage in certain wasteful habits, such as shopping for things they don't need
Lack proper money management skills
Have little or no savings for dealing with unforeseen expenses such as medical emergencies or loss of income
Don't compare products or review their financial products to see if they could save
Remain in denial and refuse to acknowledge that they have a debt-related problem on their hands
Fail to pinpoint the real reasons that got them into debt in the first place
Make only the minimum payments towards their debts
Situations where a debt consolidation loan could help you
You have multiple debts with different fees. These could include debts from credit cards, personal loans, car loans or wedding loans.
You're struggling to make the repayments for the different debts you owe.
You're looking for a cheaper way to pay off your debts.
You find that keeping track of all your debts is confusing or overwhelming.
Steps to consolidating your debt with a personal loan
Once you have decided to consolidate your debt, you will need to do the following:
Calculate how much you need to borrow to cover your debts. This should include any fees or charges you will have to cover in order to pay off your existing debts early.
Research and compare personal loan products to find one that meets your needs.
Use the funds to pay off your other debts, along with any fees or charges.
Continue to make repayments on your personal loan until it has been repaid.
If you want to consolidate your debt using another method, such as using a credit card, you can read our comprehensive guide to debt consolidation.
The dos and don'ts of debt consolidation loans
Dos
Make sure to factor in all the costs of consolidating your debt. This can include establishment fees, early repayment fees, loan applications fees and any other costs. The cost of consolidating your debt could potentially be more than what you're paying for your current loans. Using a personal loans calculator can help you work out exactly how much you'll be paying.
Consider turning your unsecured debts into a single secured debt by offering an asset that you own (such as your car) as security for the loan. This can be a great way to secure a lower interest rate, which could potentially save you more money over the life of your loan.
Before applying for a debt consolidation loan, try negotiating with your current lenders to factor in your financial situation to see if they can temporarily pause or lower your loan repayments.
Read the fine print for any debt consolidation loans that you are considering. This can help you understand specific details, such as whether the lender allows you to make monthly or fortnightly repayments or make extra repayments without being penalised.
Don'ts
Don't automatically switch to a longer loan term without doing the calculations. While it might give you lower monthly repayments, it could end up costing you significantly more in interest fees.
Don't forget to make sure the credit provider you're considering is credible. You can do this by checking if it's listed on ASIC Connect's Professional Registers. Be wary of companies that try to rush through the process, make unrealistic promises or ask you to sign blank documents.
Avoid rolling your debts into your mortgage. Home loans generally have longer terms and this could lead to you paying more in interest fees over the life of your loan.
Don't go into more debt. This means that you should stop relying on credit cards or other loans until your existing debts have been settled. The more money you can put towards making your repayments, the faster you can get out of debt.
---
But I have bad credit, can I still consolidate my debt?
Bad credit can strike at any time. Whether you lose your job or miss a few repayments due to illness, debt consolidation for bad credit borrowers is still possible. If you find that your repayments are spiralling out of control, debt consolidation could be for you. With the help of our guide, you could potentially get your finances back on track.
Consolidating your debt with bad credit
---
Need help managing your debt consolidation?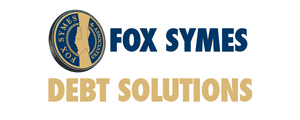 Fox Symes Debt Solutions
Fox Symes offers a range of debt consolidation options to help you if you're struggling with multiple debts.
Debt consolidation loans comparison
What to consider when consolidating debt with a personal loan
Affordability. You should confirm that the personal loan you use will be cheaper to pay off than your existing debts. You must also ensure that you will be able to cover the repayments on your new loan to avoid going into further debt.
Early repayment costs. Many loans will require you to pay additional fees or charges if you repay the loan early. These will need to be paid if you wish to consolidate your debts under a new loan and should be included in your calculations to ensure debt consolidation is the right choice for you.
Legitimacy. Always make sure to check that the lender you wish to use is ASIC-licensed and legally able to operate in Australia.
How to get the most out of debt consolidation
Set a budget to manage repayments.
Make extra repayments to pay off your debt sooner.
Look for money hacks/ways to cut down expenditure.
Compare your options to get the best personal loan for your situation.
What are the pros and cons of debt consolidation loans?
Pros
Simple, single repayment.
You can reduce your overall payments and costs.
No more phone calls from debt collectors.
Cons
You may increase your debt if you fail to make repayments.
You will need to pay any fees or charges for breaking your existing loans.
What other debt consolidation methods are available?
Debt consolidation loans are not the only type of credit available to you if you're struggling with debt. Find the debt consolidation method that is going to work best for your needs and the type of debt you have:
Balance transfer credit cards. If you have credit card debt across multiple accounts, you can consolidate it into a single card with a balance transfer. You will pay 0% interest for a specific period of time, with some card providers offering up to 24 months. Certain credit card providers also let you balance transfer personal loan debt. For this method, you will also need good credit to be approved.
Part 9 Debt Agreements. If you're having trouble paying your debt, you could enter into a debt agreement with a third-party organisation and your creditors. The agreement essentially freezes the interest you're paying and gives you a certain repayment period to pay back what you owe. Some creditors agree to accept less than the full balance for repaying your debt, but entering into a debt agreement shouldn't be taken lightly as it is considered a form of bankruptcy.
Credit counselling. Enlist the services of a reputed credit counselling organisation for formulating a Debt Management Plan (DMP). Once you enrol in a DMP, the creditors will often reduce your interest rates. Afterwards, you will need to make one monthly payment to the counselling organisation. This organisation will handle the repayment to your creditors. This is worthwhile if you can repay your debt within five years, but again, it isn't a decision that should be taken lightly. This should only be entered into if you are having difficulty repaying your debts on your own.
Staying out of debt
When it comes to staying out of debt, there are quite a few things you can do. You could look at developing an emergency fund by trying to save up to 15% of your income. If you find this number a bit high, or just want a way to ease the financial strain, you could consider ways to create alternate sources of income. There are a number of ways to make money online with freelance work by charging people for your skills. You could also consider selling some of your unused items or looking at your expenses and seeing ways you could cut back. As always, creating a budget and sticking to it is a sure-fire way to keep you on track.
Debt reduction strategies you can consider
If you are considering tackling your debt head-on without taking out a debt consolidation loan or other type of credit, there are ways to help you take back control of your finances:
The "snowball" or "domino" method.

This involves you writing down your total outstanding debt on each of your credit accounts, except for your mortgage and HECS-HELP debt. You don't need to consider interest rates at this point. Whichever account has the smallest balance is the account you make additional payments into and you pay off first – then the next smallest balance, then the next smallest, and so on until you are out of debt. This method helps get more accounts closed quickly, saving you interest and fees and gets you motivated by paying off debt. If two accounts have similar rates, pay off the higher interest rate account first. Remember to keep paying the minimum balance on all accounts and to consider early repayment fees for your personal loans.

Pay off your highest balances first

Another strategy is to pay your highest interest balances first. Paying off these accounts will save you money on interest repayments and have the same benefit as the "snowball" strategy in that it will help get your accounts closed. Start by writing down all your accounts, the balance outstanding on each and the interest rate. Remember to consider the balance of credit accounts when starting to pay them down and to keep making minimum repayments on all accounts.

Lose your loyalties

Finding the money to make additional payments can be a struggle. When was the last time you compared your savings accounts? Before making a purchase, have you looked to see if you could find it cheaper with a coupon code? Saving where you can and putting all your additional funds into your prioritised debt (according to the strategy you've adopted) is key to being debt-free.

Budget, budget, budget

Developing and sticking to a budget is of paramount importance when it comes to getting out of debt. There are a number of budgeting websites and tools available that can track your spending, saving and expenses, so see which one works for you.
Other questions you may have
Read more on this topic