Compare Business Credit Cards
Manage your cash flow, save time on expense reports, simplify your accounting and enjoy premium perks.
We're reader-supported and may be paid when you visit links to partner sites. We don't compare all products in the market, but we're working on it!
Business credit cards help you separate personal and business spending, with a dedicated account and the option of additional cards for employees. Many business cards also offer itemised statements and compatibility with MYOB, Xero, Microsoft Excel and other popular services. Use this guide to compare all types of business credit cards, corporate credit cards and charge cards and learn more about your options.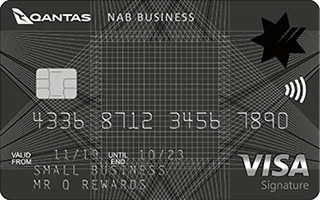 NAB Qantas Business Signature Card
Earn
100,000
bonus
Qantas Points
Eligibility criteria, terms and conditions, fees and charges apply
NAB Credit Card Offer
Collect 100,000 bonus Qantas Points with a NAB Qantas Business Signature Card and manage your business expenditure under a single account.
100,000 bonus Qantas Points when you spend $4,000 within the first 60 days
Annual fee of $295 per card
18.5% p.a. purchase interest rate with up to 44 days interest-free
Must have a registered ABN/ACN and must be registered for GST with a turnover of at least $75,000 per year
Business credit cards comparison
*The credit card offers on this page are chosen from a range of credit cards available to us and are not representative of all the products available in the market. The use of the terms "best" and "top" are not product ratings and are subject to our disclaimer. There is no perfect order or perfect ranking system for the products we list on our Site, so we provide you with the functionality to self-select, re-order and compare products. The initial display order is influenced by a range of factors including conversion rates, product costs and commercial arrangements, so please don't interpret the listing order as an endorsement or recommendation from us. We're happy to provide you with the tools you need to make better decisions, but we'd like you to make your own decisions and compare and assess products based on your own preferences, circumstances and needs.
More business credit cards
What is a business credit card?
A business credit card allows you to free up cash flow by using a line of credit to pay for your business expenses. These cards usually come with other perks including rewards programs, additional cardholders and expense reporting systems. Unlike a personal card, the company may be liable for the debt on a business credit card, not the individual.
What is the point of a business credit card?
Unlike personal credit cards, business credit cards are designed for work-related spending and cash flow. Business card accounts also offer specialised features, such as additional cards for employees, customisable spending limits for different users and expense-tracking tools. Some business credit cards even have analytics tools designed to help with business reporting and budgeting. Depending on the card, you could also save time adding the expenses to your financial records by setting up an automatic fee with programs such as MYOB and Xero.
Similar to personal credit cards, business credit cards give you access to funds up to a certain limit (the credit limit) and allow you to pay off your expenses over time (with interest charges). Some business credit cards also include annual fees – either for the whole account or per card – as well as perks such as rewards, complimentary insurance or airport lounge passes.
Who is responsible for the credit card? Personal vs business credit card liability
Business credit cards may offer either personal liability or business liability for the account. The type of liability determines who is responsible for managing the card and can be an important factor when choosing a business option. We've outlined the key details of each option below:
Personal liability credit cards
The primary cardholder is always responsible for managing the account.
You're responsible for how much of the balance is paid off by the due date each month.
If a payment is late or missed, it's you who the credit card company will contact.
If you choose to take personal responsibility for a business credit card, you can usually apply without needing to submit your business financials.
You will need to include details of your personal income, debts and assets, as well as your Australian Business Number (ABN).
Business liability credit cards
With business liability, it is the business entity that is responsible for managing the account.
If there is an issue with the account, the entire business will be held responsible, rather than one individual person that's linked to the account.
It can be useful if you are a partner in a business.
What about business charge cards?
A charge card acts as a short-term (usually monthly) loan to a business for any transactions charged on the card. These cards defer payment until the end of the statement period when you're required to pay off the account in full. Interest rates do not apply to charge cards as there is no revolving line of credit, but there are often hefty late fees if you don't pay the balance in full by the statement due date.
Business charge cards are designed for organisations that have the financial stability to clear their balance each billing cycle, which will typically be between 25 and 51 days. If you are looking to borrow funds over a longer period of time, business credit cards may offer more flexibility. Despite these different account structures, charge cards do have many similar features to conventional credit cards, including expense tracking tools, supplementary cards, rewards programs and complimentary extras. As a result, they are often put in the same category as business credit cards.
Is fuel a major work expense? Find out about fuel cards
Corporate credit cards
If you run a medium to large business, you could consider a corporate card instead of a business card that is more focused on the needs of SMEs (small to medium enterprises). Some of the features you could expect to find on a corporate card include unlimited cards for employees, control features for each card (as well as the entire account), a dedicated business account manager or service team, integration with business finance software and unauthorised use insurance. There are also corporate cards that offer rewards and extensive travel perks.
This is similar to the features offered on other business credit cards, but at a larger scale. Corporate cards also have different eligibility requirements, such as a minimum number of years in trading or a minimum annual turnover. Before applying and opening a corporate credit card account, you'll usually need to submit an enquiry and talk to the provider's business team.
Are there any business credit cards for bad credit?
If you have black marks on your credit history (such as defaults) or if you have no credit history, it could make it hard to get approved for a business credit card. When that's the case, here are some options you could consider:
Talk to your current bank. If you already manage your business transactions with a specific bank, call them and ask about your options in terms of credit cards, loans or overdraft accounts. With existing details of your business, the bank may be able to offer you a solution that suits your financial situation and business' needs.
Consider a personal credit card with a low minimum income requirement. While you may not currently be able to get approved for a business credit card, you could look at getting a personal card that has a minimum income requirement ranging from $15,000 to $25,000. These cards typically offer features and credit limits that someone who earns the minimum amount will be able to manage. So if you have bad credit but earn more than the minimum required for the card, you could still get approved.
Look at business loans and line of credit options. A business loan or line of credit typically offers set repayment terms to help reduce the risk to lenders. You can also get a secured business loan that is guaranteed by an asset or assets that you already have. So in some cases, these options may increase your chances of getting approved.
Find out about other credit card options for bad credit
How to compare business credit cards
Comparing business credit cards side by side allows you to find an option that is suited to your business's specific needs. Some of the core factors to compare when weighing up business credit cards include:
Business spending habits
It's important to choose a business credit card that fits with your existing business spending. This means you'll need to look at a range of factors, including:
Eligible purchases
Capital expenses
Additional cardholder spending
Business travel needs
You can then match the types of transactions you make with the card features. For example, if your business uses a credit card for flights and regularly pays it off, a frequent flyer card might offer competitive value. On the other hand, if your business relies on the card for credit, a low rate, low fee or interest-free days business credit card might be the most affordable option.
Fees and charges
Business credit cards feature a range of fees and charges. Some of the most common include:
Annual fees. Business credit card annual fees can range from $0 to $700 (or more).
Supplementary cardholder annual fees. While some business credit cards offer additional cardholders at no extra cost, others may charge anywhere from $10 to $150 per annum.
Standard interest rates. Business credit card interest rates can be as low as 9.99% p.a. and as high as 22% p.a., with some cards charging the same rate for all transactions and others applying different rates depending on whether it is a purchase, cash advance or balance transfer.
Currency conversion fees. This charge is applied for transactions made overseas or in a foreign currency and is typically 3% to 3.5% of the transaction value.
Minimum required monthly payments. Business credit cards generally have minimum payments of 2% to 3% of the outstanding balance, unless they are charge cards that need to be paid in full for each statement cycle.
Overlimit fees. If you or an employee goes over the credit limit on the account, a fee of $10 to $30 may be applied.
Late payment fees. If you don't make a payment on your business credit card, you may be charged a fee. This cost is usually around $10 to $30 but could be higher for some options, particularly charge cards.
Establishment fee. Some corporate credit cards (for larger business entities) may charge an establishment fee when your business applies and is approved for the account. This could be as much as $300, depending on the card.
Extra perks
Business rewards. Business credit cards can provide access to exclusive rewards and benefits that are outside the scope of personal credit card users. For example, the American Express Qantas Business Rewards offers triple Qantas Points on eligible flights booked through Qantas Business Rewards, and the ANZ Business Rewards Black offers custom rewards through the Rewards Your Way – Personal Shopper Service. Other rewards perks can include free delivery and express shipment.
Online business banking. Business credit cards usually give you all the access you would expect from banking online, such as 24/7 access to your account plus business security options such as encryption technology for peace of mind. Business applications may also allow mobile management so you can bank on-the-go with your business.
Complimentary insurance. Many business credit cards include complimentary travel insurance and liability insurance for the account.
Expense management systems. Keeping on top of business expenses and consolidating your credit card transactions can be difficult amongst the other million tasks involved in running a business. Expense management systems give you control and simplicity, providing an all-in-one solution for:
24/7 monitoring, budget tracking by creating standard or custom reports, clear visibility of company spending and recognising patterns to better manage cycles in spending
Multiple reporting formats including MYOB, Microsoft Excel, Word, PDF, HTML, XML, CSV and Tab-delimited
Pros and cons of business credit cards
Pros
Potential tax deductions for claiming a business credit card or charge card annual fee
Simplified book-keeping/accounting process
Expense and cash flow management
Liability options
Security features
Customisable credit limits
Builds business credit
Additional cardholders
Complimentary extras specifically designed for businesses
Available and issued as Amex, Visa, Mastercard or Diners Club cards
Cons
Personal liability options can expose you to legal issues
Expensive fees
Interest charges if you carry a balance
Can be hard to keep track of employee spending if you're a small business
You can only use the account for business spending
How to apply for a business credit card
If you're interested in getting a business credit card, the first step is to compare a range of options to find one that is convenient and affordable for your business. Once you have found one, you can usually apply online. Before you apply for a credit card, you'll need to make sure that you meet the following eligibility requirements and have organised the necessary documents to complete the application:
Eligibility requirements
Age. You must be at least 18 years of age to apply for a business credit card in Australia.
Residential status. You'll usually need to be a citizen or permanent resident of Australia to apply. Make sure to confirm the card's specific residential status requirements before you apply.
ABN. You must have a valid ABN (Australian Business Number) to apply. You must also usually be registered for GST.
Minimum annual turnover. Most business credit and charge cards have a minimum annual turnover requirement.
Credit score. You must meet the credit history requirements to apply for a business credit card.
Necessary documents and information
The other details you will be asked to provide vary depending on the card and whether you choose a business liability or personal liability option. But generally you will need to provide:
Contact details. Contact details for you and/or your business.
Proof of identification. A valid form of identification, such as your driver's licence or passport.
Financial information. You'll need to provide information about your income and/or revenue as well as any assets and liabilities, including investments, debts and regular expenses. This usually includes your last 1-2 tax returns or business profit and loss statements, along with other financial documentation.
Additional cardholders. If you wish to manage your employees' spending under the one account, you'll also need to provide the details of any supplementary cardholders.
Accountant's information. If you're self-employed, you may be required to include your accountant's contact information.
Other documents. Supporting documentation such as personal tax statements, pay slips and BAS reports may also be required.
Once you have submitted your application, you should get a response within a few minutes. If you're approved, you could have your card in as few as 5–10 business days (depending on the account and issuer). You can then activate the card and start using it for your business. With expense tracking features, additional cards, interest free periods and reward options, credit cards can be a convenient option for both big and small businesses. Now that you know more about them, you can compare your options and find a product that suits your business' needs.
Frequently asked questions
How can I work out what business credit card I should get?
To choose a business credit card that best suits your company's needs, you'll need to consider a bunch of different factors, these include:
Whether you want a card with business liability or personal liability for the account
How much you plan to spend on the card
If you'll be the only one using it or if you want to get additional cards for employees
If you want to earn rewards for your business spending
If you want complimentary insurance or other perks
The banking services and features you want access to
You may also want to look for specific features, such as business credit cards that are compatible with your accounting software. But weighing up these factors – and any others that are specific to your business goals – will help you compare credit cards based on the features that offer the most value to your business.
Is business credit card interest tax deductible?
This can depend on the structure of your business and how you use the account. But in general, you can claim a tax deduction for most operating expenses – including banking fees and charges – in the financial year that these fees are charged. This means you could be able to claim your business credit card's annual fee as well as any interest that's charged if you carry a balance. Talk to your accountant for specific details on what charges you'll be eligible to claim. Alternatively, you could call the Australian Taxation Office (ATO) business line on 13 72 26.
How many additional cardholders can I get?
Some business credit cards support 2-5 additional cardholders, while others support up to 99 additional cardholders (or more). You can check how many cardholders a credit card allows in Finder's individual card reviews or by looking at the card's product disclosure statement (PDS).
Are business credit cards eligible for instant approval?
Most business credit cards will not be eligible for instant approval as there is typically increased risk for business lending and your application will need to be assessed once you submit it.
Do business credit cards check personal credit reports?
If you apply for a business credit card with personal liability, the card issuer will check your credit history as part of the application process. This means details of the application will be added to your credit file. If you're approved for the card, account details will also be listed on your personal credit file.
Are the rewards for business credit cards the same as for personal credit cards?
The rewards available for redemption can vary between business credit card and personal credit card accounts. Some of the rewards that are typically available through business credit cards include travel, frequent flyer point transfers, gift cards and cashback options. When you're comparing business credit cards with rewards, you can see what types of options are available by looking at the rewards program details. The number of points earned per dollar and the purchases that are eligible for points can also vary depending on the type of business credit card and personal credit card you are comparing.
Are there tax implications for earning frequent flyer points with a business credit card?
According to the Australian Taxation Office (ATO), receiving points is not subject to tax but receiving rewards may have tax implications. You can refer to the ATO website for further information on when tax may apply to rewards you redeem through a loyalty program.
Does my business credit card come with travel insurance?
Some business credit cards come with complimentary travel insurance, but you will need to check this information for any card you're considering. Depending on the bank and the insurance company they are partnered with, the requirements to qualify for cover and the inclusions will differ. It is important to check the terms and conditions around the travel insurance policy to ensure they match your travelling needs before applying for the credit card.
How much can I balance transfer to a business credit card?
Credit card companies generally allow balance transfers worth between 70–100% of the approved credit limit for the card. The specific amount will depend on your application, credit history and the bank's lending criteria.
Images: Shutterstock
Back to top
You might be interested of the following
More guides on Finder