SIM-only plans in Australia
Have your own phone? Grab a SIM-only mobile plan and save. Compare 150+ SIM-only plans from 25+ providers.
We're committed to our readers and editorial independence. We don't compare all products in the market and may receive compensation when we refer you to our partners, but this does not influence our opinions or reviews. Learn more about Finder.
With a highly competitive market and lots of deals on offer, you can get great value on a SIM-only plan for any mobile phone that you already have.
Finder Exclusive
💰 Ends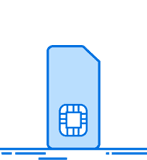 Get $10 off for 6 months + a $30 Woolworths e-Gift card with our Finder exclusive offer.
Plan will revert to $38/month after 6 months.
Compare SIM-only plans here
Customise the table below using the filters for data, monthly cost and more to find the right plan. You can even compare up to 4 plans side-by-side by selecting the "compare" box under the plan details.
Consider these 5 things to find the perfect SIM-only plan
There are a lot of mobile plan providers out there, each one vying for your money. To make things less overwhelming, consider these 5 questions when comparing your options.
If you're still unsure about whether a SIM-only plan is right for you, have a read through the rest of this guide as we explain the ins and outs of SIM-only plans and how they're different to prepaid options.
Check out these cheap SIM-only plans
What is a SIM-only mobile plan?
SIM only plans let you make calls, send texts, and use mobile data. They come with a SIM for a phone you provide, since they aren't bundled with handsets.
Usually, they operate on a postpaid basis, charging you for your plan and any excess usage. Plans usually come with unlimited talk and text to domestic numbers these days.
If you need a new phone and you don't want to buy one outright, you'll want to consider a contract postpaid plan instead.
What is the difference between prepaid and SIM-only?
Although prepaid plans also come as a SIM card, they function differently. On a prepaid plan, you pay for all your data, talk and text before you use it. Once you've used it up, that's it – your service gets cut off.
On a SIM-only plan, you'll always have access to data and calls, but you'll be charged for the excess at the end of the month. You'll always get service, but if you use it too much, your bill might surprise you.
| Feature | Prepaid | SIM-only |
| --- | --- | --- |
| Pay your bills... | At the start of the month | At the end of the month |
| Excess bill charges | Never | When you exceed your data or call limits |
| Promotional deals | Rarely | Often |
| Contracts | No | Available |
| Data value | Usually lower | Usually higher |
Both plan types come with their own pros and cons, so the one that's right for you will depend on your usage habits. You can get an estimate of your data habits and ways to reduce your use with our data calculator page.
Is a SIM-only plan right for me?
SIM-only plans are a convenient and cheap option for many people. Here's why you might benefit from swapping to a SIM-only plan:
You already have a phone that you like. SIM plans don't provide new handsets, so you'll need to have one of your own.
You don't want a contract. Whether you're waiting for a new phone release or you prefer flexibility, there are plenty of good monthly SIM-only plans.
You use multiple handsets. These plans aren't network-locked, so switching phones is as easy as popping in your SIM.
Your data usage varies monthly. You can swap plans to get more data for a few months, then drop back down.
If you like the phone you currently have, SIM-only plans are a cost-efficient choice.
Cheap SIM-only plans
We define "cheap" plans as those that cost you less than $20 per month. Plans in this price range usually include about 5GB of monthly data, giving you just over 1GB per week to play with.
Although 1GB may not sound like much these days, that's almost 7 hours of music streaming or a few hours of YouTube outside the house every week. You can even manage your use more easily with a data-tracking app.
If you're looking for something cheaper, there are plans that cost as little as $10 monthly. These offer about 1GB monthly, which is great if you're not glued to your phone very often. Some of these plans limit how many calls or texts you can make, though, and you'll have to pay for any excess.
Top 5 most popular SIM-only plans
There are hundreds of SIM-only plans on the market and while the right one for your needs will vary, sometimes it's nice to know what others have gone with to help you in your comparison. Below is a table of the top 5 most popular SIM only plans based on clicks from Finder users over the last three months.
| | Provider | Plan |
| --- | --- | --- |
| #1 | Circles.Life | Circles.Life SIM-only plan. 200GB. $28/month. |
| #2 | Circles.Life | Circles.Life SIM-only plan. 50GB. $18/month. |
| #3 | numobile | numobile Month-to-Month Plan. 30GB. $30/month. |
| #4 | Optus | Optus Choice. 60GB. $49/month. |
| #5 | Vodafone | Vodafone SIM-only Plus Plan. 10GB. $35/month. |
In the last three months, Circles.Life has really stood out as a disruptor in the SIM-only plans market, with its deals blowing the rest of the competition out of the water. Just a note here that the top 2 popular plans listed in the table above are both Finder Exclusive offers, so you won't find them available to purchase anywhere else!
Is it better to go SIM-only or contract?
Getting a phone on a contract is an attractive option since the phone itself costs the same either way. But if you're willing and able to buy the handset outright, you may be able to save money in the long run.
This is because phone contracts allow companies to lock you into a non-competitive contract for a long period of time. It's made worse by the fact that most phone contracts are offered by the big three – Telstra, Optus and Vodafone – which usually have pricier plans than their competition.
Here's a quick comparison:
| | On a plan | Bought outright |
| --- | --- | --- |
| Phone model | Samsung Galaxy S20 4G (128GB) | Samsung Galaxy S20 4G (128GB) |
| Provider | Telstra | Mate |
| Outright cost | $0 | $1,349 |
| Monthly cost | $106.20 ($51.20 phone + $55 plan) | $40 |
| Monthly data | 40GB | 40GB |
| Contract period | 24 months | No contract |
| Talk/text | Unlimited | Unlimited |
| Total cost over 24 months | $2,548.80 | $2,309 |
As you can see, it works out to be about $240 cheaper if you buy your phone outright and use a SIM-only plan. It might seem like you're forking over a lot of money when you buy your phone outright, but it does end up being worthwhile in the long run, especially if the SIM only plan you use with the phone is cheaper than the ones you'd get attached to a phone plan.
That said, an MVNO won't give you all the extra features that a big name like Telstra would, so the contract could still be a good choice for you. Going with a contract plan also means your handset repayments are spread out so you don't have to worry about using a chunk of money all in one go.
Whether or not a contract makes sense comes down to your needs and what (and when) you're willing to pay.
FAQ about SIM-only plans
More guides on Finder
Latest mobile plan deals on Finder