Compare business loans Australia
Business Loan Finder® can help you find the right business loan so you can expand or improve cashflow.
We're reader-supported and may be paid when you visit links to partner sites. We don't compare all products in the market, but we're working on it!
To help you choose the best fit for your company, we've reviewed over 150 business loans, including small business loans, invoice financing, lines of credit, business car loans and more.
Alternative finance options for small businesses during the COVID-19 outbreak

If your business has been affected by COVID-19, there are a number of options available to help you financially:

The banks are offering various relief measures to help small businesses during this time of uncertainty. This includes measures such as payment deferrals, fee and interest waivers and discounted rates on business loans.

The government is employing various tax relief measures, including refunds, deferrals and waivers, to help businesses retain staff and purchase new equipment during this time.
How do business loans work?
Businesses can either be lent a lump-sum payment or a revolving line of credit, which is repaid, with interest, over an agreed term (generally anywhere from three months to five years).
Business loans come as either secured or unsecured loans and allow businesses to borrow from $5,000 to $1,000,000, though some lenders do not have limits on their borrowing amounts. Most business loans come with a fixed interest rate (although variable interest rate loans are still available). You will need to make repayments on a daily, weekly or monthly basis.
Two types of business loans
Secured business loan. You will need to use an asset, generally a residential or commercial property, as security against the loan. In return, you will generally receive a lower interest rate, have the ability to borrow a larger amount and are more likely to be approved by the lender. Some lenders do not have a limit on the funds that you can borrow with a secured business loan. The amount that you qualify for will instead be determined by your asset value.
Unsecured business loan. You do not need to use an asset as security on an unsecured loan. Since unsecured loans are viewed as riskier to lenders, you will generally be offered a higher interest rate and may be less likely to be approved for a loan. Unsecured loans can be suitable for business owners who do not own an asset of value or would prefer not to risk their personal or company property.
Learn about different types of business loans and finance
Is your business eligible for a loan?
Age of the business

You'll usually need to have been operating for at least six months to a year for most unsecured business loans offered by alternative lenders and banks, but some do offer unsecured startup finance. Invoice factoring and equipment loans have less stringent criteria on business age, but you'll need to have been operating for at least one year for business overdrafts or lines of credit.

Turnover

Your business may need to be making a certain amount of turnover in order to be eligible for a loan. This revenue may be monthly or yearly and can range from $50,000 to $200,000+ p.a. Other lenders simply require you to connect your business's accounting software or financials as part of the application process so they can calculate a loan your business can afford.

Credit profile

The lender may check the personal credit histories along with the company's credit (unless you're a startup). If the business has unpaid defaults or tax debt, you may need to find a bad credit business loan. However, most invoice financing companies do not require perfect credit histories.

ABN/ACN

You'll need to have an Australian Business Number (ABN) or Australian Company Number (ACN) to qualify for any form of business finance.
Learn about the options your business has with our guides below.
---
What business financing options are available?
Business finance is split into two main categories: debt finance and equity finance. Equity finance is provided by an owner or an external investor, whereas debt finance is provided by a bank, credit union or business lender. Below, you can find out more information about the different types of short-term and long-term business debt finance that are available.
Type of loan
Pros
Cons
Business line of credit
✅ Flexible source of funds you can access when needed
✅ You only need to repay the funds you use
❌ Funds are expected to be repaid sooner, usually monthly
Short term business loan
✅ Lenders generally approve and fund application within one day
✅ Useful for capitalising on emerging business opportunities
✅ Can cover cash-flow shortfalls
❌ Higher rates and fees
❌ Usually require daily or weekly repayments
Business credit card
✅ Separates your personal and business spending
✅ Complimentary extras designed for businesses
✅ Builds business credit
❌ Expensive fees
❌ Interest charges can also apply
❌ Personal liability options can expose you to legal issues
Invoice financing
✅ Doesn't require ongoing repayments
✅ No interest rates or penalty fees
✅ Provides predictable cash flow
❌ Funding limited to size of invoices
❌ Business is still responsible for outstanding invoices
Business vehicle finance
✅ Possible tax benefits
✅ Flexible repayments
❌ Can require an accountant to handle tax benefits
❌ Not all options allow ownership of the vehicle
Equipment finance
✅ Wide range of options
✅ Helps grow or keep your business running
✅ Flexible repayments
❌ Can be difficult to choose an option
Business overdraft
✅ Gives you access to extra funds when you need it most
✅ Flexible repayments
✅ Has a wide range of uses
❌ Tend to charge higher interest rates and fees
Fully-drawn advance
✅ Flexible terms and a variety of options
✅ Predictable and consistent repayments
❌ If market interest rates go down, you may pay more interest than necessary
Cash-flow lending
✅ Offers the benefits of a secured loan without needing to offer assets as security
❌ Typically only available to businesses with good credit ratings
Trade finance
✅ Designed for domestic and international trades (currency or stock)
✅ Packaged service that includes financial technology, transaction services, risk management and advisers
❌ Typically only available to businesses with good credit ratings
❌ Can only be used for trading purposes
How can you compare business loans?
Do you meet the eligibility criteria?

You can find details of the eligibility criteria involved with each loan product by clicking the "More info" buttons on the comparison table. Checking whether you meet the minimum eligibility criteria before you apply is the first step in your comparison process. This will help you to narrow down choices that are the most suitable for you. If you do not meet the minimum eligibility criteria for a loan, do not apply for that loan.

How much will the business loan cost?

If you know what loan you need, the next step is deciding what your business can afford. Look at your incomings and outgoings to see what you could comfortably repay without putting too much strain on the business. If it's a loan for a startup, you'll need to rely on cash-flow projections.

Compare business loan interest rates and fees

Once you've determined what you can afford to borrow, you should compare the rate and any fees or charges for a variety of business loans to find the one that represents the best value for your business.

Do the repayment terms meet your business's needs?

Lenders offer repayment terms of varying flexibility. Some will allow you to repay daily, others weekly and some will require you to repay your loan monthly. Work out which will best meet your business's needs in terms of your cash flow.
What's the best loan for your business?
The best loan for your business will vary depending on a number of factors, such as the following:
How much money the business needs
The nature and structure of your company
Whether you need one large lump sum or a series of smaller cash injections
What your business is buying/spending the money on
Your personal circumstances/the circumstances of any other owners or directors
Your business's revenue
Every business is different and will have different needs and requirements. Luckily, nobody understands your business better than you do – all you need is to understand your options. That's what we're here for.
Preparing your business loan application
Your loan application should answer the following questions:
Why are you taking out a business loan? Your lender wants to know that the loan will contribute to the business's profitability and that you can pay it back.
How much are you borrowing? This helps to determine the options available to you and how risky the loan might be for lenders.
How soon do you need the money? Will you be wanting it as one lump sum or in multiple payments? When are the first and last payment dates?
How will you pay back the loan? This helps to determine whether or not your business has the cash flow to pay back a loan, but also the terms and conditions of repayment.
What is the risk to the lender? Bigger loans carry more risks to the lender and are therefore more difficult to get approved. The same goes for unsecured loans and those with particularly low interest rates.
Remember that taking out a loan is a competition: you are up against other people who want to borrow money. Improve your odds by standing out and showing that your business has more value and potential.
Your application needs to convince the lender that the money will help your company become more profitable or is essential to its continued operation, and that you will have enough revenue to pay back the loan.
How to apply for a business loan
🤔 Decide on the type of financing you need. For example, do you need a line of credit loan or invoice financing?
💵 Work out how much you need to borrow.
🔓 Choose a secured or unsecured business loan.
📅 Choose your terms.
🔎 Start your business loan research and comparison.
🖨️ Organise and prepare your financial documents.
📱 Click through and apply.
How do lenders judge your business loan application?
Lenders use a variety of criteria to see if you fit their risk profile and ensure your business can repay the loan.
Age and turnover of the business

Startup finance is usually harder to find and be approved for, so if your business is established, you will find it easier to get a loan. The business turnover is also considered and lenders usually have a minimum requirement for monthly or annual turnover. They may also use your turnover to determine what the business can afford to repay.

Credit profile

The lender will assess the company directors' personal credit scores as part of the application process, and if the business is established, the lender will also check the company's credit score. Assessing credit scores allows lenders to determine how risky your business is to lend to.

Credit card volume

If you receive credit card payments in your business, lenders may use the volume of these payments to judge your ability to repay the loan. The assumption among some new lenders is that you will use this volume to repay the loan.

Accounts receivable

Similar to credit card volume, lenders may factor your accounts receivable value into their asset ratios to help them make a decision.

Company structure

Lenders will check what company structure you have and how long you have been in the existing structure. If you have recently undertaken a restructure or are applying for finance in the middle of restructuring, lenders may not want to finance you at this time.

Existing debt

Does your business have an existing debt with another lender? This will be considered as part of your application.

Profitability

For various business loans, including for example a revolving line of credit, your business will usually need to be profitable to be approved.
Read our guide on how to get approved for a business loan
---
Do I need a deposit for a business loan? If so, how much?
Some business loans require a deposit, also known as loan security. Deposits reduce the risk the lender faces of non-repayment. It also demonstrates the solvency of the business and that financing said business is a good investment for the lender in question.
Deposits come in three forms (most lenders only require one, if any):
Cash down payment as a percentage of the loan
Asset collateral (e.g. residential or commercial property)
An invoice/your accounts receivable ledger (this only applies to invoice finance)
There is no set deposit amount as this will depend on the lender, the circumstances of the business, the loan amount and other factors. If the deposit is cash, most lenders require at least 10% to 30% of the loan value. This money can come from savings, working capital, external investments or alternative finance instruments.
If the deposit is an asset, such as a home, commercial property or some form of equipment, the required deposit could be as much as 100% of the loan value. If the deposit in question is an invoice, it will usually be required to be 110% to 120% of the loan value.
How much can I borrow?
How much you can borrow with a business loan will largely depend on the following:
The lender
The type of business loan you opt for
Your annual turnover
The business purpose of the loan
Your personal and company credit rating
Your business's length of time trading
Whether you have a deposit/security
Business loans vary from as little as $5,000 to tens of millions of dollars.
Smaller loans tend to require less stringent lending criteria and documentation. However, larger business loans will usually require more documentation, such as a detailed business plan, financial statements and various proofs of revenue, as well as an asset or cash security/deposit. The costs of these loans will also vary. To get an idea of what you can expect to pay with different sizes of business loan, you can use our business loan calculator.
Looking for a loan alternative? Compare these business charge cards
The defining features of business loans vs charge cards
If you're looking for business finance, then either a credit card or business loan can work well, but there are enough differences between the two that one will usually be significantly more suitable than the other.
| | Business credit card | Business loan |
| --- | --- | --- |
| Funding | A specified amount of money that you can spend as a flexible, ongoing, revolving line of credit | One defined lump sum or multiple set payments |
| Repayment | Minimum monthly repayments | A set repayment schedule |
| Eligibility | Typically has strict requirements | Many options with less strict requirements are available |
| Interest rates | Varies, most offer purchase rates of between 10-20% p.a. | Can be a monthly or annual rate. Typical annual rates for secured loans range between 3-10% p.a. |
| Fees | Annual fees, late repayment fees and more may apply | Signup fees, late repayment fees and more may apply |
| Other features | Rewards points, complimentary insurance and link-ups to accounting software | Typically has no special features other than online account management |
| Advantages | Flexible funding, continuously available money and bonus features | Many different options, can be closely tailored and a choice of many providers |
| Disadvantages | Typically cost more than standard loans | Has few special features, loan quality varies widely |
Top COVID-19 Business Guides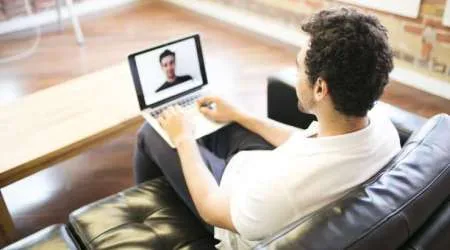 SPONSORED: Operating your business remotely now? Run through this checklist to make sure you're set up to work efficiently.
Read more…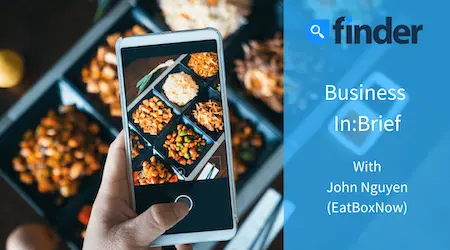 John Nguyen is the founder of EatBoxNow, a Korean BBQ box delivery service. John successfully launched his startup business amid the coronavirus pandemic. Find out more.
Read more…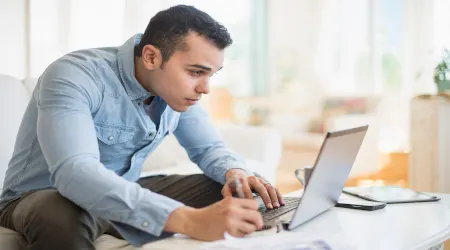 SPONSORED: Manage your small business finances more effectively with these tips and tricks, including employees' pay, operational costs and more.
Read more…
All guides to running your business during COVID-19
---
Compare business loan interest rates
The interest rate can vary depending on the type of business loan you need. Learn more about the interest rate ranges for each loan type, what the loan is suited to plus more below.
| Type of loan | Suited to | Interest rate | Loan amounts | More info |
| --- | --- | --- | --- | --- |
| Non-bank business loans | Businesses looking for a more flexible option outside of traditional banks. | 8.30% to 40.00% | $2,000 to $10,000,000 | Read guide |
| Unsecured business loans | Businesses that aren't able to offer assets as security. Interest rates can be higher compared to a secured business loan. | 8.30% to 40.00% | $2,000 to $10,000,000 | Read guide |
| Secured business loans | Businesses that own assets that can be used as security e.g. property, vehicles, equipment. | 9.90% to 36.00% | $5,000 to $10,000,000 | Read guide |
| Working capital finance | Short-term funding to allow the business to keep running day to day. | 2.59% to 40.00% | $2,000 to $10,000,000 | Read guide |
| Small business loans | Businesses making at least $100,000 per year that need a loan. | 2.59% to 40.00% | $2,000 to $7,000,000 | Read guide |
| Invoice financing | Improving cash flow for businesses that have outstanding invoices. | Percentage of the invoice amount | $10,000 to $150,000,000 | Read guide |
| Commercial loans | Funding commercial operations that can help grow and develop the business. | 2.59% to 40.00% | $2,000 to $7,000,000 | Read guide |
| Equipment finance | Funding the purchase of essential equipment or machinery. | 2.59% to 40.00% | $2,000 to $10,000,000 | Read guide |
| Vehicle finance | Business owners looking to purchase a car for the business. | 9.90% to 35.00% | $5,000 to $10,000,000 | Read guide |
| Fixed-term business loans | Borrowing larger amounts that are repaid over a consistent schedule. | 2.59% to 40.00% | $2,000 to $10,000,000 | |
| Bad credit business loans | Business owners with a below-average personal credit score. | 2.59% to 40.00% | $2,000 to $10,000,000 | Read guide |
| Supply chain finance | Buying high-value goods from suppliers that will have a significant impact on cash flow. | 2.59% to 40.00% | $2,000 to $10,000,000 | Read guide |
| Business line of credit | Businesses that need a flexible source of funds that can be accessed when needed. | 2.59% to 29.95% | $2,000 to $5,000,000 | Read guide |
| Personal loans | Startups or businesses that don't meet the requirements for a business loan. | 5.59% to 29.99% | $2,000 to $100,000 | Read guide |
Other questions you may have
Still have questions? We've done our best to answer the most common questions people have when taking out a business loan.
What should I avoid when applying for a business loan?
There are a number of mistakes that applicants make when applying for a business loan, from choosing the wrong loan option to submitting an incomplete application.
In terms of the type of loan, it's always a good idea to try to think realistically about what would best suit the business in terms of finance volume, flexibility and repayments.
When it comes to submitting the documents, you should always understand what you'll need to provide to the lender before beginning your application. Omitting or forgetting to submit vital information or documents may lead to an application being delayed or rejected altogether.
See the common mistakes to avoid when applying for a business loan
---
Why was my application rejected?
There are a number of reasons why a lender may reject a business loan application. It is important to ask for feedback from your lender if they do reject your application. This feedback will give you insight into what you did wrong and what you can improve on for the next time you apply. If the lender is unable to provide this feedback, you may want to review your application and see if you can spot any red flags yourself.
Read our guide on why your business loan application may have been rejected
---
My application was rejected. Do I have any alternatives for my business?
If your business loan application was rejected, you may still be able to acquire finance. For instance, if you previously applied with a bank, opting for a non-bank lender may still be an option for you. There is a large range of non-bank business loans, and non-bank lenders tend to have less strict eligibility criteria. They also often have just as, if not more, competitive interest rates (depending on your circumstances) and flexible repayment options.
That being said, it's a good idea to be aware that business loan rejections will show up on your credit file. Therefore, it may be a good idea to consult with a new lender or a financial adviser before submitting an application after a rejection.
Read our guide to non-bank business loans
---
Do business loans or personal loans offer better flexibility?
Business loans
Lenders are likely to enforce strict limits in the first 12 months of your loan, but if you can back up your initial projections you could well be granted an increase in your funding amount.
You will need to use the entire loan amount for business purposes.
Personal loans
If you want to take out more funds later on, you will have to prove to the bank that your personal loan was in fact used, successfully, to fund a growing business. The administrative processes attached to this can be slow.
Funds can be used for business purposes as well as for other personal needs.
---
Is my personal credit file checked or my company credit file?
The lender will specify upfront which credit history they will need to check, but generally, the lender will want to verify the company directors' credit histories. Your business's financials may also be checked using accounting information that you supply as part of the application process.
Read the guide on business loans and your credit file
---
Is my personal credit file affected by my application?
Your personal credit file may be affected by a business loan application. Most lenders will check both your personal and your company's credit file when considering you for a business loan, and a personal check will show up on your credit file.
However, as mentioned above, not all lenders will do this, and having bad personal credit may not necessarily affect your chances of getting a loan. Invoice finance providers, for example, frequently base your eligibility for finance on the reliability of your invoices as opposed to either your personal or your company's credit history. This can be particularly useful if you have a new business or have previously had difficulties acquiring finance.
Popular searches on Finder
Popular business loans on Finder
Other searches on Finder
Read more on this topic
Octet Trade Finance

Octet Trade Finance gives businesses access to a facility of up to $7 million with which they can pay their suppliers.

Zip Business

Zip Business's unsecured business lines of credit are available from $10k to $500k. Draw down what you need and repay over 6 months to 3 years.

ebroker Business Loans review

Whatever your business loan requirement, ebroker may be able to help. With a range of loan options from over 70 bank and non-bank lenders compared on-site, could you find the right loan for your business?

Macquarie Bank business overdraft

Keeping a positive cash flow can be challenging at times. That's where a business overdraft could help. Find out more about Macquarie's business overdraft here.