Cheap life insurance
Cheap life insurance does exist. Find 500K cover from as little as $25 a month.
We're committed to our readers and editorial independence. We don't compare all products in the market and may receive compensation when we refer you to our partners, but this does not influence our opinions or reviews. Learn more about Finder.
Life insurance can provide a financial safety net for your loved ones' futures and it doesn't have to cost a fortune. We looked at over 20 life insurance brands in Australia to find some of the cheapest options for you. We've also provided some tips on how you can save further on your life insurance.
By taking steps such as bundling your insurances or changing your premium types, you can save big in the long run.
Must read: Finding cheap life insurance
We looked at a broad range of brands and products in Australia to illustrate some examples of affordable cover. However, these may not be an accurate reflection of your own situation and costs may vary depending on things like your age, health and occupation.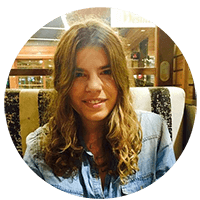 Finder's Pick for affordable Life Insurance: NobleOak
We requested quotes from over 20 life insurance brands to find out which companies offered the best value. Our research found that NobleOak Life Insurance is an affordable option that offers a range of extras that make it great value for money.

NobleOak offers one of the highest levels of cover in the market across a range of its products, including TPD, trauma and income protection insurance. You can also access complimentary financial advice and grief counselling giving you extra support when you need it most.

First Month Free




Get your first month free when you buy NobleOak Life Insurance. Offer ends 30 September 2020. T&Cs apply.
Get quote
Methodology - How did we make this decision?
We obtained quotes from over 20 Australian insurance brands (listed in the table below) to form the basis of our comparison for cheap life insurance. We only compared direct insurance policies and our comparison is not reflective of the full market available.
We used multiple variables including:
Age ranges from 18 through to 70 years of age
Smoking versus non-smoking status
Three different levels of cover, ($200,000, $500,000 and $1 million)
And both male and female quotes
We also considered which brands offered extra inclusions and exclusions when determining which policy could give you better value for money.
Compare cheap life insurance in Australia
We requested quotes from over 20 direct life insurance brands in Australia and then ordered them from least expensive to most expensive, so you can see who's offering coverage at an affordable rate. They are based on a 35-year-old nonsmoker with $500,000 worth of life insurance.
Must read: Cheap life insurance
While we tried to capture as much of the market as possible, some brands may not be included in this table. Other variables, such as your age and health status will also determine the price of your insurance, so these may not be the cheapest options for your personal circumstances.
| Life Insurance Policy | Monthly premium (Male) | Monthly premium (Female) | Cover amount | Apply |
| --- | --- | --- | --- | --- |
| | $24.94 | $19.46 | $500,000 | |
| | $35.88 | $28.40 | $500,000 | |
| | $42.14 | $35.30 | $500,000 | |
| Medibank Life Insurance (non-member) | $44.34 | $33.44 | $500,000 | |
| | $21.57 | $16.07 | $500,000 | |
| | $25.19 | $17.25 | $500,000 | |
| | $25.58 | $20.12 | $500,000 | |
| | $25.77 | $18.69 | $500,000 | |
| | $26.52 | $21.28 | $500,000 | |
| | $26.94 | $22.08 | $500,000 | |
| | $28.14 | $22.56 | $500,000 | |
| | $29.72 | $23.76 | $500,000 | |
| | $30.11 | $24.42 | $500,000 | |
| | $30.14 | $24.49 | $500,000 | |
| | $35.28 | $26.65 | $500,000 | |
| | $35.88 | $28.40 | $500,000 | |
| | $41.32 | $30.74 | $500,000 | |
| | $47.43 | $33.95 | $500,000 | |
| | $48.06 | $40.84 | $500,000 | |
| | $54.00 | $45.00 | $500,000 | |
| | $59.00 | $49.00 | $500,000 | |
*Quotes are an estimate only. Figures are correct as of February 2020 and are subject to change. There may be some policies in the market that aren't covered here.
What impacts the price you pay for life insurance?The following are some of the factors that impact the price of your life insurance premiums:

Your age. Premiums go up as we get older.
Your health. Healthy people will pay less than those with medical problems.
Your lifestyle. Gym-goers may be able to claim premium reductions.
If you smoke. Smokers typically pay almost twice as much as nonsmokers.
Level of cover. The higher the benefit payout, the higher the premiums.
Added cover. Premiums are higher if you add trauma, income protection and total permanent disability cover to your standard life insurance policy.
Payment type. You can generally choose to pay your premiums in one of three ways:
- Stepped. Your premiums start out lower but increase as you get older.
- Level. You pay the same price for the term of the policy.
- Hybrid. Your premiums increase to a point and then plateau.
Combining cover. Some insurers offer discounts to customers with multiple policies.

Cheapest life insurance vs most expensive life insurance
The graph below illustrates the difference in price between the most expensive life insurance policy and the least expensive policy.
It might not look like there is much of a price difference between the cheapest and most expensive policies but, over a year, the dollars can add up.
Every year:
A 30 y/o woman could save $91.08
A 50 y/o woman could save $169.99
A 50 y/o woman could save $169.99
A 30 y/o man could save $103.80
A 50 y/o man could save $162.08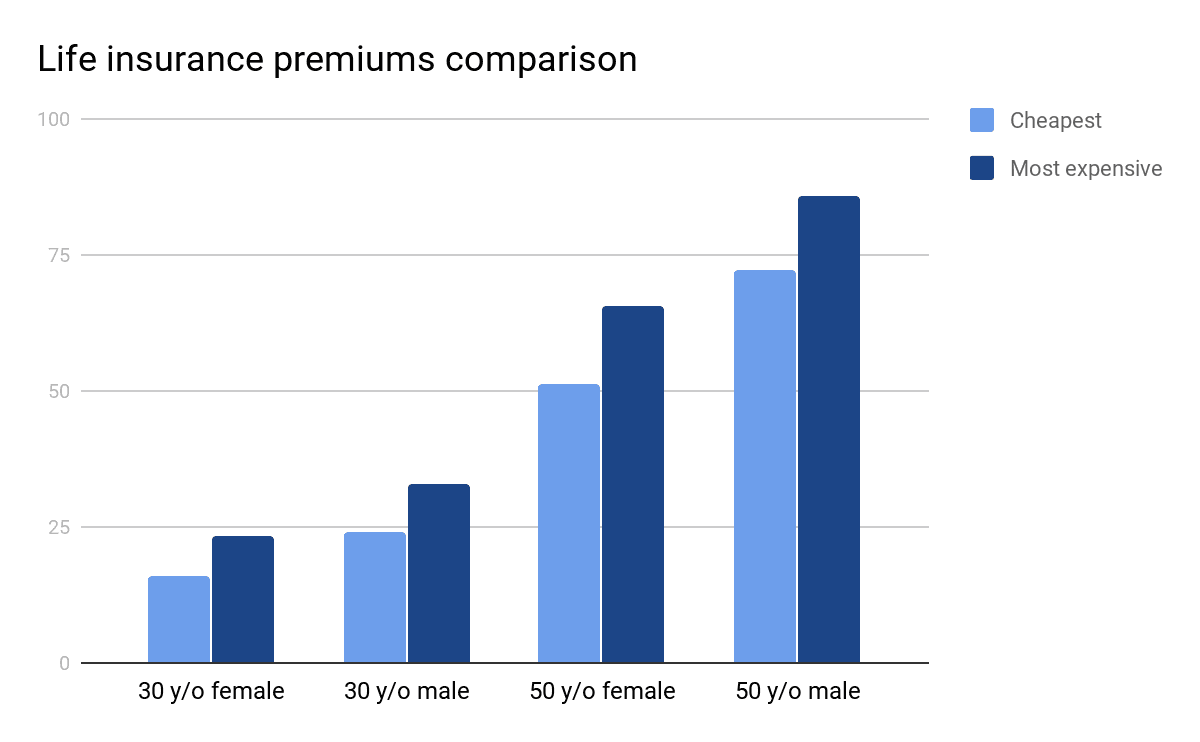 This graph was created using online quotes from Finder partners. Information provided was for a nonsmoking office worker in NSW, who requested $500,000 of coverage. Quotes were requested in February 2020.

How age impacts the price of life insurance
There's no hiding it. Life insurance gets more expensive as we age. Use the handy tool below to see how the average price of life insurance increases over time.
For a more accurate quote, compare quotes online.
Note: Data is based on a nonsmoking female office worker. Quotes are for illustrative purposes only and do not take into account your personal situation.
Different options for life insurance
There are three types of life insurance: retail, direct and group.
Type
How to buy
Pros
Cons
Retail
Buy after seeking advice from a life insurance broker or adviser.

Premiums are generally cheaper
Choose the amount of cover
Guaranteed renewable
Lowest average declined claim rate (7%)
Benefits are indexed

Must speak with an adviser
Underwriting process

Direct
Buy directly from an insurer without the aid of a broker, adviser or super fund.

Guaranteed renewable
Can buy online or over the phone
Little to no medical underwriting process

Cover is usually more expensive
Highest average declined claim rate (12%)
More effort to understand cover

Group/ super
Access cover as a member of a super fund

Low average declined claim rate (8%)
Usually an automatic acceptance
No upfront costs

Drain on retirement savings
Lower benefit payments
Benefits are not indexed
Are there any downsides to cheap life insurance?
For some people, yes. That's why you should never buy life insurance based on price alone. Always make sure you read the product disclosure statement (PDS) carefully. Risks associated with cheap life insurance include the following:
Getting a policy which doesn't suit your lifestyle
You can get cheaper life insurance by telling your insurer you don't smoke, but if it's not true, your policy might not pay out when you make a claim. Always be truthful, even if it's going to cost you more money upfront.
Not being covered for health conditions
Buying life insurance without a medical questionnaire may be quicker and sometimes cheaper, but it'll automatically exclude any pre-existing medical conditions. If you have any health issues, expect to pay more for your life insurance.
Accidental underinsurance
If the price of your life insurance premiums seems too good to be true, it probably is. Lots of Australians don't take out enough insurance for genuine financial security. While $200,000 worth of life insurance sounds great, that wouldn't even cover half of the average mortgage in Australia.
Can you get cheap life insurance without a medical exam?
You can get life insurance without taking a medical exam, and while there are some decent benefits to going down this path, there are also some major pitfalls.
Benefits
Straightforward application process
Little to no medical underwriting required
Convenient for people who know exactly what they need in a policy
Convenient for people who understand how the specific policy works
Good for people who don't need the help of an adviser
Downsides
Insurers make assumptions on your health and the level of risk you carry
Premium rates may be higher compared to life insurance that has a more stringent medical underwriting process
May find you're not covered for any pre-existing medical conditions you might have
Tips for saving money on your life insurance
Adopt healthy habits
Some life insurers have health and wellness programs, which offer rewards for healthy living as well as discounts on wellness products and services.
Compare policies – or stay loyal
You should compare your life insurance every year to see if you can switch and save. However, some insurance companies do reward customer loyalty, so be sure to check if you're close to earning a reward before switching providers.
Bundle policies
Some insurers will offer discounts if you take out more than one policy with them or if your spouse takes out insurance through the company too.
Invest in higher cover
If you're eager to buy a high-value life insurance policy, consider ones that offer discounts on policies over a certain value.
Look for frequent flier programs
Some insurers will integrate frequent flier programs into their policies, so you can earn points for every dollar you spend on your premiums. While this won't save you money on your premium, it does mean you could save money elsewhere.
Apply coupon codes
Some life insurers will run promotional offers from time to time. Be sure to look for discounts and deals before you buy your policy, as you could save some cash.
Quotes represent a 35-year-old requesting $500,000 life insurance cover. Figures correct as of February 2020.
Get a life insurance quote
Powered by Omnium
Frequently asked questions
Read more:
* The products compared on this page are chosen from a range of offers available to us and are not representative of all the products available in the market. There is no perfect order or perfect ranking system for the products we list on our Site, so we provide you with the functionality to self-select, re-order and compare products. The initial display order is influenced by a range of factors including conversion rates, product costs and commercial arrangements, so please don't interpret the listing order as an endorsement or recommendation from us. We're happy to provide you with the tools you need to make better decisions, but we'd like you to make your own decisions and compare and assess products based on your own preferences, circumstances and needs.
[/single_call_shortcode]
More guides on Finder