St.George Credit Cards
Compare the latest balance transfer, rewards, low rate and no annual fee offers on St.George credit cards with expert reviews.
We're reader-supported and may be paid when you visit links to partner sites. We don't compare all products in the market, but we're working on it!
St.George credit cards are designed to suit a variety of goals, with options to help you save on account costs, earn points for your spending or benefit from extras such as complimentary insurance. You can also manage your work spending with a St.George business credit card.
As well as these options, you could get more value from a new St.George credit card through introductory 0% interest rates or bonus points offers. Use this guide and read Finder's thorough reviews to compare St.George credit cards and apply for one that suits your needs.
St.George Credit Card Offer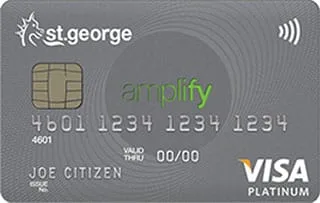 St.George Amplify Platinum - Qantas
Receive
60,000

bonus
Qantas Points


0% p.a. on balance transfers for 15 months

Offer ends 28 September 2021

Eligibility criteria, terms and conditions, fees and charges apply
St.George Credit Card Offer
Receive 60,000 bonus Qantas Points when you spend $3,000 on eligible purchases for the first 90 days from card approval.
0% p.a. for the first 15 months on balance transfers with a 1% BT fee
Annual fee: $99 | Minimum credit limit: $6,000
Purchase rate: 19.74% p.a. | Cash advance rate: 21.49% p.a.
Complimentary travel and purchase insurances
Compare St.George Bank Credit Cards
Types of St.George credit cards
St.George offers low rates on its Vertigo range of credit cards, rewards with its Amplify and Amplify Qantas cards, as well as a no annual fee card and platinum options. The bank also offers benefits for businesses with the Amplify Business and BusinessVantage cards.
So whether you're looking to consolidate debt and save on costs or want to earn points as you spend, you can compare your St.George credit card options below:
Balance transfer credit cards
If you have an existing credit card debt with a bank other than St.George, BankSA or Bank of Melbourne, choosing a St.George credit card with an introductory low or 0% balance transfer rate can help you save on interest fees and pay off the debt faster. At the end of the introductory period, any debt remaining from the transfer will attract the card's variable cash advance rate.
St.George Vertigo credit cards offer low interest rates on purchases and competitive annual fees. These cards can help you save on interest charges if you carry a balance from month-to-month and want to cut down on standard card costs.
Rewards and frequent flyer credit cards
St.George offers two credit card rewards programs: Amplify Rewards and Amplify Qantas. If you get a credit card linked to one of these programs, you'll earn reward or frequent flyer points for your eligible purchases. You can redeem your points a wide range of rewards including flights, accommodation, merchandise and shopping vouchers. You can also transfer your points to Velocity Frequent Flyer, Singapore Airlines KrisFlyer or Malaysia Airlines Enrich, with a minimum transfer of 3,000 Amplify points giving you 1,500 frequent flyer points.
The St.George No Annual Fee credit card offers a $0 annual fee for the life of the card. As a no frills card, it could come in handy if you want the flexibility of credit without the high yearly cost.
The range of St.George credit cards include two different options that can help you manage your business spending and cash flow. The St.George Business Amplify earns you reward points per $1 spent and the St.George BusinessVantage offers a low purchase rate. Both of these options also offer additional cards for your employees, complimentary insurance covers and export options for MYOB, BAS and Microsoft Excel.
The benefits of banking with St.George Bank
Some of the perks you can enjoy with a St.George credit card include:
Earn reward points as you spend
With a St.George rewards credit card, you have the choice of earning points through Amplify Rewards or Amplify Qantas. If you opt to earn Amplify Rewards points as you spend, you can redeem them through the Amplify Rewards store for gift cards, appliances and homewares, experiences, travel and frequent flyer points with Virgin Australia's Velocity Frequent Flyer, Singapore Airlines KrisFlyer or Malaysia Airlines Enrich.
If you choose Amplify Qantas, you'll earn Qantas Points for your frequent flyer account. You can then redeem them for anything from flights and upgrades to travel packages and products through the Qantas Store.
Complimentary credit card travel insurance
Some St.George credit cards come with complimentary travel insurance. As long as you use your card to cover at least $500 worth of prepaid travel costs (including return overseas travel tickets and accommodation) and you meet the eligibility requirements, you could enjoy cover for medical costs, loss and damage of personal items and more when you go overseas. You can also get cover for your spouse or dependent children when they travel with you and meet the eligibility requirements.
This cover is provided through Allianz Global Assistance. Please see our St.George complimentary credit card travel insurance guide for more information.
Security with St.George Fraud Money Back Guarantee
The St.George Fraud Money Back Guarantee ensures that cardholders are reimbursed if their credit card is used to make unauthorised transactions. St.George also use a wide network of secure systems and 24/7 fraud monitoring that detects any unusual activity on your account. If you suspect any suspicious transactions or need to report a lost, stolen or damaged card, you can contact the St.George 24/7 customer service centre in Australia on 1800 028 208 or overseas on +61 2 9155 7800,
St.George credit cards are enabled with Visa payWave, meaning you can use your card to "tap and go" to make contactless payments at participating merchants. You can also use eligible devices to make contactless payments if you add your St.George card to your Samsung Pay, Apple Pay or Google Pay wallet.
How to apply for a St.George Bank credit card
Applying for a St.George credit card is easy and takes about 10 minutes online. Once you've compared cards and chosen one you like, make sure you meet the eligibility requirements for it. This can vary between St.George credit cards but usually includes the following:
Age. You must be at least 18 years of age.
Residency status. You must be a citizen or permanent resident of Australia to apply online. If you are a temporary resident you can apply in-branch or over the phone.
Credit history. You must have a good credit rating.
Required documents and information
Once you've compared your options and checked you meet the eligibility requirements, you may need to have the following information on hand before applying:
Personal information. This includes your full name, date of birth, address and contact details. You'll also need to provide a valid form of ID, such as your driver's licence number.
Employment information. As well as your salary details, you'll need to provide information about your current role and employer. If you're self-employed you'll need to provide details of your latest tax statement and your accountant's contact information.
Financial information. This includes details of your income from all sources, as well as assets, savings and investments. You also need to provide information about any debts you have, such as existing credit cards or loans, and regular expenses.
Frequently asked questions
---
Read more on this topic