What is the best* credit card complimentary travel insurance?
Complimentary travel insurance is a popular credit card feature but the cover you get varies between providers. Here's how to find the right option for you.
We're reader-supported and may be paid when you visit links to partner sites. We don't compare all products in the market, but we're working on it!
Credit cards with complimentary travel insurance can save you hundreds of dollars on cover for overseas trips. But because the insurance you get through a credit card varies based on factors such as the type of card you have, the policy provider and your individual circumstances, there isn't actually a "best" credit card complimentary travel insurance option.
Instead, you can use this guide to find credit card travel insurance that's right for you by looking at the key details for each policy. Want to know how to use credit card travel insurance and who it will cover? What about the age limits and other restrictions that may apply? We explain how it all works here. We also look at the potential costs of the complimentary insurance and other factors to consider when you compare credit cards with complimentary travel insurance so you can find an option that works with your travel plans.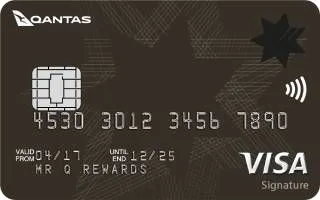 NAB Qantas Rewards Signature Card
Receive up to
130,000
bonus Qantas Points
Eligibility criteria, terms and conditions, fees and charges apply
NAB Credit Card Offer
Earn up to 130,000 bonus Qantas Points, take advantage of complimentary overseas travel insurance and a 24/7 concierge service.
100,000 bonus Qantas Points (spend $3,000 within the first 60 days) and 30,000 points after 12 months
First-year annual fee of $295 ($395 p.a. thereafter)
19.99% p.a. purchase interest rate | 21.74% p.a. cash advance rate
Minimum credit limit of $15,000
Compare credit cards with complimentary travel insurance
How can I use my credit card travel insurance?
Most credit cards that offer complimentary travel insurance require you to activate the policy in some way before you'll be eligible for cover when you travel. Usually this is a simple process that requires you to meet a couple of requirements before you go overseas. The most common requirements for policy activation include:
Book a return ticket. Most credit card travel insurance policies require you to have booked and paid for your return to Australia before you leave the country.
Use your credit card to book your travel. With this requirement, you need to use your credit card to pay for your overseas flights or other transport (such as a cruise) before you leave the country.
Use your card to pay for some of your travel. Some credit card companies outline a minimum dollar amount you must prepay towards your travel using your eligible card. For example, if you have NAB or St.George credit card, you must use it for at least $500 of your prepaid travel costs to be eligible for cover.
Activate the policy online. Sometimes you may need to activate your credit card travel insurance online to be eligible for full cover. For example, if you have a CommBank card with included travel insurance, you can get Base Cover at any time but will get more coverage by activating your policy online through NetBank or the CommBank App.
Book travel through a specific service. Sometimes you may be able to activate your cover by booking your travel through a specific service. For example, if you have a Citi card that offers travel insurance, one of the ways you can activate it is by booking your travel through the Citi Travel Program.
Use points to pay for travel. If you have a rewards credit card that includes travel insurance as an extra, you may be able to activate the policy by using points to pay for some or all of your travel costs before you leave Australia.
Usually, having a return travel ticket and paying for some or all it using the credit card that offers travel insurance will activate the policy. But as the requirements do vary, it's worth checking with individual credit cards before you apply so that you're clear on what you need to do to use this insurance.
Compare credit cards that include travel insurance
Who is covered by my credit card travel insurance?
As long as you meet the activation and eligibility requirements, complimentary travel insurance always covers the primary cardholder. Most policies also offer cover for your spouse and dependent children when they meet eligibility requirements, which typically include some or all of the following:
They must be travelling with you for the duration of the trip.
Some or all of their travel must have been paid for using your credit card.
They must have a return ticket to Australia before the start of the trip.
Can I use my credit card travel insurance for friends or colleagues?
If you have a personal credit card, you can usually only get complimentary travel insurance for an eligible spouse and dependent children. If you want to cover people other than this, you could consider the following options:
Additional cardholders. Personal credit cards may offer complimentary travel insurance to additional cardholders when they meet the activation requirements. If you request to share your account with a friend, new partner or colleague, this may give them access to the insurance cover when they travel.
Business credit cards. Some business credit cards offer complimentary travel insurance for employees and/or additional cardholders. For example, the American Express Velocity Business includes overseas travel insurance for the primary cardholder and any additional cardholders, as well as eligible spouse and dependent children when the activation requirements are met before you travel.
What are the age limits and restrictions for complimentary credit card insurance?
Whether your cover comes through a credit card or you buy it outright, it's more likely you'll face restrictions if you're over 65 or have a pre-existing medical condition. Here are the key details for credit cards.
Age limits
Most complimentary credit card travel insurance policies cover people up to the age of 79. However, some restrictions may come into effect earlier than that depending on the card and your circumstances.
For example, if you're under 50 years of age and have been diagnosed with diabetes or glucose intolerance, there is a variation for the cover you could get with a Bankwest credit card. Read our guide on credit card insurance and age limits for more information.
Pre-existing medical conditions
Complimentary credit card travel insurance policies have limitations around pre-existing medical conditions, with some conditions excluding you from cover. This term covers conditions you are currently being treated for or have been diagnosed with by a professional prior to the start of your trip, with common examples including:
Pregnancy
Diabetes
Hypertension (high blood pressure)
Asthma
Ongoing dental work
Anxiety
Alcoholism or drug addiction
Psychological and psychiatric conditions
Depending on the condition, you may still be able to get coverage for any unexpected events that relate to it – for example unforeseen issues during pregnancy. Some policies will also outline specific coverage options for different pre-existing conditions, including coverage if you pay an additional fee to upgrade the policy.
What should I do if I have a pre-existing medical condition?
Here's what to do if you want credit card travel insurance but have a pre-existing medical condition:
Check the credit card insurance product disclosure statement (PDS) to find out what's covered and what's excluded.
See if there is any information on exceptions.
Contact the insurance provider (not the credit card company), explain your condition and ask if there is a way for you to get coverage through the specific credit card you're interested in.
When you have a credit card with travel insurance, contact the insurer before you travel to ensure that your pre-existing medical condition has been approved for cover. This may attract an additional fee, but will allow you to travel with cover that works for you.
Note:
Remember to also take down details of any conversation you have with the insurance provider so you can refer to it later if you need to make a claim.
What are the costs that come with credit card complimentary travel insurance?
While complimentary travel insurance gets you out of paying a premium for your overseas cover, there are still costs to consider before choosing a credit card that includes this perk. The key charges to look for are:
Excess amounts. This is what you'll pay when you have to make a claim on your complimentary travel insurance policy. Credit card travel insurance excess amounts range from $0 to $500 per claim and vary between cards and policies, so make sure you read the fine print and budget for this cost.
Claim limits. Usually you will only be able to claim up to a certain dollar value for each type of cover included in your travel insurance policy. For example, you may be covered for up to $5,000 on claims for lost or damaged luggage and up to $50,000 on medical expenses. This affects the overall value of the insurance – even if you're not paying for it upfront.
Other fees. If you need to request cover for a pre-existing medical condition, or if you're over the maximum age for standard cover, then an additional premium may be charged before you can use your travel insurance. You may also have to pay for a medical assessment. These costs vary and usually aren't disclosed in the product disclosure statements, so you may have to call the insurance provider to find out what additional charges may apply.
Making a claim with complimentary credit card travel insurance
Any claims you make on your complimentary credit card travel insurance must be submitted to the insurance company (not your credit card provider). Allianz, Chubb and QBE are the three main companies that underwrite credit card travel insurance. Your credit card insurance product disclosure statement will provide details of this arrangement and how you can make a claim or enquiry for your cover.

What else should I consider when comparing credit cards with complimentary travel insurance?
While your priority could be to get travel insurance through a credit card, it's essential that you also compare other features of the credit card. Even if you travel regularly, these features usually have a greater impact than the travel insurance:
Annual fee. Credit cards with complimentary travel insurance typically have annual fees ranging from $87 to $1,500. Some may also offer no annual fee in the first year or if you meet a fee waiver, but either way you should make sure the regular benefits you can get outweigh this cost.
Standard interest rate. Often these cards have higher than average purchase rates. So if you end up booking travel and carrying a balance, the cost could quickly add up.
Foreign currency fee. Planning on taking your credit card overseas with you? A fee worth 2-4% of every transaction made overseas or in a foreign currency usually applies, so it's worth checking this charge or comparing cards that offer $0 foreign fees before you apply.
Cash advance rates and fees. If you think you'll use your credit card to get cash out overseas (or for other cash advance transactions), be sure to check the standard interest rate and fee that will apply so you can decide if it's affordable.
Rewards or frequent flyer points. Many of the cards offering travel insurance also earn reward or frequent flyer points for everyday spending. This can help you save on travel and other lifestyle benefits, but only if the value of the rewards outweighs the other costs of the card.
Introductory offers. Want bonus points, no annual fee in the first year or a 0% interest rate? If that's the case, it's worth considering these features – just remember they only offer temporary value.
Complimentary extras. Other complimentary extras such as purchase insurance, interstate flight inconvenience insurance, concierge services, airport lounge access and flight or travel vouchers can add hundreds of dollars to the card you choose. But the value depends on how you use the card and whether or not these extras are useful to you on an ongoing basis.
Complimentary credit card travel insurance is a popular feature that has the potential to add hundreds of dollars of value to your card – if you can find the right policy for you. Looking at the activation requirements, the people eligible for cover, the age or medical limitations and the other features of the credit card will help you decide which credit card with complimentary insurance offers the most value and coverage for your needs.
Pictures: Shutterstock, Pexels

Back to top
* The products compared on this page are chosen from a range of offers available to us and are not representative of all the products available in the market. There is no perfect order or perfect ranking system for the products we list on our Site, so we provide you with the functionality to self-select, re-order and compare products. The initial display order is influenced by a range of factors including conversion rates, product costs and commercial arrangements, so please don't interpret the listing order as an endorsement or recommendation from us. We're happy to provide you with the tools you need to make better decisions, but we'd like you to make your own decisions and compare and assess products based on your own preferences, circumstances and needs.
More guides on Finder