BOQ Specialist Credit Cards
The choice between earning Qantas and Velocity points. BOQ Specialist credit cards offer this and much more.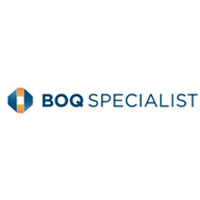 With over two decades of experience in providing specialist banking services, BOQ Specialist caters to niche market segments. If you are a medical, dental or veterinary student in Australia read on to find out what BOQ Specialist finance options are available to you. Some of the products and services it offers include savings and transaction accounts, home loans, car loans, practice purchase and fit-out loans, SMSF loans, and not to forget, credit cards. BOQ Specialist has branches in Sydney, Melbourne, Brisbane, Perth, and Adelaide.
Compare credit cards from BOQ Specialist
Types of credit cards that BOQ Specialist offers
As a BOQ Specialist customer, you can apply for two different Visa credit cards, and both give you the option to choose between Qantas and Velocity frequent flyer programs.
Platinum cards, in addition to offering rewards, provide cardholders with a bunch of other features, and the BOQ Specialist Platinum Visa Card is no different. For starters, you can choose between the Qantas and Velocity frequent flyer programs. What you also get is a complimentary insurance package, concierge and first line access, and up to 55 interest-free days on purchases.
Premium cards tend to offer features that are similar to platinum cards, and then some. The BOQ Specialist Signature Visa Card also allows you to choose between Qantas and Velocity frequent flyer programs, it offers complimentary insurance covers, it comes with concierge and first line access, and it offers as many as 55 interest-free days on purchases. In addition, you get bonus Qantas or Velocity points when you join, you get Priority Pass airport lounge access, and you can access the Visa Luxury Hotel Collection.
Benefits of getting a BOQ Specialist credit card
Both credit cards that this financial institution offers give cardholders much to look forward to in terms of benefits, and here's what you can expect:
Choice of rewards program
Not many rewards credit cards give you the ability to choose between different rewards programs, but both BOQ Specialist cards do. As a platinum or premium cardholder you get to choose between Qantas and Velocity frequent flyer programs, and if you opt for the Qantas Frequent Flyer program you get complimentary access as a BOQ Specialist cardholder.
Complimentary insurance covers
Both the platinum and premium BOQ Specialist cards offer cardholders an array of complimentary insurance covers, which include purchase security insurance, extended warranty insurance, price guarantee, golfers' insurance, overseas travel insurance, transport accident insurance, global car hire excess waiver, and domestic flight inconvenience insurance.
You can get the Visa Airport SpeedPass at a discounted price, and this comes with fast-track immigration at more than 280 international airports. As a signature card holder, you get a Priority Pass that offers unlimited entry for you and a guest to more than 600 VIP airport lounges spread across 90 countries and 300 cities. The Visa Luxury Hotel Collection provides signature cardholders access to room upgrades, late check-outs and guaranteed rates.
Concierge and entertainment
You can access the Visa concierge service for tickets to local event and travel recommendations. Visa Front Line Access gives you the means to book tickets to some of the live events, concerts, and shows and Visa Entertainment provides access to the latest entertainment offers, which include pre-sale tickets.
You can use your BOQ Specialist credit card to make contactless payments with your smartphone devices thanks to Apple Pay and Google Pay.
How to apply for a BOQ Specialist credit card
You can visit any BOQ Specialist branch to apply for these credit cards, and you can also download an application and mail or fax it once it's complete.
Eligibility criteria
Before you begin, make sure you meet the following application criteria:
You're a permanent resident of Australia
You are a medical, dental or veterinary student or graduate
You're at least 18 years old
You earn in excess of $60,000 p.a. to apply for the platinum card
Required information
The application requires you to part with a variety of personal, employment related, and financial information:
Personal details. These include your complete name, date of birth, marital status, number of dependents, membership details of a medical or dental association, residential address, phone numbers, name and contact details of a relative or friend, mother's maiden name, driver's license number, Medicare card number and passport number.
Employment details. Provide your student or employment status, your profession, and your employer's name and contact details. If self-employed, provide the name and contact details of your accountant.
Financial details. This section requires your gross annual income and expenses, and you also have to provide details about all your assets and liabilities. Assets include property, motor vehicles, investments, and savings, and liabilities comprise all existing forms of debts like credit cards, loans, and overdrafts.
What happens after applying?
Once you submit your application BOQ Specialist might get in touch with you for extra information, they may also make an income verification call to your employer, and by informing the payroll department of this call ahead of time you can help move the process a little quicker. If you're not an existing BOQ Specialist customer, you'll have to complete a legally required identity verification process.
Frequently asked questions
Here are answers to some commonly asked questions about BOQ Specialist credit cards, and you can ask us a question by using the form at the end of this page.
Image: BOQ Specialist
Back to top
Credit Cards Comparison
* The credit card offers compared on this page are chosen from a range of credit cards finder.com.au has access to track details from and is not representative of all the products available in the market. Products are displayed in no particular order or ranking. The use of terms 'Best' and 'Top' are not product ratings and are subject to our disclaimer. You should consider seeking independent financial advice and consider your own personal financial circumstances when comparing cards.