Cruise travel insurance
Cruise travel insurance can be a real lifesaver, and you can get it for as little as $1.78/day*.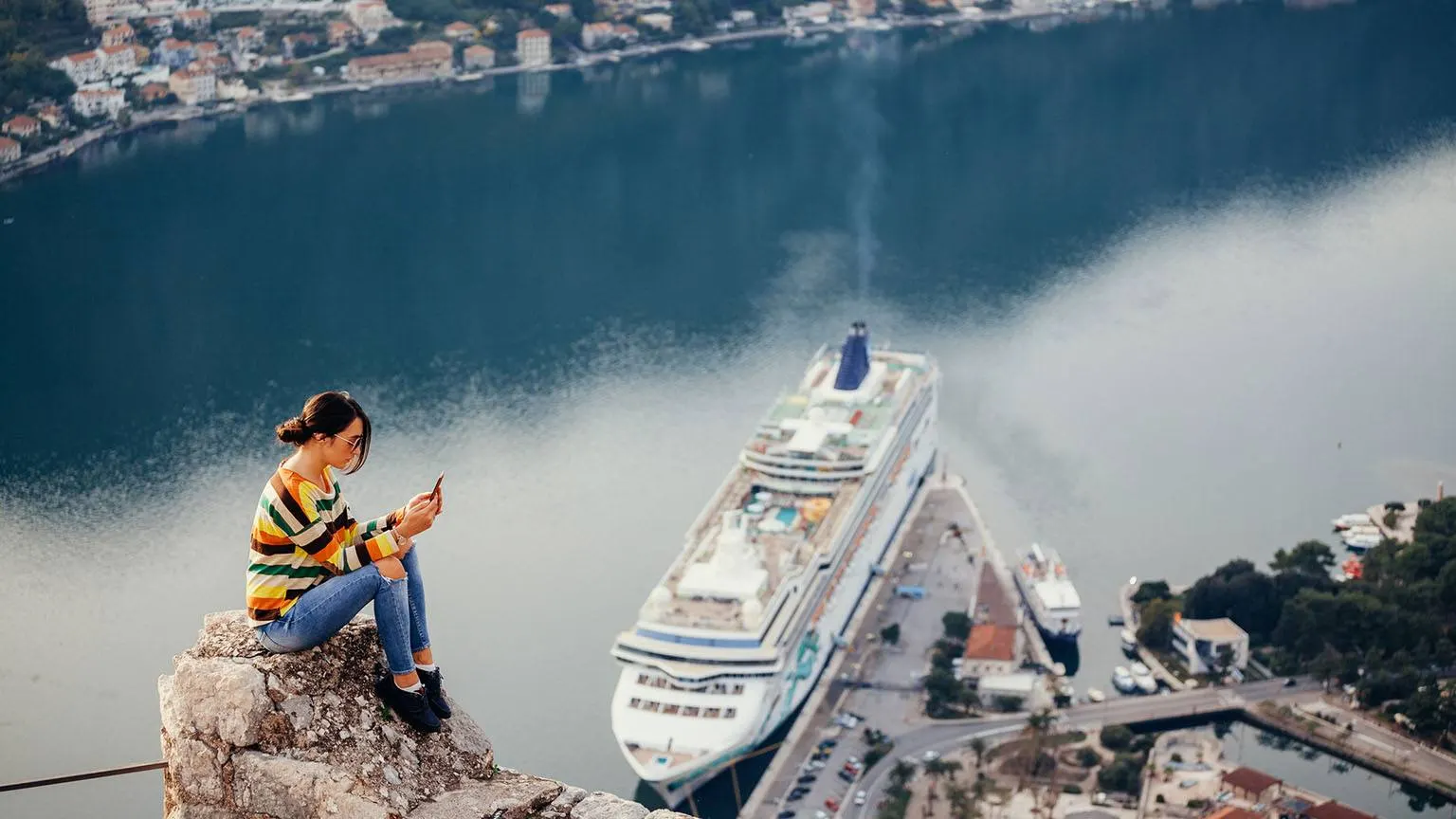 We're reader-supported and may be paid when you visit links to partner sites. We don't compare all products in the market, but we're working on it!
Important:
Travel insurance rules continue to change as a result of the coronavirus pandemic. We're working hard to keep up and make sure our guides are up to date, however some information may not be accurate during the pandemic. It's even more important to double-check all details that matter to you before taking out cover. Please know that some policies may not be available through Finder at this time.
Here are some helpful tips:
If you're buying a policy today, it's unlikely that you'll be covered for border closures
If your travel plans go against government advice, your policy will most likely be voided and you won't be covered
If you're going on a cruise, getting cruise travel insurance is a smart decision. Most importantly, you'll get cover for unexpected onboard medical costs and emergency evacuation. To be extra safe, you can also get cover for things like missed port departures, cancelled pre-paid shore excursions and even your formal attire.
Do I need domestic cruise travel insurance?
Definitely. You need to get travel insurance if your cruising in Australian waters so that you get medical cover and evacuation expenses. Even though you're in Australia, Medicare is not usually accepted onboard.
Medical care on board a cruise ship can get really expensive. Avoid the financial strain by getting the right cover.
Compare cruise travel insurance benefits
Based on our research, we believe these are the most important features of a cruise travel insurance policy.
| Brands | Age limit | Overseas medical expenses | Emergency evacuation | Missed port cover | Cabin confinement | Apply |
| --- | --- | --- | --- | --- | --- | --- |
| | 84 years | | | Up to $1,000 | $100 per day | |
| | 98 years | | | Up to $1,000 | $50 per day | |
| | 99 years | | | Up to $1,000 | $50 per day | |
| | 84 years | | | Up to $1,000 | $100 per day | |
| | 130 years | | | Up to $750 | $150 per day | |
| | 100 years | | | Up to $1,000 | $75 per day | Get quote |
| | 74 years | | | | $50 per day | |
| | 120 years | | | | $50 per day | |
| | 99 years | | | Up to $1,000 | $100 per day | |
| | 120 years | | | | $50 per day | |
| | 100 years | | | | | |
| | 84 years | | | | | |
| | 89 years | | | | | |
*Missed port cover: Cover if your cruise skips a scheduled port due to weather restrictions or mechanical breakdowns.
**Cabin confinement: Cover if you're confined to you cabin (usually for more than 48hrs) due to a serious illness.

What are the benefits of cruise travel insurance?
Most international policies will cover onboard medical expenses and emergency evacuation from the ship. If you decide to take out extra cover for your cruise, here are some typical benefits that can be included.
Onboard medical expenses
Emergency evacuation
Cruise delay
Missed ports
Cancelled pre-paid shore excursions
Missed cruise departure
Cabin confinement
Formal cruise attire
Marine rescue diversion
Domestic cruise travel insurance
Getting cover for your cruise in Australia is easy as long as you know what to look out for. Cruise providers insist you have enough medical cover with your travel insurance before you can board the ship. Since medical cover is not usually included in domestic travel insurance policies, you need to get an international policy instead.
Medicare will only cover you for medical assistance if;
You are cruising between domestic ports. Even if your ship is in Australian waters, you're not eligible if the ship departed from an international port.
If you are treated by a Medicare-approved doctor. Not all cruise-liners will have Medicare-approved doctors available onboard.
When cruising domestically, most insurers will prompt you to select the Pacific Region - this will usually include New Zealand, Bali, the South West Pacific and Norfolk Region. If you're still unsure what region to select for your domestic cruise, check out your insurers product disclosure statement (PDS) for confirmation.
Case Study:
We spoke with Craig Morison, the Chief Operating Officer for Fast Cover, and he revealed just how often cruise insurance has been utilised by Fast Cover customers.
In 2016, Carol and Vincent, a couple in their seventies from Brisbane, were getting ready to depart on a worldwide cruise. Unfortunately, in the week before they were meant to depart, Carol fell over in their yard and broke her ankle, which meant they would have to cancel their holiday. Because they had taken out a travel insurance policy that covered cancellation, for which they'd paid less than $800, they were able to be reimbursed for more than $20,000 worth of lost deposits.
How to find the best cruise travel insurance
The best cruise travel insurance is a policy that most suited to your individual needs. It's not just one specific policy. To help you find the best cruise travel insurance, follow these simple steps;
1. Choose a Single Trip or Annual Multi-trip policy. Think about all the trips you'll be taking over the next 12 months, if there are 2 or more, you might find that getting an annual policy will save you money and time.
2. Choose a suitable level of cover. Most insurers will offer standard or comprehensive cover at the very least. Standard policies will have less cover than comprehensive ones. Here, you want to think about if you want to take a walk on the wild side or prefer peace-of-mind.
3. Compare brands. Some brands include cruise cover at no extra cost while others might charge a small fee for cover. Comparing brands helps you decide which features will be most beneficial to you.
4. Choose a brand you trust. If you've never bought cruise travel insurance, look at forums for reviews. Just be careful, since reviews are written by the general public and are heavily influenced by negative outcomes.
5. Buy your cruise travel insurance as early as possible. Most insurers will cover your cancellation fees if you have to cancel due to unforeseen circumstances, so it pays to buy early.
Find the best cruise cover for you
Cheap cruise travel insurance
If you're traveling on a budget and need an affordable policy, getting cheap cruise travel insurance is possible but you might have to sacrifice a few benefits. The most important thing is to have cover for medical treatments and emergency evacuation, anything on top of that is a bonus.
The table below shows how the cheapest policies usually cover medical and emergency assistance only on cruises. It also shows the price difference between the cheapest, and paying a bit more money to get a policy that has more features for your cruise.
This table was priced on the 22nd September 2019 and is based on a 30 year old going on a South Pacific cruise for 14 days, with a standard excess of $200.
| | Tick | Insure4less | Fast Cover |
| --- | --- | --- | --- |
| Policy type | Basic | Medical Only | Basic |
| Onboard medical assistance | | | |
| Emergency evacuation | | | |
| Cruise delay | | | |
| Missed port | | | |
| Pre-paid shore excursions | | | |
| Missed cruise departure | | | |
| Lost, stolen or damaged baggage | | | |
| Cabin confinement/ loss of enjoyment | | | |
| Formal cruise attire lost, stolen or damaged | | | |
| Formal cruise attire delayed | | | |
| Marine rescue diversion | | | |
| Price | $24.15 | $36.34 | $39.99 |
If you're only after medical and emergency assistance onboard, then our cheaper policies could be suitable for your trip. If you want value then it could be worth comparing your options and spending the extra dollars for way more coverage.
Why get cruise cover?
In 2017, we conducted a survey to find out the number one fear that would stop Australians taking a cruise holiday. The survey uncovered eleven reasons why Aussies avoid going on cruises and interestingly enough, travel insurance would actually cover the majority of the reasons such as getting sick onboard or needing to be evacuated from the ship.
Cast away your fears and get cruise travel insurance for peace-of-mind.
#
Fear
Percentage
1
Getting food poisoning or gastro
37%
2
Big storms
34%
3
Seasickness
33%
4
Getting sick or injured and having to be airlifted to hospital
22%
5
The ship sinking/running ashore
22%
6
Not being able to get off the boat
16%
7
Pirates
15%
8
Lost/stolen luggage
12%
9
Hitting an iceberg
12%
10
Falling overboard
11%
11
The cruise leaving without me
8%
Source: finder.com.au survey, May 2017
Get a quote for cruise travel insurance
Type or Select your destination(s)
Popular Destinations
Americas
Asia
Europe
Pacific
Africa
Can't find your destination? Just type it in the box above.
Most common questions
Here are some common questions asked by cruise-goers when it comes to their travel insurance.
1. Will cruise travel insurance cover me if I need to be helivaced from the cruise ship?
Yes, it will usually fall under the benefit of "overseas medical expenses" which covers you for medical care and transportation in an emergency. You may get transported by helicopter to the nearest capable hospital or back home in Australia, depending on your condition.
2. Does cruise travel insurance only cover me for cruising? I'll be flying and travelling on land as well.
A cruise travel insurance policy should cover you for travel by sea, air and land. Cruise cover is often featured or sold as an add-on to a normal travel insurance policy. It's best to compare policies since the comprehensiveness of cruise cover will vary between insurers.
3. What happens if my cruise is disrupted by bad weather?
You may be able to claim under the "missed ports" provision if your trip is disrupted by things outside of your control such as weather. If a cruise line decides it's not safe to visit a particular port, they may change course. If that happens, you might be able to claim a portion of your trip.
4. If my cruise departs from Australia and sails to other countries, do I need cover for a domestic cruise as well?
Yes. To be on the safe side, declare all countries where you will be on the cruise ship to protect yourself from anything unexpected. In most cases, if you're travelling to the South Pacific, being covered while you're in Australian waters could already be included. Always check directly with the insurer if you're unsure.
5. Am I covered if I get gastroenteritis onboard?
Yes. You should be able to claim your medical expenses and even a portion of your cruise if you're confined to your cabin for more than 48 hours.
6. Am I covered if the cruise ship leaves without me?
You might be able to claim under "missed cruise departure" depending on the reason you missed it. If you missed the departure because of an unforeseen cancellation of your scheduled transportation, or your taxi gets into an accident on the way to the port, you might be covered. If you slept in and missed the departure, you probably won't be.
More questions about cruise travel insurance
Do I need special travel insurance for a cruise?
For most insurers, you'll need to declare that you're going on a cruise and select the right cover. Most travel insurance policies will not have cruise cover in-built into the policy.
Do I need cover for each location visited on my cruise?
You don't need separate policies, but you do need to tell your insurer every place you will be visiting by sea or by land. This helps them work out an appropriate quote.
Most travel and cruise insurance policies provide automatic cover for stopovers of up to 48 hours.
Does cruise travel insurance cover me if I get norovirus/gastro?
In short, yes. Cruise travel insurance covers your medical expenses while onboard. It can also give you an allowance if you're confined to your cabin due to your sickness.
What if I'm just taking a short cruise as part of a longer holiday?
You will still need cruise insurance, but technically only for the length of the cruise. However, it can be tricky to find a single policy that lets you split your cruise and non-cruise portions.
Here are your best options:
Stick with a cruise policy for the whole trip. Remember, cruise insurance covers you on and off land, and you may find that this option is not much more expensive than a normal policy anyway.
Double up by getting a standard policy and a cruise policy. If you're only out to sea for a couple of days, you might consider buying cruise insurance on top of the normal travel insurance that's covering the rest of your trip. You'll be paying twice, but hey, if you save a few bucks, you're still ahead. Just remember you won't be able to make the same claim on both policies.
Work out an arrangement with the insurer. If you don't want to double up or pay for cruise insurance when you won't be using it, try contacting an insurer and see if they can create a custom policy for you.
Do you need cruise insurance for river cruises?
Since river cruises aren't on the ocean, you're not required to have cruise insurance whether you are overseas or in Australia. Getting you to dry land for medical treatment is not nearly as complicated from a riverboat, so insurers don't need to charge you extra.
However, some cruise insurance policies offer you a few extra benefits that you might find useful on a river cruise. These include cabin confinement cover that pays you a little consolation money each day you are confined to your cabin with a contagious illness, and formal attire cover that will pay to repair or replace your formal attire if it is lost, damaged or stolen.
Do you need cruise insurance for small fishing vessels, sailboats and diving trips?
Many insurers will cover you on a small boat up to a certain distance from shore (usually 10-12km) even without the optional cruise cover. If you go beyond this, you'll need cruise insurance no matter what kind of boat you are on or whether you are in Australia or overseas.
But you have to remember that domestic policies and international policies are built differently: domestic policies don't include medical cover while international policies do. This is a huge difference and it means you should strongly consider cruise cover in certain situations (as you'll see below), even if you are within 10-12km from shore.
As a side note, if you will be scuba diving in Australia or overseas, it is likely that you will also need to purchase additional cover for adventure sports generally or scuba diving specifically. Just like cruise insurance, most policies do not cover this automatically.
Can I get insured for my cruise if I have a pre-existing medical condition?
Pre-existing medical conditions don't impact on your ability to get covered for your cruise. If the insurer covers your pre-existing conditions, you should be able to get cover for cruising as well.
Am I covered for activities that I'll be doing on the cruise such as snorkelling and other watersports?
Not necessarily, so check the fine print. You may need to purchase an additional adventure sports pack to make sure you have the cover you need.
Continue reading:
*$1.78/day is based on a 35 year old traveling on a cruise for 14 days to the South Pacific Islands. Quoted on 23rd May 2019.
Picture: GettyImages
More guides on Finder
P&O Cruises Travel Insurance

P & 0 Cruises do not offer their own travel insurance cover to passengers. Compare policies for your trip with P & O to ensure you have adequate cover in place.