Student travel insurance
Find the best student travel insurance and spend the savings on more fun stuff.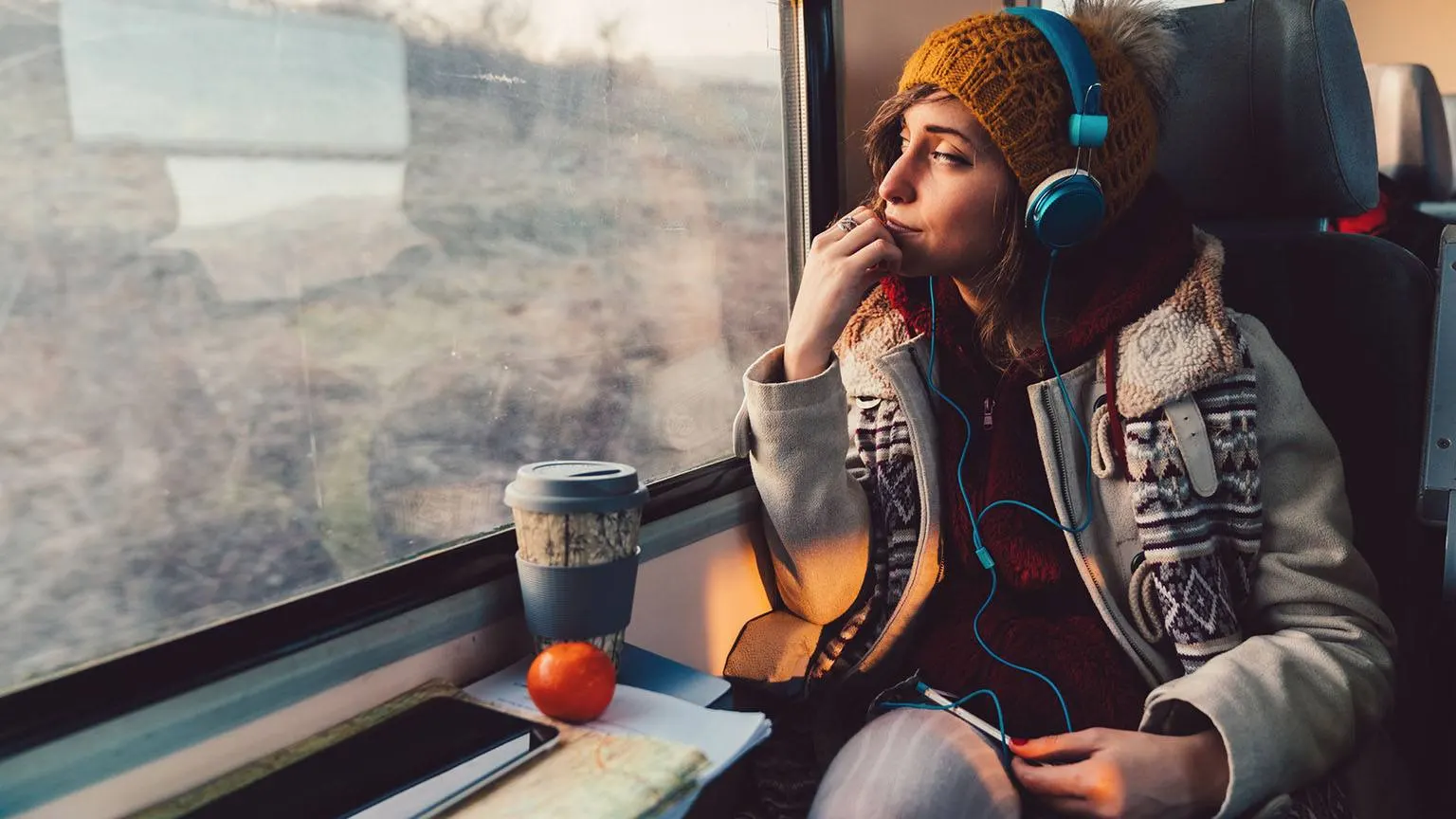 We're reader-supported and may be paid when you visit links to partner sites. We don't compare all products in the market, but we're working on it!
Important:
Travel insurance rules continue to change as a result of the coronavirus pandemic. We're working hard to keep up and make sure our guides are up to date, however some information may not be accurate during the pandemic. It's even more important to double-check all details that matter to you before taking out cover. Please know that some policies may not be available through Finder at this time.
Here are some helpful tips:
If you're buying a policy today, it's unlikely that you'll be covered for any coronavirus-related claims
If your travel plans go against government advice, your policy will most likely be voided and you won't be covered
If you've never looked at travel insurance before, the whole thing might be overwhelming. We've put together a guide to help you understand the importance of travel insurance, how to get study abroad travel insurance if you're planning to go on exchange, how to get cheap travel insurance and how to get the best travel insurance for your trip.
After all, you've saved up all this money while studying, don't get caught out on some of those expensive holiday hiccups.
What is travel insurance, and how does it work?
Think of it as an agreement between you and an insurer. You pay money in exchange for financial protection while you're travelling.
The below diagram is a very basic way of explaining how travel insurance works. It doesn't stop you from getting injured but it can help you pay for some very expensive medical care while you're abroad. It doesn't only cover you medically but also can cover your belongings and unexpected cancellations amongst other things.

Why is it important for students?
Because you've probably just spent a lot of money on your trip. Before you've even left you've probably spent a few thousand dollars on your trip for things like flights, tours and accommodation. A sudden death in the family or a natural disaster could throw your plans out the window and either have you spending more or losing money. Travel insurance protects you from the costs of unexpected events like this.
Because you're not immune to sickness or injuries overseas. If you need medical care while you're overseas, you could be up for some pretty hefty expenses. According to our study, the USA, Singapore and the United Kingdom are among some of the most expensive places to spend the night in a hospital bed. Travel insurance will not only cover these costs, it can help you find a trusted medical facility, contact your family back home and even send someone over for support.
Because you don't have a lot of time. If you're travelling over mid-semester break, you have a lot of gallivanting to do within 4-6 weeks. A cancelled flight or delayed plans can be at a cost to both time and money. Travel insurance can help you retrieve costs from cancelled events or accommodation, or even help you arrange alternative transportation to get you to your tour or festival on time.
Getting cheap student travel insurance
Our comparison tool lets you filter policies by price so that you can find the cheapest travel insurance for your trip with a few clicks of a button. But what are you getting with these cheap policies?
Most budget travel insurance will only cover you for overseas medical expenses and personal liability, if you're lucky, you might get a limit for your luggage too. Here are three of the cheapest policies found with Finder. This search is based on a 20-year-old going to Europe for 4 weeks.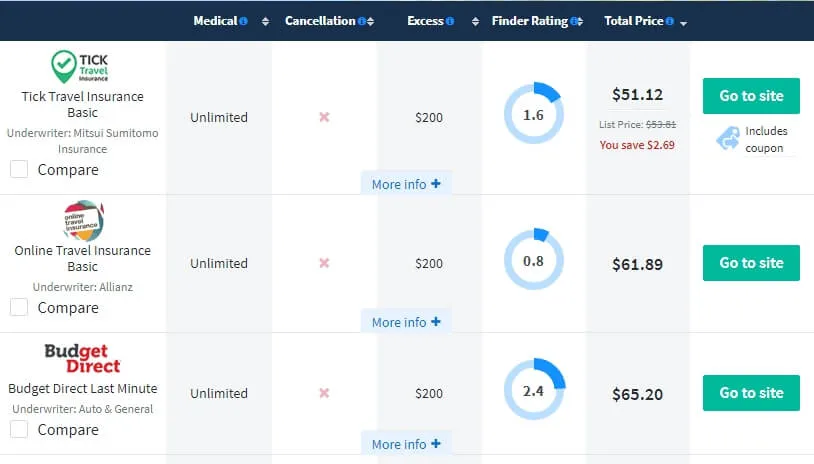 Get the best student travel insurance
How to get the best student travel insurance
Simply fill out your trip details into our comparison tool and your results will be sorted from policies with the highest Finder Rating to the lowest.
As a student, the best travel insurance doesn't have to be the most expensive policy. You want to consider the balance between value and comprehensiveness. Our Finder Rating does exactly that.
Here are Finder's top 3 rated policies for a 4 week trip to Europe for a 20-year-old.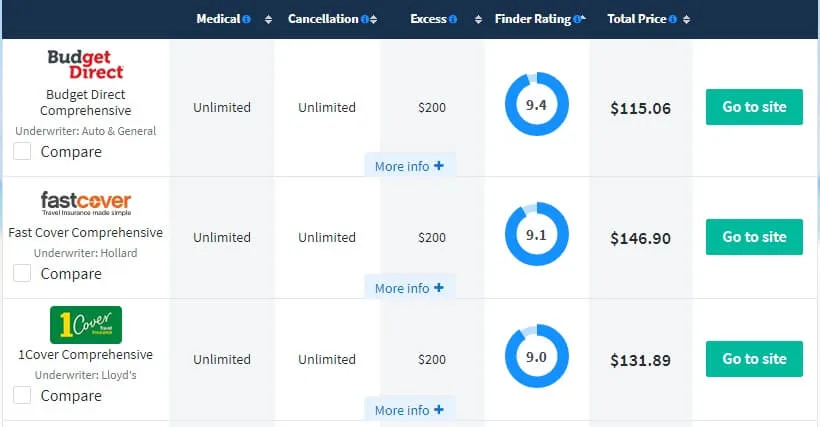 There's an obvious difference in price between a cheaper policy and comprehensive travel insurance. This is because the above policies not only just include unlimited medical cover, they also cover cancellation costs, delayed luggage, and lost/stolen personal effects, pretty much all the most common travel insurance claims and more.
You'll notice that Budget Direct's Comprehensive policy has the highest Finder Rating of 9.4 which means that it's the most comprehensive policy from our partners – it has a lot of cover included. See how it has the highest Finder Rating but is actually not the most expensive?
Let's be real, $3.72 per day is not much to pay for ultimate peace of mind.
Get the best student travel insurance
Study abroad travel insurance
Whether you're studying abroad or going on exchange, study abroad travel insurance will provide you with the cover you need. That's because, like exchange semesters, policies will generally last between 6 months to a whole year. If you're staying longer, you might need long term travel insurance.
While getting cover in your host country, here are some other reasons why travel insurance can be helpful while you're on exchange;
Cover if you go exploring outside your host country. It's pretty common for students to go travelling during spring break or on the weekends when you're on exchange. Most travel insurance will cover these trips as well as long as you've let the insurer know. If you're lucky, you might be able to get this cover without additional costs as well.
Cover if you get injured or become ill. Let's say you take a side trip to the Alps and break your ankle. Your travel insurance will cover your medical treatment, ambulance rides and daily spending money while you're in the hospital. It also includes dental cover.
Cover if your money or belongings get lost, damaged or stolen. Just as studying in a new city gives you invaluable memories and experiences, you're not a local, which can make you a little more vulnerable and less prepared. If a pickpocket takes your wallet, a storm damages your passport or an airline loses your luggage, travel insurance will pay for you to replace what's lost.
Cover if a family emergency calls you home. If a family member dies and you need to return to Australia, travel insurance will pay to send you home and even pay for you to get back to your new country.
Cover if you have to cancel your trip (or any side trips). Travel insurance will pay you back for any non-refundable tickets or fees if you have to unexpectedly cancel your trip. For example, if you fall ill with the flu before you are due to travel, you can get reimbursed for the money you've spent on booking the trip.
Cover if you damage something or injure someone. If you injure someone or damage something, you could be on the hook for thousands of dollars. Travel insurance will help cover your legal fees and any money you owe.
It's also handy to know that some universities might provide you with travel insurance before you leave home. Double-check this. If you already have cover, make sure you read through your policy benefits and decide whether or not you're getting a level of cover that you're comfortable with.
Student travel insurance comparison
As a student, we don't expect you to have much experience with travel insurance. To help you get a good idea, we've put together a table that compares the benefits you get with a cheaper policy versus a more comprehensive one.
Remember, if you feel like your trip doesn't require so many benefits, then a cheaper policy could be enough for you. Just make sure you make these considerations.
These are benefits we think would be most useful to you as a student.
| Brand/policy type | Tick Travel Insurance - Basic | Budget Direct - Comprehensive |
| --- | --- | --- |
| Default excess | $200 | $200 |
| Overseas emergency medical and hospital expenses | | |
| Cancellation fees and lost deposits | | |
| Travel documents and traveller's cheques | | |
| Luggage and personal effects | | |
| Theft of cash | | |
| Additional accommodation and travel expenses | | |
| Special events | | |
| Travel delay | | |
| Personal liability | | |
* Table last updated: August 2019
Travel insurance discounts and coupons
Scouring the Internet for discounts and savings is just part of student life. No need to fuss, we've done all that for you. Here are our valid coupons with a few exclusives to Finder.
Compare student travel insurance in just seconds
Type or Select your destination(s)
Popular Destinations
Americas
Asia
Europe
Pacific
Africa
Can't find your destination? Just type it in the box above.
Frequently asked questions
Read on…
Picture: GettyImages
More guides on Finder