Australia Post travel insurance
Compare benefits and features with Australia Post travel insurance

We're reader-supported and may be paid when you visit links to partner sites. We don't compare all products in the market, but we're working on it!
Important:
Travel insurance rules continue to change as a result of the coronavirus pandemic. We're working hard to keep up and make sure our guides are up to date, however some information may not be accurate during the pandemic. It's even more important to double-check all details that matter to you before taking out cover. Please know that some policies may not be available through Finder at this time.
Here are some helpful tips:
If you're buying a policy today, it's unlikely that you'll be covered for any coronavirus-related claims
If your travel plans go against government advice, your policy will most likely be voided and you won't be covered
Australia Post is a widely known Australian brand that also offers travel insurance. To keep things simple, they give the choice of three plans, international comprehensive, basic international and domestic. To make sure you have the right level of cover for your trip, they also offer various add ons such as cruise cover and chosen limits for cancellation.
Compare your travel insurance quotes
Type or Select your destination(s)
Popular Destinations
Americas
Asia
Europe
Pacific
Africa
Can't find your destination? Just type it in the box above.
Summary of Australia Post's Comprehensive Policy
| | |
| --- | --- |
| Overseas Medical and Hospital Expenses | Unlimited |
| Cancellation and Amendment Fees | Cover chosen |
| Luggage and Personal Effects | $7,500 |
| Maximum Age Limit | 84 |
Table updated February 2020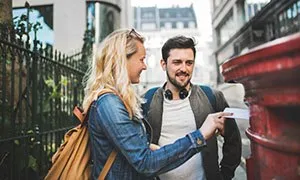 Finder's favourite features:
1. Simple choice of three different policies
2. More flexibility with loads of additional options available such as winter sports and cruise cover
3. Specified cover for Schengen visa requirements such as urgent medical attention and up to 30,000EUR for overseas funeral expenses.
Summary of travel insurance policies
The key features of Australia Post's three types travel insurance policies are broken down below:

International Comprehensive
Australia Post's most complete policy. Not only includes staples like unlimited medical cover, but all the extras like travel delay and travel document cover, luggage delay and replacement, and more.

Basic International
The bare minimum you need when travelling overseas. Includes cover only for overseas medical and dental cover, disability and accidental death, additional expenses and personal liability.

Domestic
Intended for people travelling inside Australia. Doesn't include medical cover, but has some other features such as trip amendment, travel delay, and a few others.
AusPost travel insurance review of benefits
With Australia Post, you have access to three different travel plans, each with their own set of benefits and features. Each policy can be purchased for a single trip, or several trips in the course of a year (Annual Multi-trip), as laid out in the table below.
| Benefits | International Comprehensive | International Basic | Domestic |
| --- | --- | --- | --- |
| Overseas medical/dental expenses | Unlimited | Unlimited | |
| Additional expenses | Unlimited | Unlimited | $10,000 |
| Amendment/cancellation costs | Cover chosen | | $10,000 |
| Luggage and personal expenses | $7,500 | | $4,000 |
| Travel documents | $5,000 | | $4,000 |
| Delayed luggage | $750 | | |
| Money | $250 | | |
| Rental car excess | $3,000 | | $3,000 |
| Travel delay | $2,000 | | $1,000 |
| Resumption of Journey | $3,000 | | |
| Special events | $5,000 | | |
| Hospital Incidentals | $5,000 | | |
| Personal liability | $5,000,000 | $5,000,000 | $5,000,000 |
Cover chosen applies per policy
Table was last updated: June 2020
What options can I add-on to my Australia Post travel insurance?
As well as the benefits explained above, you can use the following options to vary your cover where necessary. Generally, these variations will attract an increased premium.
Cruise coverage. By default, all claims related to cruises are excluded from the standard travel policies. This option allows you to take a cruise and still claim your benefits as normal.
Winter sports. Cover if you're skiing, snowboarding or snowmobiling as part of your trip.
Motorcycle/ moped riding. Cover if you're planning to ride a motorcycle or moped on your trip as a driver or pillion. Along with cover, there are other conditions such as needing the appropriate permits, wearing a helmet, the bike having an engine size less than 200cc, just to name a few.
Increase luggage cover. If you're travelling with expensive items that exceed the limit mentioned in the product disclosure statement, you might want to consider increasing your luggage cover for that item.
Increase car rental insurance excess. The different plans offer a differing limits for car rental insurance excess. If you find that the allocated limit is not enough, you can increase the amount by paying a bit more.
Annual multi-trip. When you buy any of the three travel policies, you can choose to change it from a single trip to an annual multi-trip. This choice gives you cover for several journeys starting and ending at your home in the course of a year.
Variable excess. An excess is paid each time you make a claim so consider it an out-of-pocket expense. On international policies, you have the option to select your excess amount from $0, $100 and $250. The higher the excess, the cheaper your policy but if you have to claim your pocket might be worse off.
Increase cancellation cover. You can add trip cancellation cover onto your International Comprehensive plan up to a nominated amount. This doesn't leave you entirely out of pocket if your trip has to be cancelled due to illness or misadventure.
Is cover from Australia Post expensive?
Working out if a travel insurer is expensive is not the easiest task. Your costs vary greatly depending on where you're going, your age and more. We looked at a range of quotes for a 30-year-old traveller going to 5 regions (North America, Europe, Asia, The Pacific and Africa) for 2 weeks.
The verdict:
We found that on average, Australia Post policies cost about 20% (21.69%) more than the average policy using the Finder comparison tool. While a bit more expensive, Australia Post policies scored a Finder rating of 13.44% higher than the average policy.
More details...
However, this is a tale of two policies. Australia Post offers 2 international travel insurance policies: Comprehensive and Basic. There is a 20% difference between the cost of the 2 policies but the Basic policy only covers 9 of the 24 (37.50%) benefits offered by the Comprehensive option. Even when both the Comprehensive and Basic options are covering the same benefits, 3 out of 9 times (33%) the amount covered is significantly lower.
When comparing these 2 policies to others in the Finder comparison engine, the Basic policy did not fare well, costing about 7.87% more than the average policy but with a Finder score 47.14% lower than the average.
Australia Post's Comprehensive policy did far better. While this policy cost 35.52% more than the average policy, its value for money was reflected with its Finder rating, which was 74.01% above the average policy.
How can I save on Australia Post travel insurance?
Looking to save money on your travel insurance policy from Australia Post?
Australia Post travel insurance coupon codes. Coupon codes are one of the most common ways to save on travel insurance and you can get 10% off travel insurance when you buy a policy with Australia Post.
Kids can be added to your policy at no cost. If you're travelling as a family, your children are also covered for free, provided they are under 21 and unemployed.
Annual multi-trip option. If you travel a lot, you can get an annual multi-trip policy for international and domestic trips if you are more than 250km from home.
Choose a higher excess. Australia Post also helps you reduce your premiums with a variable excess to make your policy more affordable.
What isn't covered by my policy?
All insurance plans have their own set of circumstances where you won't be covered. Generally, Australia Post will not pay your claim if:
It's the result of your own dangerous or reckless behaviour, or you could have reasonably predicted the incident or problem.
You're travelling in an aircraft run by anyone other than an airline or an air charter company.
You're acting illegally, criminally or dishonestly.
You're taking a trip with a pre-existing medical condition that Australia Post has not approved, including pregnancy.
It arises from your participation in a risky sport or activity, for example: hunting, motocross, mountaineering, and others.
It relates in any way to cruise travel (unless you purchase the cruise cover add-on).
Claims and contact details
Emergency assistance: +61 (2) 8907 5647.
Claim online: Start the claim process here https://claims.travelinsurancepartners.com.au/auspost
Claim by mail: Download and complete the claims form here https://auspost.poweredbycovermore.com/files/documents/auspost_claimform.pdf
Then post the form and supporting documentation to this address:
Australia Post Claims
Travel Insurance Partners
PO Box 168
North Sydney NSW 2060
Picture: GettyImages
Icons made by Freepik from www.flaticon.com is licensed by CC 3.0 BY

More guides on Finder