Tick Travel Insurance
Find the policy that's right for you with our Tick Travel Insurance review.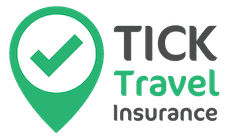 We're reader-supported and may be paid when you visit links to partner sites. We don't compare all products in the market, but we're working on it!
Important:
Travel insurance rules continue to change as a result of the coronavirus pandemic. We're working hard to keep up and make sure our guides are up to date, however some information may not be accurate during the pandemic. It's even more important to double-check all details that matter to you before taking out cover. Please know that some policies may not be available through Finder at this time.
Here are some helpful tips:
If you're buying a policy today, it's unlikely that you'll be covered for any coronavirus-related claims
If your travel plans go against government advice, your policy will most likely be voided and you won't be covered
Tick aims to provide simple and easy-to-understand travel insurance policies to suit the needs of a wide range of travellers. Its policies can cover an extensive selection of common travel risks, including cancellation fees, lost deposits and overseas medical emergencies.
Compare your travel insurance quotes
Type or Select your destination(s)
Popular Destinations
Americas
Asia
Europe
Pacific
Africa
Can't find your destination? Just type it in the box above.
Summary of Tick's Top policy
| | |
| --- | --- |
| Overseas medical and hospital expenses | Unlimited |
| Cancellation and amendment fees | $20,000 |
| Luggage and personal effects | $7,500 |
| Maximum age limit | 100 |
Table updated June 2020
What options are available?
Tick Basic Travel Insurance. Unlimited medical expenses overseas, cover for personal belongings and baggage, trip disruption and personal liability cover of $1 million.
Tick Budget Travel Insurance. Unlimited medical expenses overseas, $5,000 limit for emergency expenses and cancellation of pre-paid expenses. You also get increased cover for personal belongings and baggage and $1 million liability cover.
Tick Standard Travel Insurance. Cover for the above plus travel delay, rental vehicle excess waiver and $1.5 million liability cover.
Tick Top Travel Insurance. Unlimited overseas medical expenses, $20,000 cancellation cover, $7,500 for personal belongings and baggage cover, $3,000 for resumption of journey cover and $3 million of liability cover. It also comes with cover for hijacking, pet care, and accident, disability and death.
Tick Travel Insurance review of benefits
For an in-depth look at some of Tick's benefits, check out the table below.
| Cover | Basic | Budget | Standard | Top |
| --- | --- | --- | --- | --- |
| Trip cancellation | | $5,000 | $5,000 | $20,000 |
| Overseas medical and hospital expenses | Unlimited | Unlimited | Unlimited | Unlimited |
| Dental treatment | $500 | $500 | $500 | $500 |
| Return of remains to Australia | $20,000 | $20,000 | $20,000 | $20,000 |
| Funeral or burial outside Australia | $10,000 | $10,000 | $10,000 | $10,000 |
| In-hospital benefit | | | $75 per 24 hours | $75 per 24 hours |
| Cutting your trip short | | | $5,000 | $15,000 |
| Additional emergency expenses | $5,000 | $5,000 | $10,000 | $20,000 |
| Resumption of journey | | | | $3,000 |
| Travel delay | | | $50 per completed 12 hours | $100 per completed 12 hours |
| Personal belongings and baggage | $2,000 | $2,500 | $4,000 | $7,500 |
| Delayed baggage | | | $300 | $400 |
| Passport and travel documents | | | $2,000 | $4,000 |
| Money | | | $300 | $300 |
| Death benefit | | | $10,000 | $25,000 |
| Death of dependant child | | | $7,500 | $15,000 |
| Disability benefit | | | $10,000 | $25,000 |
| Personal liability | $1 million | $1 million | $1.5 million | $3 million |
| Legal expenses | | | $10,000 | $25,000 |
| Hijack | | | | $2,500 |
| Pet care | | | | $600 |
| Financial default | | | $1,000 | $1,000 |
| Rental vehicle excess waiver | | | $2,000 | $4,000 |
| Loss of income | | | $5,200 | $10,400 |
What additional cover is available?
Winter sports cover. This option provides up to $1,250 of cover when your winter sports equipment is lost, stolen or damaged. Cover is also included for winter sports equipment hire, lift passes, ski packs, piste closure and avalanches.
Additional specified items cover. If you add this optional extra to your Tick Travel Insurance policy, you can take out up to $4,000 of cover for a single valuable item, or up to $6,000 of cover for combined items.
Natural disaster cover. This add-on may cover you for cancelling your trip before departure, having to cut your trip short and additional emergency expenses in the event of a natural disaster. Benefits vary between the different levels of cover. If you want cover for all though, opt for the Top cover.
Does Tick Travel Insurance cover cruises?
Yes. There's no need to buy a special "cruise add-on" because all of Tick Travel Insurance policies automatically cover you when you're at sea. That means you're automatically covered if the following were to happen:
You have a medical emergency and need to be airlifted from sea to the nearest hospital
You get gastro and the on-board medical centre charges you a fortune
A cyclone pummels your next destination and you have to cancel your pre-paid activities
You miss your departure because of a car accident on the way to the port so you need to fly to the next port
Note that Tick Travel Insurance does not offer niche cruise features that you might find on a specialty cruise policy or a specially designed cruise add-on. Therefore you won't find features like cabin confinement cover, which would pay you a daily stipend if cruise authorities confine you to your cabin, or formal attire cover, which would pay to repair or replace expensive formal attire or pay you to rent some if yours is lost or damaged.
What are the general exclusions?
Your Tick Travel Insurance claim may not be paid if:
You are aware of a medical condition that could lead to a claim but do not notify your insurer when you take out cover, or are awaiting treatment for an undiagnosed condition
Any insured person on the policy is travelling against the advice of a medical practitioner
Any insured person on the policy has in the last five years suffered from or received medical advice, treatment or medication for a heart condition, blood circulatory condition, diabetes, stroke, brain haemorrhage, epilepsy, anxiety or depression
It arises from your suicide, attempted suicide or deliberately putting yourself in danger
It arises from the use of alcohol or drugs
It is caused by war, riot, civil unrest or industrial action
It arises due to your travel through a region for which the Department of Foreign Affairs and Trade has issued a travel advisory
It is for consequential loss of any kind
It arises because of you being involved in any illegal or criminal act
It arises because of you taking part in missionary work, humanitarian work or manual labour associated with any business or trade
It arises from you being involved in any form of racing other than on foot
It arises because you fail to get the right vaccinations or inoculations for travel
It arises due to a government authority seizing, withholding or destroying anything of yours
It is for a tour being cancelled due to insufficient numbers
It arises due to errors or omissions in your travel arrangements made by you, your travel agent or anyone acting on your behalf
Tick Travel Insurance contact details
To make a claim online. You can lodge your claim at this web address – https://www.tickinsurance.com.au/claims/
By phone. Call +612 9333 3963 for emergencies
Emergencies and claims. Email assistance@tickinsurance.com.au
Tick Travel Insurance frequently asked questions
Apply for Tick Travel Insurance today
If you want simple, easy-to-understand travel insurance that covers you against a broad range of risks, Tick Travel Insurance may be able to help. Just make sure to compare Tick's cover features with other policies on the market before deciding on which insurer and policy is right for your needs.
More guides on Finder
Granny flat insurance 

Find the right granny flat insurance, whether you're renting yours out or you've moved into one.