Best SIM Only Plans for September 2020
Circles.Life has smashed three out of four SIM only categories this month with their data-heavy, affordable plans.
Best SIM Only Plans - September 2020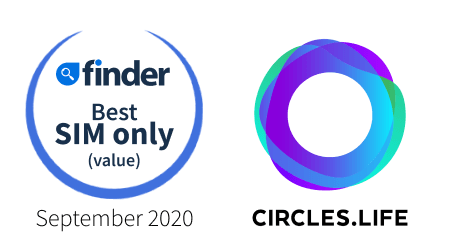 In September, Circles.Life continues to absolutely dominate the market for truly affordable SIM only plans, thanks to that hefty Finder-exclusive 200GB $28 offer, which is far and away the best value you can get – a tip-top match for those looking for a big data, low cost SIM only plan. The one area where Circles.Life is less competitive is if you're after a plan with international calling inclusions, where it's hard to look past the prepaid space, and especially Boost or amaysim's deals.
Best value SIM on a plan
(+ 3 alternatives)
Circles.Life's 200GB deal is amazing value that its competitors simply cannot match if you want a huge quantity of data on a month-by-month SIM only basis.

To use our Finder exclusive deal, simply click 'go to site' and we'll have the coupon code applied at the checkout.
200GB

per month

Unlimited calls & texts




Optus network

$

28

per month
Go to site
Why we chose it:
More data than any other plan
3GB of "bill shock" protection data
Unlimited standard calls/texts
Ever since it launched in Australia, Circles.Life has redefined the value equation for SIM only plans with the inclusion of amazing quantities of data for prices lower than we've ever seen before. Circles.Life doesn't bundle a lot of extras, although if you are truly voracious for mobile data, its 3GB Bill Shock protection – effectively 3GB of additional free data over and above your quota before it starts costing you a single cent more – is quite nice. You can get unlimited standard calls and texts from just about anyone, but what smartphone users tend to want more of is data, and Circles.Life's 200GB deal is extraordinary in this respect, unlike any competitor plans by a very wide margin.
Best cheap SIM only plan
(+ 3 alternatives)
If you're working on a tight budget but still need plenty of mobile data, along with unlimited calls and texts, there's nothing right now that even comes close to comparing with Circles.Life's 50GB plan.

To use our Finder exclusive deal, simply click 'go to site' and we'll have the coupon code applied at the checkout.
50GB

per month

Unlimited calls & texts




Optus network

$

18

per month
Go to site
Why we chose it:
A huge quantity of data for under $20
Extra 3GB of data effectively for free
It's not quite as alluring as its 200GB plan – and if you can stump up the extra $10/month that's the plan we'd go for – but if you're looking for value under $20/month, right now you should be staring intently in the direction of the Circles.Life $18 SIM-only plan. Like its other plans, you're not awash with other perks or fancy inclusions aside from 3GB of effective "bonus" data to shield you from bill shock, but in the sub-$20 space, nobody really expects that many bonus offers anyway.
Best big data SIM only plan
(+ 3 alternatives)
200GB of data isn't to be missed if you're a heavy data user, and the fact that you can score it for less than half you'd pay for half the data or less just makes the Circles.Life deal that much more compelling.

To use our Finder exclusive deal, simply click 'go to site' and we'll have the coupon code applied at the checkout.
200GB

per month

Unlimited calls & texts




Optus network

$

28

per month
Go to site
Why we chose it:
200GB of data can cover a lot of use – even video streaming
Way ahead of the competition on a dollars-per-GB basis
Time was if you wanted lots of data on a mobile plan, you had to PAY for it, and we're capitalising there for a very good reason. It's starting to feel a tad repetitive, but Circles.Life takes the crown for the best big data SIM only plan as well, because the value equation of its $28/month plan is absolutely leading the market right now. Frankly, even its regular 100GB suit, it's a fancy deal, but why not take advantage of as much data as you can get your hands on for the same price?
Best SIM plan for international calls
(+ 3 alternatives)
You've got to match it up to the country you want to call, but with unlimited calls to 20 countries and calling minutes for 35 more, Boost Mobile's plan is a great match if you call overseas frequently.

The fact that Boost is on the Telstra network (giving it great domestic coverage) is a cool bonus as well.
34GB

per 28 days

Unlimited calls & texts




Telstra network

$

30

per 28 days
Go to site
Why we chose it:
Includes unlimited calls to 20 popular destinations plus 100 calling minutes to 35 more
34GB of included data on first 3 recharges
Unlimited standard national calls and texts
Picking the "best" international calling SIM-only plan is a tricky prospect, because the real value here is in including the country you need to call, and nobody has a planet-wide deal just yet. We're giving the gong to Boost Mobile's SIM-only prepaid $30 deal. Its baseline of 20 countries for unlimited calls covers a wide range of locations that many Australians have personal or business dealings in. Add 100 minutes to call 35 further destinations and you're looking at a great value package overall.
How to find the right plan
If you're happy with your handset, a SIM only plan can save you a lot of money, as long as you compare the right details to ensure the best possible value. Here's what you should consider:
Calls & texts on your network
You can get unlimited standard local/national calls & texts for very little money these days, so if you're just a chatter and texter, don't pay more than you have to.
Depending on where you live, you might be outside the coverage area for some mobile networks.
This is a minor consideration for most users, but still relevant. Telstra's network has the most coverage, followed by Optus and then Vodafone. If you live in a metro area, this is unlikely to matter.
MVNOs are fighting over data
Make sure you get a plan with enough data to avoid paying extra charges.
The big perks such as streaming deals are mostly exclusive to the big 3 providers, but the smaller, value-focused MVNO (Mobile Virtual Network Operator) competitors are focusing on giving you even more data for your buying dollar.
Alternatively, it could be something like Telstra or Vodafone's "endless data", which completely removes the threat of you going over your limit.
5G isn't cheap (yet)
If you're keen on the next big thing in mobile, and are in the right spot, you've only got a few options.
We're yet to see 5G access spread beyond the big three networks – and right now Vodafone's 5G is limited to a tiny test area – so if that next gen speed is what you need, you're going to have to go with the big brands.
Don't be afraid to switch!
SIM-only plans are only getting better value over time, and switching is a quick process.
Every single telco relies on the idea that you're lazy, and won't promote its best deals if you're happy to just roll over your SIM only deal. Mobile number portability is fast and quite simple, and you can save big bucks – or score better deals – by switching carriers while keeping your own mobile number.
Do I need any international inclusions?
Consider whether you need a plan with international calls and text included.
Contacting people overseas has never been easier, thanks to the Internet. WhatsApp, Messenger and many other apps let you contact friends and family overseas with nothing more than a network connection. As such, international call inclusions on plans aren't worth as much as they used to be.
If you do want to use a phone line for international calls, definitely invest in a plan with specific overseas inclusions. Buy a plan with automatic inclusions so you don't have to pay extra for call packs or add-ons.
FAQ about SIM-only plans
Which SIM-only plan is best?
This depends on your mobile needs, but this month, we've named Circles.Life's 200GB plan as our best overall value pick.
Can I keep my old phone number with a SIM-only plan?
Yes! All mobile providers are legally required to port your current number over to your new service. To find out how to do this, see our
guide to number porting
.
Is SIM-only cheaper than a phone plan?
SIM-only plans aren't inherently cheaper, since you'll be paying about the same for your phone whether you buy it outright or on a contract. The main benefit comes from finding a competitive monthly plan, rather than being locked into an expensive one.
Related Posts
Latest mobile plan deals on Finder
Go to site