Business interruption insurance
1 in 4 small businesses wouldn't survive if they had to close for 3 months. Get business interruption insurance to avoid the chance.
We're reader-supported and may be paid when you visit links to partner sites. We don't compare all products in the market, but we're working on it!
Get quotes for business interruption insurance
Get quotes online Speak to a broker
It's easy to see how business insurance could help you refurbish your shop after a water main break or make you whole after a thief takes off with your cash, but what would you do if one of these events meant you had to shut down for a week, a month or even longer?
That's where business interruption insurance steps in. If you're already insured against loss or damage to your property, and an insured event, such as a fire, disrupts your business operations, then you will be covered for the original fire damage plus the secondary losses related to operating your business, such as lost revenue or increased operating costs.

You'll also be covered for these secondary losses in a few other circumstances. For instance, you could be covered if the authorities forced you to close due to a local outbreak of an infectious disease.
If you are ready to speak with a consultant about different business insurance options available, simply enter your details in the form. Keep reading if you want to learn more about the different types of cover available.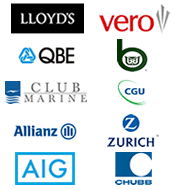 What is business interruption insurance?
Business interruption insurance will keep your business afloat if disaster strikes and you are forced to shut operations, scale back operations or operate at a higher cost. For example, if vandals destroy your shop and take off with your stock, it's not just the lost stock and broken windows that will set you back; it's also all the business you'll lose in those days or weeks it takes to rebuild.
If you want cover for that last bit, you'll need to add business interruption insurance to your property insurance. You can also find them bundled together in many comprehensive policies.
Does your business need it?
Here are some reasons you might need business interruption insurance:
You pay a lot in rent. Some bills like rent and loan repayments will keep coming even if your business isn't operating. You'll need a way to pay them if a disaster causes you to shut down.
You carry a lot of stock. If your stock gets damaged, it could take a while for you to replace it.
You have a physical shop. If you have a physical shop and have to close down, business interruption insurance will cover your lost revenue. Even if you have other ways to sell your product, such as through a website, business interruption insurance will pay any increases in operating costs to keep your business running.
You have employees. Business interruption insurance will allow you to continue paying your employees so that they don't quit and go somewhere else.
You rely on specialised equipment. If your equipment is destroyed and it takes a long time to have it replaced, business interruption insurance will help keep you going while you wait on replacements.
Case study: Queensland flooding in 2013
When the flood crisis hit Queensland in early 2013, the nation watched in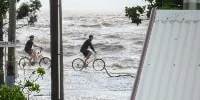 shock as the sunshine state took a battering. But while the human cost of this disaster was undoubtedly tragic, the floods also had a devastating economic impact. Many businesses were forced to close their doors for days and even weeks, and regular trading completely shut down. However, despite the widespread impact, Roy Morgan Research later revealed that only 14% of the businesses affected had business interruption insurance.
What does business interruption insurance cover?
Business interruption insurance will cover the following:
Lost revenue
Increased operating costs needed to maintain normal revenue
Increased operating costs not related to revenue
Professional fees to organise your insurance claim
Outstanding debts receivable you can't recover due to damage to your debt records
You'll only be reimbursed if those things happen because of an insured event:
Loss or damage to your property
If you have insurance that protects you against property damage and the damage was caused by an insured event, that event will also be covered under business interruption insurance. Insured events typically include the following:
Fire
Natural disasters like earthquakes, storms and floods
Explosions, including boiler explosions
Theft, burglary and vandalism
Escaped water
Loss or damage to other property affecting your business
Interruption to your business will also be covered if the loss or damage happens to someone else's property and it directly affects your business, but only so long as the loss or damage occurs as a result of one of the insured events listed in your policy.
You will be covered in an insured event affects the following:
Roads, bridges and railways used to transport stock and materials to and from your business
Remote computers and servers you use
Evacuation and closure by the authorities
You can also be covered if the authorities force you to close for the following reasons:
A murder or suicide at your premises
A shark or crocodile attack within a certain distance of your premises
How long will I be covered for?
The amount of time you are covered is your indemnity period, and that time frame is entirely up to you. If you want to be ensured at a yearly revenue figure of $200,000 and you choose a six-month indemnity period, the maximum you will receive is a half year's worth of revenue, or $100,000 (plus or minus any adjustments based on actual recent revenues, increased operating costs and/or savings).
Example scenario
Let's say you run a small bicycle shop and you anticipate revenues of $200,000 over the next 12 months. You also believe that if you were forced to close your doors, you could get fully back up and running after 6 months. So you take out a business interruption policy with a 6-month indemnity period based off revenues of $200,000. That means your limit of liability is $100,000
You insurer has agreed to pay up to 120% of your limit of liability just in case your recent revenues were above your original estimate. So your max payout would be $120,000.
Well, the worst happens and a fire destroys your business, causing you to shut down for 7 months. In the 12 months prior to the fire, your revenues were $220,000.
Here's how it would play out:
| Item | Amount | Description |
| --- | --- | --- |
| Your initial payout based on a six-month limit of liability (even though you were closed for seven months, you are only eligible for six months' worth of benefits since that's the limit of liability you chose) | $110,000 | Your liability limit was $100,000 based on your estimates, but your actual revenues were higher. Since your insurer offers up to 120% of your limit of liability, this is more than enough to cover your actual revenues for those six months. If your actual revenues were lower than your limit of liability, you would receive a lower amount. |
| 10% trend growth | +$11,000 | Some insurers will tack on a little extra to account for future growth. |
| Increased operating expenses to avoid further loss of revenue | +$5,000 | You may need to spend extra to advertise your grand reopening to ensure you get the same foot traffic as you had before. |
| Savings as a result of being shut down for six months | -$6,000 | You didn't have to pay rent, electricity or maintenance costs while being closed. |
| Excess | -$500 | Your excess on this policy was $500 |
| Total payout | $119,500 | |
How do you calculate how much business interruption insurance you need?
To calculate how much business interruption insurance you should have, you will need to work out how much revenue you expect to make over the next year, and then identify how long you would need to rebuild your business if the worst happened. Here's what to do:
Estimate how much revenue you'll make over the next 12 months. You can start by looking at item G1 (total sales) on last year's Business Activity Statement. Then work out how much that will increase or decrease based on market trends and business performance.
Identify how long it would take to rebuild. Imagine the worst-case scenario for your business. How long would it take you to get back on your feet if you lost all your property including the building, stock and equipment? That's how many months of cover you would need. This is your indemnity period.
You'll give the insurer both of these figures, and they'll work out the rest when it comes time to claim. But basically, if you lose it all, they'll divide the figure from step one by the number of months in step two to arrive at your total lump sum payout (and they may even give you a little extra as a buffer). This is your limit of liability.
They'll add in extra cash for your increased expenses (such as money you'll need to spend on advertising when you're finally back in business) and may deduct money that you have saved as a result of being out of business (such as your electricity bill).
If you need help estimating next year's revenue, you can find business interruption worksheets online. Some brokers even offer online calculators that can help you.
What is the difference between business interruption and business expenses insurance?
Business interruption insurance and business expenses insurance each cover different types of losses and for different reasons. Here's how it breaks down:
Insurance type
Covers
If...
Business interruption insurance

Loss of revenue
Increased operating costs

Your business itself is damaged or has to close
Business expenses insurance
You become too sick, ill or disabled to continue working
Business interruption insurance is there if you have to close your business or if it gets seriously disrupted. Business expenses insurance is there to help you avoid shutting your business in the first place.
What are fixed expenses?
If you are injured or disabled, business expenses insurance will help pay for the following:
Rent and property taxes
Accounting and audit fees
Electricity and other utilities
Leases on equipment and cars
Security and cleaning services
Regular advertising and printing costs
Salaries of employees who don't generate income
Business-related insurance premiums
Expenses related to finding your replacement
Receive quotes for business interruption insurance
Will business interruption insurance cover the coronavirus?
Research published by Roy Morgan in mid-February found that roughly 1 in 6 Australian businesses had already been impacted by the coronavirus. Unfortunately, it's unlikely business interruption insurance will be able to help with lost revenue.
Following the 2003 outbreak of SARS, lots of Australian insurers made significant policy changes, making it difficult for SMEs to claim on their business insurance policies. Of course, there's no harm in contacting your insurer or broker directly - they'll be able to give you a clear idea of how your policy responds.
Picture: Unsplash
More guides on Finder
How Can You Benefit From Industrial Special Risks Insurance?

What is industrial special risks insurance and what does it cover? What are the pitfalls to look out for with this type of insurance? This article looks at ISR Insurance and discovers that, while it can provide some cover not offered in regular property insurance, it needs to be carefully tailored to meet an organisation's needs.

Business contents insurance

Taking out insurance for your business contents is an essential consideration for all business owners. Read on to find out all about the ins and outs of business contents insurance.