Red Energy: Electricity and gas provider
Compare electricity, gas and solar options from this Australian company – plus, find out how you could earn Qantas Points.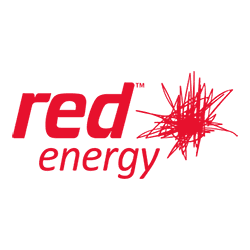 Is Red Energy right for me?
What does Red Energy offer? Electricity in NSW, VIC, QLD and SA as well as gas in NSW, VIC, QLD and SA.
Product highlights. Earn Qantas Frequent Flyer points for every dollar you spend on energy.
Watch out for. Red Energy offers a pay-on-time discount , so to enjoy the discounted rates, you have to ensure you can pay by the due date every month.
---
Compare plans by speaking to a consultant
Electricity Wizard can help you find the right electricity or gas plan from an Australian retailer.
Get a quote based on your usage

Over 1 million Australians helped

No paper work and no added costs
---

Red Energy electricity and gas
Red Energy offers a range of different energy plans in Victoria, New South Wales, South Australia and parts of Queensland. It's 100% Australian (owned by Snowy Hydro), with a Melbourne-based head office and call-centre team.
In addition to competitive rates and incentives like Qantas Frequent Flyer points, Red Energy can also help facilitate the installation of solar panels and batteries in NSW and Victoria.
Red Energy offers pay-on-time discounts, which apply to your whole energy bill, not just the electricity you use. This means greater savings for you, which is always a good thing.
Plus, the ability to bundle GreenPower onto your bill and access solar feed-in tariffs means that you can rest easy knowing that your energy provider is doing its part for the environment.
| State | ⚡ Electricity | ♨️ Gas |
| --- | --- | --- |
| NSW | ✅ | ✅ |
| VIC | ✅ | ✅ |
| QLD | ✅ | ✅ |
| TAS | ❌ | ❌ |
| ACT | ❌ | ❌ |
| SA | ✅ | ✅ |
| NT | ❌ | ❌ |
| WA | ❌ | ❌ |
---
Can I get solar power?
Red Energy offers solar installation and battery storage in NSW and VIC. The company also provides free consultations if you're thinking of switching to solar. It offers three different options, depending on what you're looking for.
Home solar and battery storage. With this option, you'll get both solar panels and a battery system installed, which means you can store and use solar energy to power your home.
Home solar only. Red Energy offers highly efficient solar panels, with product warranties of up to 12 years.
Home battery storage only. If you already have solar panels installed, you may want to get a battery system installed so that you can store extra energy for future use – and further potential savings.
Explore your options in our guide to solar power
Can I get GreenPower?
Red Energy offers GreenPower plans for residential customers in NSW, VIC and QLD. With this type of plan, you can support renewable energy production – even if you don't have solar power on your home.
This is because the energy you get from the grid is actually a combination of coal, renewables and whatever else is out there. So if you get a plan that is 100% GreenPower, the power company will buy additional renewable energy for the grid on your behalf. This helps offset your energy usage and supports renewable sources. The flipside is that GreenPower is typically more expensive than standard energy plans, with a current cost of 5.83c/kWh including GST.
Find out how GreenPower supports the environment
Red Energy Rewards
Being a Red Energy customer comes with plenty of benefits. There are two main rewards programs on offer for Red customers: Qantas Frequent Flyers or Red Rewards.
Qantas Frequent Flyers. Connecting your Red Energy account to the Qantas Frequent Flyer program is a great way to earn extra points. Red offers up to 15,000 bonus points for new customers signing up to eligible plans as well as up to 7 points for every $1 spent on energy. Obviously actual rewards depend on the exact plan you sign up for, but if you're looking to maximise your points for a big trip, this is a great way to do it.
Red Energy Rewards. Red customers can enjoy discounts at thousands of locations around Australia, including local restaurants, cafes and pubs. It also includes discounted movie tickets, hotel rates and magazine subscriptions, plus plenty more. You can find more about the specific Red Energy rewards offers on the Red Energy website.
How can I pay my bills?
Paying your Red Energy bill is easy with a number of options available to help you pay on time:
---
What are the features and benefits of Red Energy's plans?
There are different energy plan options in each state, with many comparable features and benefits, including the following:
A discount off your energy bill. Red Energy's pay-on-time discount offers 10% off your entire energy bill when you pay on time. In comparison, some energy providers only offer a discount for your energy usage charges and not the service to property.
Qantas Frequent Flyer partnership. Red Energy gives you a way to earn Qantas Points for your energy bills. With the Qantas Red Saver plan, you earn 2 points per $1 spent on your electricity and gas bills – as well as a 10% discount – when you pay on time. With the Qantas Red Plus, you earn 7 Qantas Points per $1 spent but won't get a pay-on-time discount. Both plans also offer bonus points when you sign up for an electricity or gas plan.
Red Energy Rewards. If you choose an energy plan that offers Red Energy Rewards – such as the Living Energy Saver plan for homes on NSW or VIC – you'll get access to exclusive offers through Frequent Values. This covers over 4,500 deals on groceries, dining, takeaway, hotels, movies, attractions and more, across Australia, New Zealand and Asia.
Concessions and rebates. A range of concessions and rebates are available for eligible customers. Check the eligibility criteria for your state.
Flexible payment options. With Red Energy's EvenPay system, you can control your energy spending by paying for energy in smaller, more manageable amounts. This helps avoid the shock of a high monthly bill. To make this work, Red Energy estimates your usage based on your billing history and spreads out your estimated energy costs. EvenPay also lets you link your payment times to your pay day.
Flexible payment methods. You can choose to pay your energy bill via BPAY, direct debit, ebilling, Centrepay, mail, online, phone or in person.
How can I sign up with Red Energy?
If you've compared your options and decided you want a plan with Red Energy, you can apply online in a few minutes by selecting a plan that's available in your area. You'll need the following details as part of the application.
Property details. This includes your state or territory, postcode, full address and whether you want energy connected to your existing property or to a new one (if you're moving).
Latest energy bill. If you want to compare the rate you're currently paying, or check the details of what services you need (electricity, gas or both), you can get these details from your last bill.
Personal details. This covers your name, date of birth, email address and contact number. You also need to provide a valid form of ID, such as your driver's licence or passport.
Qantas Frequent Flyer details. If you want to earn Qantas Points with Red Energy, you will need to include your Qantas Frequent Flyer number and last name.
Payment details. If you want to pay by direct debit, you'll be sent an SMS with details on how to register your account details.
---
Read more on this topic
Lower your household bills