Momentum Energy: Electricity and gas for your home and business
With a commitment to renewable energy, Momentum promises straightforward rates and Australian customer support.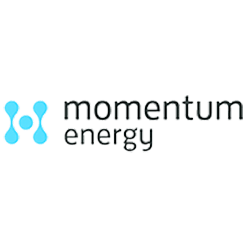 Is Momentum Energy right for me?
What does Momentum Energy offer? Electricity in NSW, VIC, QLD, SA and the Bass Strait Islands. Gas is only available in VIC.
Product highlights. Momentum is owned by Hydro Tasmania, so has a focus on renewables. It doesn't offer discounts, instead focusing on simple rates.
Watch out for. Momentum's straightforward pricing may not end up being the cheapest option for you. Also, Queenslanders can only get a standing offer, which probably isn't the best value.
---
Compare plans by speaking to a consultant
Momentum Energy electricity and gas
Despite being wholly owned and operated by Hydro Tasmania, the country's largest renewable energy producer, Momentum Energy doesn't offer electricity to residents on the Apple Isle, despite the state being open for full retail competition since 2014.
Still, Momentum has a significant presence on the mainland, with electricity offerings in South Australia, Victoria, NSW and south-east Queensland. Momentum also offers gas to residential and business customers in Victoria.
Momentum sells its electricity plans with simplicity, opting to keep tariffs straightforward, rather than introducing complicated pay-on-time discount rates.
While it can't promise that the energy you purchase is renewable in nature, the fact the company is owned by Hydro Tasmania does mean that, in part, your electricity is supporting renewables. Plus, Momentum offers support for the Government's GreenPower initiative.
| State | ⚡ Electricity | ♨️ Gas |
| --- | --- | --- |
| NSW | ✅ | ❌ |
| VIC | ✅ | ✅ |
| QLD | ✅ | ❌ |
| TAS | ❌ | ❌ |
| ACT | ❌ | ❌ |
| SA | ✅ | ❌ |
| NT | ❌ | ❌ |
| WA | ❌ | ❌ |
---
Can I get solar power?
If your home has a solar PV system installed, you'll be able to enjoy the benefits of a solar feed-in tariff through Momentum Energy.
What's more, Victorian customers have the option of choosing a dedicated solar plan, which offers a higher tariff than the Victorian government's prescribed minimum.
If you don't have solar panels already installed, though, Momentum doesn't currently offer an installation service.
Can I get GreenPower?
One of Momentum's unique selling points is the fact it is owned and operated by Hydro Tasmania, which is responsible for creating large quantities of renewable energy for Tasmania. So it's no surprise that Momentum Energy offers GreenPower for customers.
Customers can opt to offset 10%, 20%, 25%, 50%, 75% or 100% of their electricity usage through the GreenPower program.
The catch is that GreenPower is only available to Momentum's Standing Offer plans, rather than its market plans. For its market plans, Momentum guarantees that its parent company Hydro Tasmania (or another electricity generator) will generate an equivalent amount of renewable energy and supply it into the grid in the same calendar year.
---
How can I pay my bills?
Paying your energy bill is easy, with plenty of options available:
---
Why consider Momentum Energy?
Local customer support. Momentum's call centres are based in Hobart and Melbourne, so you'll get Australian customer service every time.
Renewable power. Whether it's GreenPower or just the fact that Momentum is owned by Hydro Tasmania, you know that your patronage is supporting renewable energy in Australia.
No complicated discounts. No need to worry about whether a big discount on higher rates works out better with Momentum's straightforward pricing.
Payment options. Pay with direct debit, BPAY, credit card, bank account or over the phone, depending on your needs.
---
Read more on this topic
Lower your household bills