How to read your energy bill
What to look for on your bill and where to find it.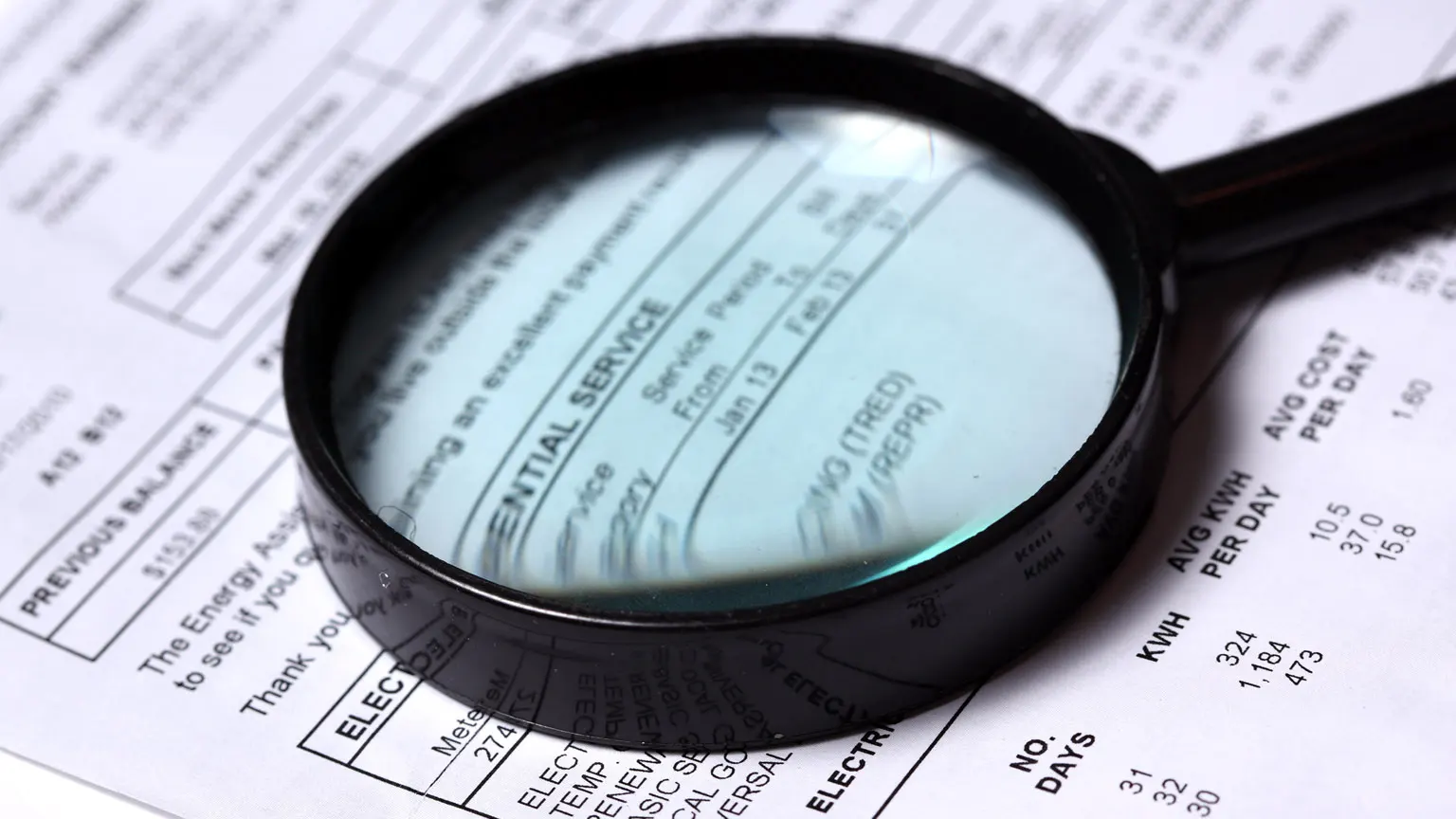 Apart from telling you what you owe, energy bills give a lot of information about how you use your power. These details can help you cut down energy usage and costs. They can also help you decide if switching to a different plan will actually save you money or not.
This guide will take you through what to look for and where to find it.
How to read your energy bill
Where your information is exactly is different for each brand. We've linked specific brand guides in the next section. However as a general guide, we took a sample bill from AGL and broke down each section.
What to check
While there is a lot of information on any electricity or gas bill, the main details to check include:
Where to find it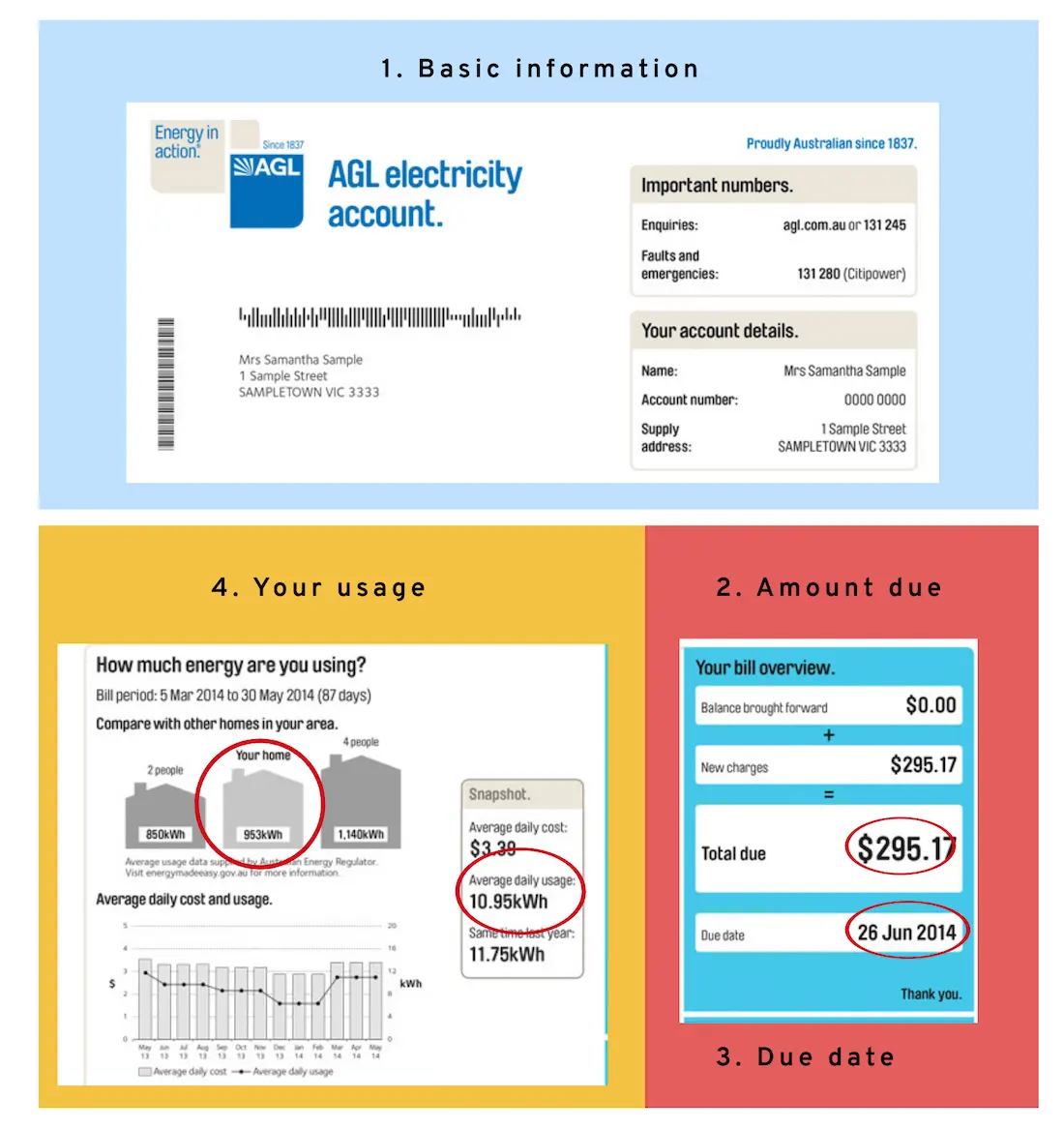 1. Basic information
Address, name, plan and other details necessary for your retailer to identify you. Keep this information handy if you're contacting your retailer online or over the phone.
2. Amount due
This is usually shown at the top of your bill. In addition to the total amount, there may be a smaller total listed with any pay on time discount applied.
3. Due date
When payment must be received for any pay on time discounts to apply.
4. Total and average daily usage
This will help you compare your usage to other energy plans.
For electricity, your usage is shown in kilowatts per hour (kWh).
For gas, it is shown in megajoules (MJ) for the entire billing period.
How to use this information
See how your usage compares to other households in your area to give you an idea of how much power you're consuming.
See average daily usage for the same billing period 12 months ago.
Use your total usage to quickly compare prices for other prices based on your usage
What to check
Where to find it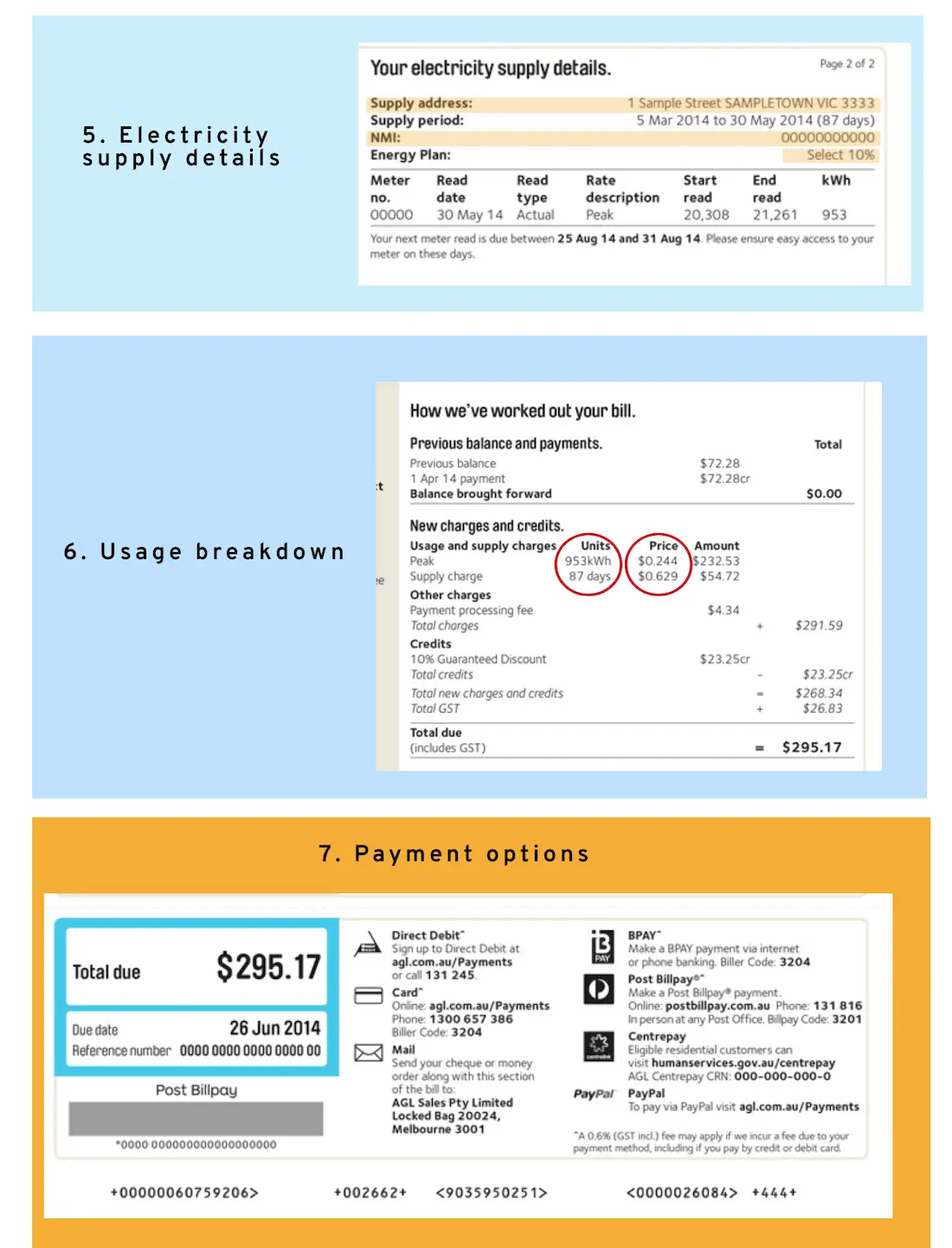 5. Supply information
This includes information about your electricity provision including your address, energy plan, and your meter's unique identification number (NMI=National Meter Identifier). It also has your actual usage listed in kWh.
Gas meters have a Meter Identification Reference Number (MIRN) that serves the same purpose as the NMI of an electricity meter.
How to use this information
Use your NMI/MIRN if you need to switch plans later on.
Use your plan name when comparing your plan to others online
6. Usage breakdown
This is a detailed breakdown of how you've been charged.
This will split your total charge into supply costs paid for 1) simply being connected to the grid and 2) usage costs.
Your usage rates may be further split into peak and off-peak costs if you're on a time of use tariff, or just peak if you're on a flat rate.
Discounts are also listed here.
How to use this information
Use your usage amounts to get a cost estimate based on your usage when comparing
Use your usage rates to compare the rates of new plans
7. Payment options
A list of options for how to pay including direct debit, mail, BPay, PayPal, cheque, and so forth.
Enter your usage to compare your bill to other plans on the market
Bill guides for energy brands
How can I use my bill to save on energy?
Compare rates. With your actual usage in front of you, you can compare your current plan to others to see how much you stand to save. You can either compare your rates directly to other plans online or use our bill comparison tool to help you.
Consider tariffs. If you're on a single rate plan but realise that most of your energy use takes place in the morning or early afternoon, it might be worth considering switching to a time of use tariff. These charge more during peak times in the afternoon and evening but less at other times. For a detailed explanation of electricity tariffs, read our guide here.
Examine usage patterns. If your energy is spiking on particular days, think about why that's happening. Maybe you're running air conditioners or using extra hot water. Ways to save may include investing in more energy-efficient appliances or switching to a controlled load tariff for your hot water heater. We have a comprehensive guide on saving energy here.
Read more on this topic
Lower your household bills