QBE Home Insurance
Need to protect your home and possessions from the unknown? Discover if QBE Home Insurance is the right fit for you.
We're reader-supported and may be paid when you visit links to partner sites. We don't compare all products in the market, but we're working on it!
QBE Insurance have been looking after the needs of Aussie's for over 125 years. In addition to car and business insurance, QBE also offer home and contents insurance policies. Cover your home, fixtures and belongings and bask in the peace of mind that a comprehensive insurance policy can give you.
This review will explore the different policies on offer from QBE and what each covers.
Green Insurer of the Year 2020
As part of the Finder Green Awards, we are pleased to announce QBE as our Green Insurer of the Year. It is clear that QBE is an insurance business taking their sustainability efforts seriously. Notably the company is sourcing more than 60% of their electricity from renewable sources, as well as committing to numerous external benchmarks such as CDP and DJSI.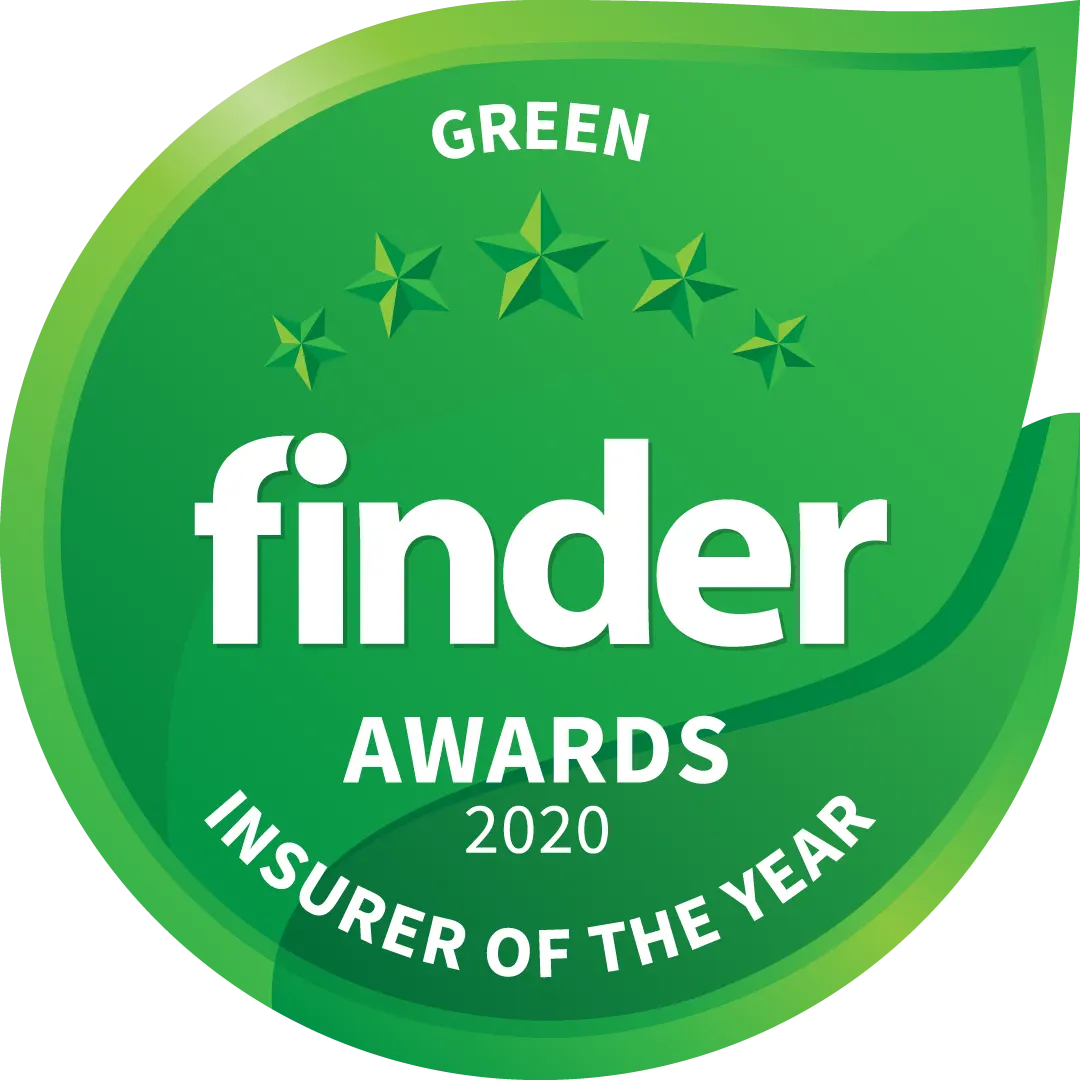 What policy options do I have?
Prestige Home & Contents Insurance. QBE's highest level of home and contents insurance cover, this policy includes all the usual services as well as things like contents cover when you're outside your home, accidental damage and a buildings sum insured safeguard. This means that if your home is destroyed (a total loss) due an insured event like a fire, but your chosen sum insured isn't enough to cover a full rebuild, QBE will cover you for up to 30% more of the sum insured amount.
How do the policies compare?
| Event | Home | Contents | Home and Contents | Prestige Home & Contents Insurance |
| --- | --- | --- | --- | --- |
| Fire | | | | |
| Flood | | | | |
| Storm | | | | |
| Theft | | | | |
| Vandalism | | | | |
| Water damage | | | | |
| Glass breakage | | | | |
| Temporary accommodation | | | | |
| Essential temporary repairs | | | | |
| Legal liability | | | | |
| Actions of the sea | | | | |
| Malicious damage | | | | |
| Impacts (collision) | | | | |
| Escape of liquid | | | | |
| High-value items and collections | | | | |
| Removal of debris | | | | |
| Alternative accommodation | | | | |
| Open air contents | | | | |
| Credit card cover | | | | |
What isn't covered by this policy?
Regardless of which QBE Home Insurance policy you choose, there are certain circumstances under which your claim will not be paid. These include if your claim:
Relates to the lawful seizure or repossession of your home or contents
Is caused by invasion, war or rebellion
Results from an act of terrorism related to biological, chemical or nuclear weapons, pollution or contamination
Results from a deliberate act by you, a family member or someone acting with your consent to cause the item to be lost or damaged
Is for wear and tear or deterioration
Is for depreciation
Results from damage caused by atmospheric conditions, vermin, mould, mildew, rot, insects, action of light or inherent defect
Results from any cleaning, repairing, restoring or altering
How much will this cost me?
The following factors can all affect the cost of your QBE home insurance premiums:
Sum insured. If the sum insured of your property is worth more, your premiums will be higher.
Level of cover. If you are opting for a more comprehensive policy then you will likely be paying more. However, being overinsured is far better for your hip-pocket than being underinsured, especially in the long-run.
Location. Certain insured events are more at risk of occurring in specific areas of the country. For example, you have live in a suburb with a high crime rate or in a region prone to violent and damaging storms, your premiums will cost more as there is a higher likelihood that you will need to make a claim.
If you have a no claim bonus discount. This will help shave big discounts off the top of your cover.
Your insurance history. A history of past claims on your home insurance policy will influence your risk profile.
The construction and age of your home. The owners of older homes are generally more likely to make a claim, while the construction of your home can affect the likelihood of it suffering damage or loss.
Optional benefits. These added benefits are available at an extra cost to you.
How to can I pay less for my policy?
Flexible excess. You can lower the cost of your premiums by applying a higher excess.
Annual premium discount. If you pay your premium upfront (as opposed to monthly) you can save cash.
Claims experience bonus. If you haven't made a claim before you are eligible for a bonus. The discount increases each year you do not make a claim until you reach the maximum discount limit.
Security discount. If you have security features already installed in your home you're likely to pay less. These act as a deterrent to thieves and mean you will be less likely to ever have to make a claim.
Retirees discount. Policyholders who are also retirees can take advantage of cheaper home insurance cover from QBE.
Renew your policy. You'll receive a higher discount every time you renew your policy with QBE (until you reach the maximum).
How can I make a claim?
If an insured event occurs, make sure that you take all possible steps to prevent any further loss or damage. If theft or vandalism has occurred, report it to the police immediately.
You can then call QBE on or visit the QBE website to inform them what has happened. A QBE representative will take you through the claims process to give you an accurate idea of what you need to do next. If QBE requires it, you will need to complete a claim form and also provide any supporting documentation required to assess your claim. This could include letters, valuations, receipts or proof of ownership.
You can reach them on 133 723 for more information about making a claim.
Still have questions about QBE insurance?
---
More guides on Finder