People's Choice Credit Union Credit Cards
The People's credit card from People's Choice Credit Union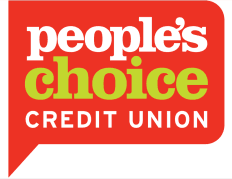 The origins of People's Choice Credit Union date back to 1949, but its actual formation was a result of the merger of Savings & Loans and Australian Central in 2009. This credit union has more than 1,100 employees, over 345,000 members, and around $8 billion in funds under management. It has 50 branches and six advice centres spread across Australia, in ACT, Victoria, South Australia, Western Australia, and the Northern Territory. It offers its members an array of financial services and products, which include loans of different types, transaction and savings accounts, credit cards, insurance solutions and more.
Comparison of People's Choice Credit Union Credit Cards
Types of credit cards that People's Choice Credit Union offers
If you're looking for a high-end or rewards credit card, People's Choice Credit Union does not have much to offer. What it does offer is a low rate Visa credit card.
A low rate credit card, owing to its low interest rate, can help you save while still offering you a convenient way to access credit. The People's Choice Credit Union Visa Credit Card, in addition to its low ongoing rate, comes with a low introductory rate of 2.99% p.a. for the first 6 months. This introductory rate applies to purchases, balance transfers and cash advances. This card gives you up to 62 interest-free days on purchases, more than the standard 44 or 55 days most cards offer. A nominal annual fee applies to this card account.
Learn more about Low Rate Credit Cards
Benefits of banking with People's Choice Credit Union
As with other credit unions, People's Choice Credit Union does not have shareholders eating into its profits, and this enables it to offer members competitive interest rates and low fees. Getting a credit card through this credit union comes with particular benefits.
Access funds anywhere, anytime
Millions of merchants the world over accept Visa credit cards, so you can look forward to using your People's Choice Credit Union credit card wherever you go. While you can use this card at brick-and-mortar establishments, you can also use it for shopping online and over the phone. You can turn to any ATM that displays the Visa logo for withdrawing cash, but just keep in mind cash advance charges will apply.
The People's Choice Credit Union Visa card you receive makes use of a smart chip that provides increased protection against card skimming, counterfeiting, and other means of fraudulent use. When used to shop online, Verified by Visa works in assessing the risk of each transaction based on multiple factors, and if it detects anything suspicious you have to enter certain personal details as a safeguard.
This card is payWave enabled so you can use it to make contactless purchases when the transaction is under $100. Through Visa Entertainment, you get access to a number of exclusive offers, which include presale tickets to musical, cultural, entertainment and sporting events. Cardholders also get access to V.me by Visa, a digital wallet service. This service offers a flexible and secure way to make online payments, allowing you to use multiple cards through a single account. This can help save time as well as effort.
Keeping up with technological changes, the People's Choice Credit Union Visa Credit Card enables you to make payments using your smartphone or compatible device via Apple Pay, Google Pay and Samsung Pay.
How to apply for a People's Choice Credit Union credit card
To apply, you can visit a People's Choice Credit Union branch, or speak to a People's Choice Credit Union rep over the phone. You can complete and submit your application online, and to get started click on the 'Go to Site' button next to the card's description. Before you begin, make sure you meet the following application criteria.
You're at least 18 years of age
You're a permanent Australian resident or an Australian citizen
You're in paid employment
You agree to a credit check
You've not been bankrupt or had any judgments in the last five years
Required documents
Personal. This includes your name, contact details, marital status, number of dependants and your date of birth.
Employment. This includes your employment status, job title, employer's name, employer's address and your employer's phone number.
Financial. You have to provide details about income from all sources along with details of your expenses. You also have to provide details of existing loans, credit cards, store cards, and overdrafts.
What happens next?
After you submit your application, a People's Choice Credit Union representative might contact you for additional information. An income verification call may be made to your employer, and if you let your payroll department know of this call ahead of time you can help quicken the process. If you're not an existing People's Choice Credit Union member you'll have to become one in order to receive your People's Choice Credit Union credit card. New members have to complete a legally required identity check process.
Frequently asked questions
You can find answers to commonly asked questions about People's Choice Credit Union credit cards below, and if your question isn't listed you can use the form at the end of this page to ask.
Back to top
Credit Cards Comparison
* The credit card offers compared on this page are chosen from a range of credit cards finder.com.au has access to track details from and is not representative of all the products available in the market. Products are displayed in no particular order or ranking. The use of terms 'Best' and 'Top' are not product ratings and are subject to our disclaimer. You should consider seeking independent financial advice and consider your own personal financial circumstances when comparing cards.