Are frequent flyer credit cards worth it?
Frequent flyer credit cards may be great for earning rewards when you spend, but how can you ensure the perks outweigh the costs?
We're reader-supported and may be paid when you visit links to partner sites. We don't compare all products in the market, but we're working on it!
Purchasing goods and services using frequent flyer credit cards can be a great way to boost your points balance and redeem your next flight reward sooner. With big bonus points offers, competitive earn rates and extra features such as lounge passes and complimentary insurance, they can appear very tempting. However, these cards often come with expensive annual fees and purchase interest rates, so you need to make sure their value outweighs the cost to make using them worthwhile.
Use our guide to compare the rewards versus the costs, and discover how to get the most from a frequent flyer credit card.
Qantas Money Credit Card Offer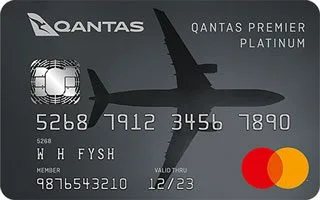 Qantas Premier Platinum
Earn
100,000
bonus Qantas Points

Eligibility criteria, terms and conditions, fees and charges apply
Qantas Money Credit Card Offer
Enjoy premium frequent flyer perks with 100,000 bonus Qantas Points, airport lounge passes and overseas travel insurance.
Earn 100,000 when you spend $4,000 or more on eligible purchases within 3 months of approval.
0% p.a. on balance transfers for the first 18 months, with a one-time 1% BT fee
$199 annual fee for the first year ($299 p.a. thereafter)
Minimum credit limit: $6,000 | Purchase rate: 19.99% p.a.
Compare frequent flyer credit cards
How do I know if my frequent flyer credit card is worth using?
The value of the rewards should outweigh the card's annual fee. You can determine the worth of the card based on bonus points offers, how many points you'll earn per $1 spent, and extra features such as airline lounge passes, travel credits and complimentary insurance. Once you are familiar with the benefits and features, you need to look at the card's annual fee and interest rate.
The following two strategies will help ensure you're getting the maximum value from your card.
Earn enough points to justify your annual fee
Most frequent flyer credit cards come with high annual fees, but you can offset these costs against the value of rewards you can redeem using points earned. While you're comparing frequent flyer credit cards, here's how to work out how much you'd need to spend each month to redeem enough rewards to offset the cost of the card:
Step 1: Find out how many points you need to get $100 worth of rewards value.
Step 2: Divide that number of points by $100.
Step 3: Multiply this figure by the card's annual fee.
Step 4: Take this figure and divide it by the card's earn rate.
Step 5: Divide that amount by 12 to get the monthly spend requirement.
If your average monthly spend is less than this figure, the frequent flyer credit card you're considering may not be worthwhile and it's probably a good idea to compare other types of credit cards or a card with a lower annual fee.
Using this formula, let's look at a few different frequent flyer cards* to see how much you'd have to spend each month in order to earn enough points to "break even" on the annual fee. For our example, we've estimated 5,000 frequent flyer points as being equivalent to $100 when redeemed for flight rewards.
*Annual fees and earn rates are correct as of 2 April 2020.
Take advantage of your card's extra features
As well as points, you can also take advantage of extra features to justify using a card. Consider the Qantas American Express Ultimate card as an example.
This card currently comes with 55,000 bonus Qantas Points when you spend $3,000 in the first three months. You also get a $450 travel credit, which offsets the $450 annual fee. You can also use the travel credit to book eligible Qantas flights through the American Express Travel website.
You earn 1.25 points per $1 on eligible Australian purchases. You can also travel in style using the two single-entry passes to the American Express lounge at Sydney or Melbourne airport per year, plus two complimentary Qantas Club lounge invitations each year.
In this case, extra benefits such as travel credit and airline lounge passes outweigh the annual fee, and you can profit from the earn rates when you spend. However, as this card comes with a high purchase interest rate, it would only be worth using if you could pay off your balance in full each month to avoid paying the interest amount.
How to compare and select the most rewarding frequent flyer credit card
If you're in the market for a new frequent flyer credit card, make sure you compare the following factors to ensure you select the right card for your needs:
Bonus points offers
Many frequent flyer credit cards come with introductory offers of thousands of bonus points. While these may look appealing, you also need to compare the spend requirements.
For example, you may be required to spend $3,000 in the first 60 days in order to earn the 75,000 bonus points on offer. Make sure that the minimum spend and time restriction align with your budget so you can clear the full balance at the end of the spend period and avoid paying interest.
Earn rates
You should also compare how many points you'll earn per $1 spent. One point per $1 is a relatively competitive rate, but you may find that your points potential is capped or reduced once you meet a certain spend threshold each statement period.
You may also collect different earn rates depending on the type of purchase you're making. For example, you could earn 1 point per $1 spent on everyday eligible purchases, 1.5 points per $1 spent on international transactions and 0.5 points per $1 spent on government transactions. Consider your spending habits and pick a frequent flyer card that will offer you the most rewards based on how you'll use it.
Annual fee and interest rates
Annual fees. You should always make sure that the value of the rewards and perks you get from your card can outweigh the annual fee. Some frequent flyer credit cards have reduced or $0 annual fees for the first year, which can help you cut costs. However, make sure you know what the standard annual fee is and when it will apply in case you want to switch cards before this happens.
Interest rates. You should only consider a frequent flyer credit card if you can regularly pay the monthly balance in full, but also remember to take the purchase interest rates into account. Frequent flyer cards generally have high interest rates that usually sit between 19.99% p.a. and 20.99% p.a., although they will vary between cards. If you will struggle to pay the balance in full each month, you might want to consider a card with 0% on purchases for a promotional period or a low ongoing interest rate instead.
If you are able to pay your balance in full, you should also consider how many interest-free days you could take advantage of.
Whether or not frequent flyer cards are worth applying for depends on your spending habits and ability to repay, as well as your points goals and how you take advantage of the card's extra features. Before you apply for a frequent flyer credit card, make sure you compare a few options to find one that will reward you the most.
Pictures: Shutterstock
Back to top
More guides on Finder