Credit cards with transit accident insurance
Want protection against accidents on your next trip? Compare credit cards with transit accident insurance.
Transit accident insurance provides cover for serious injuries or accidental death when you're travelling on a plane, train or other transport vessel. You can use this guide to learn more about how this cover works, when it applies and how you can get it through a credit card so that you can make the most of it when you travel.
What is transit accident insurance?
Credit card transit accident insurance protects cardholders against accidents that may result in bodily harm or death when travelling on a licensed plane, train, bus, ferry or other form of specified transportation. This cover is sometimes referred to as transport accident insurance and also applies when you are boarding or leaving a transport vessel.
In most cases, the covered offered under a transit accident insurance policy will be for serious injuries – including the loss of a hand, foot or eyesight – as well as accidental death. But cover does vary between policies, so it is important to read the insurance product disclosure statement for full details on what is covered.
St.George Credit Card Offer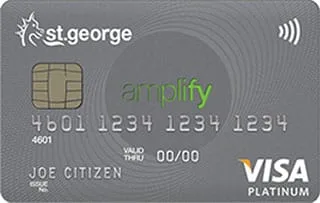 St.George Amplify Platinum - Qantas
Receive
60,000
bonus Qantas Points when you meet the spend requirement
Offer ends 30 September 2020
Eligibility criteria, terms and conditions, fees and charges apply
St.George Credit Card Offer
60,000 Bonus Qantas Points when you meet the spend requirements. Plus, a 0% p.a. balance transfer offer for the first 6 months.
Receive 60,000 Bonus Qantas Points when you spend $2,000 within the first 90 days from card approval
$99 annual fee
Purchase rate of 19.74% p.a. | Cash advance rate of 21.49% p.a.
0% p.a. for the first 6 months on balance transfers with no balance transfer fee
Complimentary travel and purchase insurances
Comparison of cards with transit accident insurance
How does complimentary credit card transit accident insurance work?
If you have a credit card that offers complimentary transit accident insurance, you will usually get cover when you have paid for the entire cost of an overseas trip using your credit card. Family members who are travelling with you could also get cover when you have used the card to pay for their tickets and they meet the eligibility requirements.
What types of credit cards come with transit accident insurance?
Complimentary travel insurance – including transit accident cover – is usually found on platinum and other premium credit cards, rather than on basic cards.
While some credit cards include both transit accident insurance and comprehensive international travel insurance, it could also be offered separately. So keep in mind that if a card only offers transit accident insurance, you will only be covered while you're in transit on a licensed vessel.
Types of complimentary credit card travel insurance
What are the pros and cons of credit cards with transit accident insurance?
Pros
Peace of mind. Although no one plans for accidents to happen, having transit accident insurance can help reduce stress if something does happen when you're travelling.
Save money. Getting transit accident insurance through your credit card could help you save on costs compared to paying for an insurance policy. Although it is worth noting some purchased comprehensive travel insurance policies include this type of cover anyway.
Protect your family. If you're travelling with family and have paid for their travel costs on the relevant card, you can protect your loved ones if you or they suffer an injury while in transit on your next holiday.
Cons
Limited cover. Transit accident insurance typically covers the loss of a limb, eyesight and accidental death when travelling on a licensed transport vessel. Any less severe injuries, such as a sprain or broken bone, won't be covered by this policy. It also does not cover you for any other parts of your trip.
Paying for the trip with the credit card. Most credit cards that provide complimentary insurance will require you to pay for the trip using your credit card in order to receive the cover. Considering many airlines and other companies apply credit card surcharges, this can add to the costs of your trip.
Annual fees. Credit cards that offer with complimentary insurance usually have higher annual fees than basic cards. Think about whether the value of the insurance and other card benefits will outweigh these costs.
Credit card transit accident insurance offers protection in very specific circumstances when you are travelling overseas. If you want insurance that covers you in other situations, including lost or stolen luggage, travel delays and medical costs, you can look at credit cards that offer comprehensive travel insurance options. You could also consider purchasing travel insurance for your trip. Just make sure you weigh up your options so that you can get the credit card and cover you need.
Frequently asked questions
Image: Shutterstock
Back to top
Related Posts
Credit Cards Comparison
* The credit card offers compared on this page are chosen from a range of credit cards finder.com.au has access to track details from and is not representative of all the products available in the market. Products are displayed in no particular order or ranking. The use of terms 'Best' and 'Top' are not product ratings and are subject to our disclaimer. You should consider seeking independent financial advice and consider your own personal financial circumstances when comparing cards.