Mastercard PayPass
Make fast and secure payments without entering your PIN using Mastercard PayPass.
We're reader-supported and may be paid when you visit links to partner sites. We don't compare all products in the market, but we're working on it!
Mastercard PayPass is just one of the contactless payment options available for Aussie cardholders. This technology allows you to tap your card on a contactless payment terminal, rather than inserting or swiping your card and entering a PIN, to complete a purchase. You can use this guide to compare credit cards that offer Mastercard PayPass functionality, understand how the technology works and have all of your contactless payment security questions answered.
Mastercard PayPass Contactless Credit Cards Comparison
How does Mastercard PayPass work?
Mastercard PayPass is a form of contactless payment technology that lets you make in-store purchases faster. When you make a purchase of up to a limit of $100 at a merchant that has a Mastercard PayPass contactless terminal, you just need to hold your card within 4cm of the terminal to approve the purchase without entering your PIN. If the purchase is over $100, you can still make a contactless payment but you'll need to enter your PIN.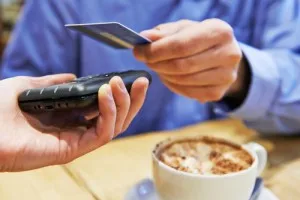 Contactless payments use an embedded computer chip and radio frequency antenna to communicate with the contactless terminal card reader. Each contactless payment generates a unique code so that you won't be charged twice for contactless payments if you accidentally tap your card on the reader twice. If you have more than one contactless payment-enabled card in your wallet, it's wise to take the specific card out of your wallet and tap it against the reader rather than holding your wallet to the terminal. This will ensure the money is taken from the intended card. Once you see the green light on the terminal and hear a beep, you'll know the purchase has been approved.
To make things even easier, you may also be issued with a Mastercard PayPass key fob or payment tag, which is a special device that you can attach to your keychain to avoid getting your card out altogether. The small plastic fob or tag contains the same contactless computer chip and radio frequency antenna as your regular credit card.
Many credit card issuers in Australia also allow you to make Mastercard PayPass contactless payments using smartphone apps. This means that not only do you not have to enter your PIN, you might not even have to use your card to make purchases. You can compare cards that offer mobile contactless payments with our guide.
Is it safe to use Mastercard PayPass?
Contactless payments are just as safe as any other transaction. The following security procedures and policies are in place to make sure that your PayPass contactless payments are protected:
No accidental payments. As you need to hold the card within an inch or so of the terminal, there is little chance that an accidental payment will be made using your card as you walk by a terminal that is enabled to accept contactless payments.
Encryption technology. Each purchase generates a unique encryption code which ensures that you'll only be charged once, even if you accidentally tap your card against the terminal twice or if you don't hold your card on the reader long enough and you're asked to tap it again.
Mastercard Zero Liability guarantee. If your card has been lost or stolen, you should contact your card issuer immediately to either freeze or cancel the card. If your card has been stolen and used for unauthorised transactions, you'll be protected by Mastercard's Zero Liability guarantee and will be reimbursed for any fraudulent transactions.
Are contactless payments safe?
Mastercard PayPass is a simple, convenient and secure way to make contactless payments using your credit card. All new Mastercard credit cards come equipped with PayPass technology and most merchants accept PayPass in Australia. While using your card for contactless payments is mostly safe, it's important that you use it wisely and store it safely to prevent it from falling into the wrong hands. But if it does get lost or stolen, make sure that you report it immediately.
You might be interested in the following:
More guides on Finder