Best Platinum Credit Cards
Compare platinum credit cards and enjoy premium features such as higher credit limits, complimentary insurance and more rewards.
We're reader-supported and may be paid when you visit links to partner sites. We don't compare all products in the market, but we're working on it!
Platinum credit cards give you more benefits and perks than standard cards, making them a popular option for frequent travellers, big spenders and high income earners. Use this guide to learn more about what features you can expect and compare the latest platinum credit card offers to find the right one for you.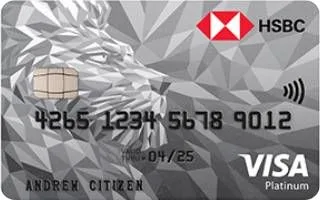 HSBC Platinum Credit Card
0%

p.a. for 36 months on balance transfers


Discounted $29 first-year annual fee

Eligibility criteria, terms and conditions, fees and charges apply
HSBC Credit Card Offer
Enjoy a 0% introductory balance transfer rate for 36 months, with no balance transfer fee.
$29 first-year annual fee (reverts to $129 thereafter)
Complimentary travel insurance and 2 lounge passes per year
Earn 1 HSBC Rewards Point per $1 spent in Australia and 2 overseas
Purchase rate: 19.99% p.a. | Cash advance rate: 21.99% p.a.
Compare platinum credit cards
*The credit card offers on this page are chosen from a range of credit cards available to us and are not representative of all the products available in the market. The use of the terms "best" and "top" are not product ratings and are
subject to our disclaimer
. There is no perfect order or perfect ranking system for the products we list on our Site, so we provide you with the functionality to self-select, re-order and compare products. The initial display order is influenced by a range of factors including conversion rates, product costs and commercial arrangements, so please don't interpret the listing order as an endorsement or recommendation from us. We're happy to provide you with the tools you need to make better decisions, but we'd like you to make your own decisions and compare and assess products based on your own preferences, circumstances and needs.
What is a platinum credit card?
A platinum credit card comes with a higher credit limit as well as premium perks including complimentary insurance and concierge services. It's a tier above gold cards and below black cards. Platinum cards often come with rewards programs and you can usually expect to earn more points per $1. These cards also often have higher income requirements, more expensive annual fees and less competitive interest rates for purchases. That's because these cards are best suited to cardholders who pay their balance in full each month and can take advantage of the rewards or extra features enough to justify the annual fee.
What are the pros and cons of a platinum credit card?
Weigh up the advantages and disadvantages of platinum credit cards and consider your own circumstances to help decide if this type of card is the right option for you.
Pros
Higher credit limits. Platinum cards are suited to big spenders who need more spending power when they pay with plastic. While not all platinum credit cards list the minimum credit limit available, it's usually upwards of $5,000.
More rewards. If you get a platinum reward or frequent flyer credit card, you could enjoy more points per $1 spent and higher points caps. Platinum credit cards may also give you more introductory bonus points compared to other cards.
Complimentary travel insurance. Many platinum credit cards offer complimentary travel insurance which you can use when you go overseas or fly interstate. The cover varies between cards and between insurance providers, so make sure you look at the full credit card insurance details if this is an extra you want to use.
Complimentary purchase insurance. A platinum credit card could offer you cover against theft, loss or damage of new items for up to 90 days or extended warranties for eligible purchases. Some even offer a guaranteed pricing scheme that refunds you the difference if you buy something then see it cheaper elsewhere.
Airport lounge access. Whether it's membership to programs such as Véloce and Priority Pass, or complimentary single-use passes to Virgin, Qantas and American Express lounges, a platinum credit card could help you enjoy the luxuries of a free airport lounge before you fly.
Concierge services. Most platinum credit cards give you access to a 24/7 concierge service you can use to help you with anything from booking dinner at a popular restaurant to getting tickets to a theatre show or buying gifts for loved ones.
Travel credits. If travel is on the cards, you could choose a platinum option that also offers a flight voucher or travel credit to help pay for it. For example, the American Express Platinum Edge offers a $200 travel credit every year that you can redeem against any single eligible travel booking of $200 or more (where applicable) made through Amex Travel.
Cons
Expensive annual fees. Platinum credit card annual fees are usually worth several hundred dollars each year. For some, this is a small price to pay for the bonuses they receive. For others, the benefits may not outweigh the costs.
Higher interest rates. Many platinum cards have interest rates at the higher end of the scale. If you find that you regularly carry a credit card balance, you may be better off looking for a low rate card or even a balance transfer credit card instead.
Difficult eligibility requirements. Platinum credit cards typically require a good to excellent credit score and higher minimum income than basic credit cards.
Lower perks than black credit cards. Although platinum credit cards offer a number of benefits, you may find that they don't boast as many extra features as black credit cards.
Should I apply for a platinum credit card?
This depends on factors including your budget and how you use your credit card. For example, if you regularly spend with a credit card and pay the balance in full by the due date on each statement, you're likely to benefit from platinum features such as a higher credit limit and higher reward earn rates. If you travel regularly and will make use of extras such as complimentary insurance, frequent flyer points and airport lounge access, these perks could help offset the cost of the card. As always, you should make sure to read the product disclosure statement of the card to fully understand the fees, interest rates, extra features and eligibility requirements of the card before you apply.
On the other hand, if you struggle to pay more than the minimum on your card each month or rarely pay with plastic, the higher annual fees and interest rates of a platinum card may not be worth it for you. Instead, you could compare cards with low interest rates or no annual fee to find an option that's affordable for you.
How can I choose the best platinum credit card? 4 factors to consider
With so many different credit cards available, there is not a single "best" platinum card on the market. Instead, you can find a card that's right for you by asking the following questions.
1. Do you have any existing credit card debts?
If you're struggling to pay off your existing credit card debt and you only manage to pay slightly more than the minimum due, perhaps consider a platinum credit card with a balance transfer offer. You can use these cards to transfer outstanding balances from your old credit card account to a new card that offers 0% on balance transfers for a promotional period. This can help you cut down your interest costs while paying off your debt faster.
2. Do you travel frequently?
If you travel regularly and you use your credit card to pay for travel costs, you should consider some of the travel-related perks that often come with platinum cards. These extra features can include frequent flyer points, airline lounge passes, travel credits and complimentary international travel insurance.
3. Do you buy electronic goods or high-ticket items regularly on your credit card?
If you depend on your credit card to make large purchases, a platinum card with a high credit limit could come in handy. However, these cards do usually come with higher purchase rates so they're best suited to cardholders who can afford to pay their purchases off in full before the end of the statement period. Plus, you can usually take advantage of interest-free days on future purchases when you pay your balance in full.
4. Are you a business owner?
Upgrading to a platinum business credit card can be a smart move for some business owners. Most businesses tend to spend more than the average personal consumer, so having access to accelerated rewards earnings, complimentary business insurance policies and higher credit limits may be ideal. The most suitable card for you is the one that offers the perks and benefits that relate most to your income, your lifestyle and your financial habits. If you need a card for corporate expenses, you can also compare business credit cards for more options.
If you want to take advantage of the perks available a platinum credit card, make sure you also consider the costs of the card and any specific conditions you need to meet to enjoy these benefits. It's also important to compare a range of platinum credit cards before you apply so that you can find the one that will really work for you.
Pictures: Shutterstock
Back to top
More guides on Finder
Finder's RBA Cash Rate Survey: 60% of experts blame BNPL for drop in credit cards

Credit cards are being used less and experts say Buy Now Pay Later services such as Afterpay and Zip are to blame, according to new research from Finder. In this month's Finder RBA Cash Rate Survey™, 39 experts and economists weighed in on future cash rate moves and other issues related to the state of the Australian economy.

HSBC Platinum Credit Card

This card offers 0% interest on balance transfers for 36 months, a discounted $29 first year annual fee and platinum benefits including airport lounge passes and complimentary insurance covers.

American Express Velocity Business Card

The American Express Velocity Business Card earns points per $1 spent and offers complimentary travel insurance and two complimentary Virgin Australia lounge passes each year.