Compare popular Australian mobile share trading apps
Share trading apps let you place trades and manage your stocks.
We're committed to our readers and editorial independence. We don't compare all products in the market and may receive compensation when we refer you to our partners, but this does not influence our opinions or reviews. Learn more about Finder .
Smartphones are perhaps the most ubiquitous form of modern technology. Not only do we take our phones everywhere with us, but we use them to perform an increasingly diverse array of crucial everyday tasks.
Share trading apps allow you to trade shares directly on the ASX and other international markets. With many share trading platforms now providing smartphone apps for their customers, the process of trading shares, tracking trades and accessing live data is easier than ever.
Must read: Looking for the best share trading app?
There's no single share trading app that's best for everyone as all our needs are different - and what's best for you might not be best for someone else. Keep in mind that we don't compare every product in the market, but we hope that our tools and information will allow you to compare your options and find the best share trading app for you.
Some of the most popular share trading apps include
We'll take a look at these share trading apps in more detail in this guide.

1. CMC Markets Stockbroking mobile app
This trading app offers all the functionality of the CMC Markets full website on your mobile device. You can buy and sell shares from your mobile using all order types, including conditional and linked orders. The app also lets you view your current positions and order history, access market depth and up-to-date charts, and view your watchlists and portfolios.
CMC Markets' mobile platform also provides the latest market news and commentary and is available on iPhone and Android devices.
The pros
$0 brokerage on global stocks. CMC charges no commissions to trade stocks listed in the US, UK, Germany or Japan.
A wide range of order types. You can place, buy and sell orders, amend and cancel orders, and use conditional and linked orders to manage your investments.
Information from the market and experts. CMC Markets provides users with access to an extensive range of useful investment information to help you make the right trading decisions.
Customise your own watchlists. It's easy to create and edit watchlists to monitor the performance of stocks.
The cons
Most suitable for experienced traders. The CMC Markets platform is designed for experienced traders and may be too complicated for novice investors.
---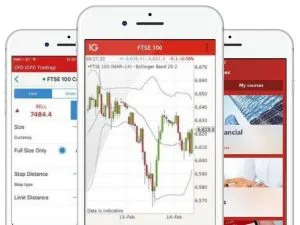 2. IG Trading app
IG offers a suite of trading apps designed to give you the best mobile trading experience across a range of devices. There are separate apps optimised for use on each of the following devices: iPhone, Android mobile, Windows phone, iPad, Android tablet and Windows tablet.
The pros
It's free to download. The IG app is completely free to download.
It uses native designs. You can download a version of the app that has been specifically designed to suit your smartphone or tablet's operating system.
The app is regularly updated. The app is updated regularly to improve your trading experience.
The cons
Not suitable for casual investors. The IG app is targeted more towards experienced traders than casual investors.
---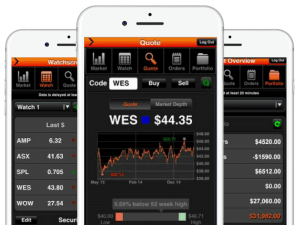 3. Bell Direct mobile app
The Bell Direct Mobile App is a web-based platform available for iPhone and Android users. It allows you to buy and sell shares, access real-time data and market depth, and read the latest company research reports.
You can also enjoy access to live news feeds and company announcements, edit watch screens and track your portfolio.
The pros
It's easy to use. The app makes it simple and intuitive to buy and sell shares.
You get access to market data. Users can access a wide range of important market data before placing a trade.
It's free to download. The app is available for free to Bell Direct clients.
The cons
iPhone only. The app is not available on Windows or Android phones.
---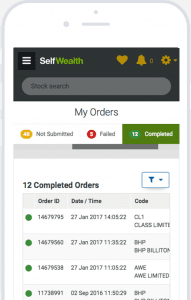 4. SelfWealth
SelfWealth has one of the lowest brokerage fees on the market with a flat fee of $9.50 per trade, regardless of the trade size or how often you invest. The app can be access via desktop, Windows tablet, Android Tablet and any smartphone. The app is free and there are no inactivity or monthly fees for the basic account.
Cheap brokerage fees. At $9.50 per trade it's among the cheapest brokerages on offer, plus it's a flat fee regardless of trade size.
No ongoing fees. You don't get charged an inactivity fee or monthly subscription fee.
No minimum account balance. There's no minimum transfer balance when you open an account and you don't need to maintain a minimum balance.
Comparison tools. You can monitor other high-performing trader's portfolios and use insights gained for your own investment strategy.
The cons
No access to international shares. SelfWealth only provides access to shares that are listed on the Australian Securities Exchange (ASX).
Can't use own bank account. You must transfer funds to SelfWealth's selected bank account (with ANZ) in order to trade shares.
---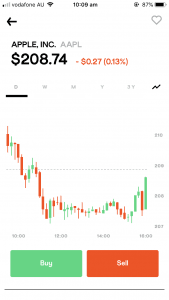 5. Stake
Stake allows you to cheaply and easily access stocks that are listed in the US with $0 brokerage fee. It offers access to thousands of US-listed stocks and ETFs, such as Google, Facebook and Alibaba. Instead of charging a brokerage fee, you're charged a fee to exchange your Australian Dollars into US Dollars.
The pros
$0 brokerage. You're not charged a brokerage fee when you buy and sell US stocks. Typical US broker fees from Australia range from $20 - $50 per trade.
Easy to use. It's a simple and beginner-friendly platform to access to more than 3000 US stocks and ETFs.
Advanced filtering options to help you search for stocks and ETFs that suit you.
FX rate. With an FX spread of 0.7%, Stake remains a competitive platform for US trading
The cons
US shares only. You can't trade Australian shares using Stake. It only offers US-listed stocks.
---

6. CommSec app
The CommSec app allows you to access the CommSec share trading platform through your iPhone, iPad or Android smartphone. The app allows you to buy and sell shares, view and trade on live prices, and create watchlists to monitor company performance.
The pros
It's free to download. The CommSec app is available for free for people who have CommSec Trading Accounts.
You can create watchlists. You can use the app to create watchlists and monitor the performance of different shares.
No monthly fee. There's no inactivity or subscription fee for the Australian shares account.
Place orders. You can place buy orders directly within the app, without needing to login on your desktop at all.
The cons
Brokerage fee. CommSec's brokerage fee isn't the cheapest on the market, especially if you're looking to place trades of more than $1,000 a trade.
International shares. Brokerage for international shares is among the highest on the market and there's also an annual inactivity fee.
Available for Apple and Android only. The app is not available on phones and tablets that do not run the Android or Apple operating system.
---
7. nabtrade IRESS mobile app
Designed for both Android and iPhone devices, nabtrade IRESS mobile is a share trading-specific app available to customers with a nabtrade account. The app allows you to buy or sell shares from your smartphone, including the ability to place contingent orders, access live prices, market depth and charts.
You can also view your Trading Account holdings, view your orders and order status, see the top ASX gainers and losers, and access customisable charts.
The pros
You can access a range of information. nabtrade IRESS mobile allows you to access an extensive range of useful trading information before buying or selling a share.
You can access live data. You can access live market data refreshed at a time interval of your choice.
Hedge your risk with contingent orders. The app offers a range of trading options, including the use of contingent orders.
The cons
Only Androids and iPhones. You'll need an iPhone or a smartphone running the Android operating system in order to access this app.
---
8. Westpac Online Investing app
The Westpac Online Investing app is designed for iPhone, iPad and Android users and is optimised for use on smartphones. The trading-specific app allows you to trade shares, warrants, exchange traded funds (ETFs) and exchange traded commodities (ETCs).
You can use the app to create editable watchlists, view live quotes and news, view all your holdings and set up a wide range of customised alerts.
The pros
You can trade more than shares. In addition to shares, the app allows you to trade warrants, ETFs and ETCs.
You can access live data to make investment decisions. Westpac Online Investing's mobile app allows you to access live quotes, charts, company announcements and news.
There are customisable alerts. You can receive alerts for everything from price movements and market-sensitive announcements to dividend dates.
The cons
Not for Windows phones. The app cannot be accessed through a Windows phone.
Share Trading Account Offer
Share Trading Account Offer
Competitive broker fees on Australian shares, international shares, forex and CFD trading.
Brokerage - AU shares: From AUD 5 or 0.05%
Brokerage - US shares: USD 0
Sign-up process: Instant
Support - After hours: Yes
Not sure which platform to choose? Compare your share trading options
Important: Share trading can be financially risky and the value of your investment can go down as well as up. Standard brokerage fee is the cost to trade $1,000 or less of ASX-listed shares and ETFs without any qualifications or special eligibility. If ASX shares aren't available, the fee shown is for US shares.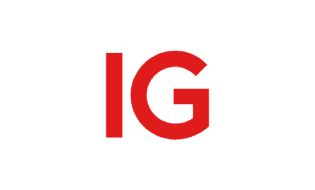 IG Share Trading Offer
Low brokerage fees on Australian and international shares.
Have you had these questions about share trading apps?
Related Posts