What does Verified by Visa mean?
Visa Secure, formerly Verified by Visa, protects your Visa card from fraud when you shop online.
We're reader-supported and may be paid when you visit links to partner sites. We don't compare all products in the market, but we're working on it!
Verified by Visa (or VbV/VBV) is an online security measure for Visa debit and credit cards that now goes by the name of Visa Secure, though it's the same feature. It's designed to protect your card from fraud when shopping online. Here's everything you need to know.
How does Visa Secure (or Verified by Visa) work?
Visa Secure is an extra layer of security applied to some online transactions made using your Visa debit or credit card. You will see the Visa Secure logo for any transactions that use this service. This security check happens on every Visa Secure purchase, but you will only occasionally need to manually enter information to complete it.
The most common check is a one-time password sent to your mobile phone or email address. But it could involve other personal identifying information, such as a security question or a biometric check like a fingerprint. Once you've passed the check, your purchase will proceed as usual.
How can I change my details for Visa Secure?
Since the security check is run through your bank, you will need to contact it to update any relevant details. Make sure your bank has your correct phone number, email address or security questions, as you may not be able to complete Visa Secure transactions otherwise.
Likewise, any problems you encounter with verifying purchases should be directed to your bank, instead of the online store or merchant.
How do I get Visa Secure?
So long as your bank or credit card issuer is signed up to the Visa Secure program, you will automatically have access to this service. Participating institutions should have details about Visa Secure on their websites or you can contact them to check. Either way, no registration is required.
Below are some of the major banks and card issuers participating in the program. This is not an exhaustive list, so check with your own institution if it is not listed here.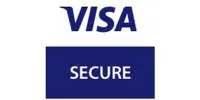 How do I know which websites use Visa Secure?
Although Visa Secure does not keep a database of participating websites, you should be able to find out by looking for the Visa Secure logo or glancing at the site's payment security information.
Can I turn off Verified by Visa or Visa Secure?
You cannot disable Verified by Visa/Visa Secure in Australia. Since it's an additional security measure designed to protect both you and the merchant you're buying from, participating websites will not let you bypass the Visa Secure feature. If you really don't wish to use it, you will have to shop exclusively on non-participating sites.
What if Visa Secure is not working?
Call up your bank or institution. If it's a verification issue, you may need to update your details or security questions.
Use another card. Try another card, if you have one.
Pay by other means. Other payment options like PayPal or a mobile wallet may work where your card does not.
Verified by Visa/Visa Secure is just one of many security measures protecting you from fraud, including fraud monitoring by your bank and zero-liability policies when someone else uses your card illegally. For a closer look at these measures or for what to do when fraud occurs, see our guide about credit card security measures.
Compare Visa credit cards
Back to top
More guides on Finder