Looking to clear your debt? Consider a BankSA balance transfer.
If you're feeling burdened by high interest credit card debt, it might be time to consider a BankSA balance transfer. To help you compare your options, we've summarised some of the benefits and features in this how-to guide on applying for a balance transfer with BankSA.
BankSA Amplify Platinum
Receive
50,000
bonus Amplify or Qantas Points
Offer ends 26 September 2018
Eligibility criteria, terms and conditions, fees and charges apply
BankSA Credit Card Offer
The BankSA Amplify Platinum offers 50,000 bonus Amplify or Qantas Points when you meet the spend requirement. Plus, earn up to 1 point per $1 spent.
$99 p.a. annual fee.
19.49% p.a. on purchases
Cash advance rate of 20.24% p.a.
Up to 55 days interest free
Rates last updated August 15th, 2018
Rates last updated August 15th, 2018
Balance transfers with BankSA?
A balance transfer is the process of transferring an outstanding balance from one high interest credit card to a credit card offering a promotional low rate period. This means you can consolidate your debt onto the one card, easily manage your finances and repay your debt without the added burden of high interest rates and fees.
What are the benefits of a BankSA balance transfer?
Save money. The promotional low rate period reduces interest costs for a limited period of time. This means your repayments go directly towards reducing your debt.
Debt free. The aim of a balance transfer is to clear your debt within the promotional low rate period. If you create a budget and stick to it, your days of debt could be over in no time.
Quick and easy. You can start consolidating your debt within two weeks of completing the transfer application.
Things to consider
Transfer limit. BankSA will allow you to transfer up to 80% of your credit limit. When deciding on your preferred credit limit, ensure the amount will support your entire transferred balance.
Features and conditions. Each of the credit cards on offer by BankSA have different annual fees, promotional low rate periods and revert rates. It's important to compare each of these to ensure you're applying for the right credit card for you.
What will the revert rate be? Once the promotional period has ended, the interest rate will switch to the variable cash advance rate.
Will I be charged a transfer fee? BankSA does not charge a fee for balance transfers.
Where can I transfer my balance from? You cannot complete a balance transfer from BankSA, Bank of Melbourne or St.George. Double-check which providers you can transfer between here.
How to apply for a BankSA credit card balance transfer
To apply for a BankSA credit card, you must be:
Over the age of 18
A permanent resident of Australia
Before beginning your application, there are a few things you should have on hand to help you answer some of the questions.
These include:
Income and employment details. A recent pay slip will help answer any questions regarding your income and employment.
Financial commitments. Any documents with information concerning your existing loans or expenses will be helpful.
Driver's licence. You'll need to provide your driver's licence number if you have one.
Step 1. Select the card you wish to apply for and start the application. Once you've compared your options and decided on a credit card, you can start the application process. Click the green "Go to Site" button from our comparison table.

You will then be redirected to the application process.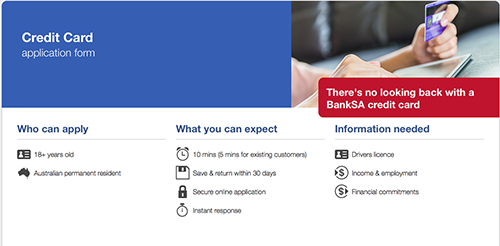 Step 2. Credit card setup. Specify which credit card you wish to apply for, your preferred credit limit and whether you would like to purchase extra card insurance.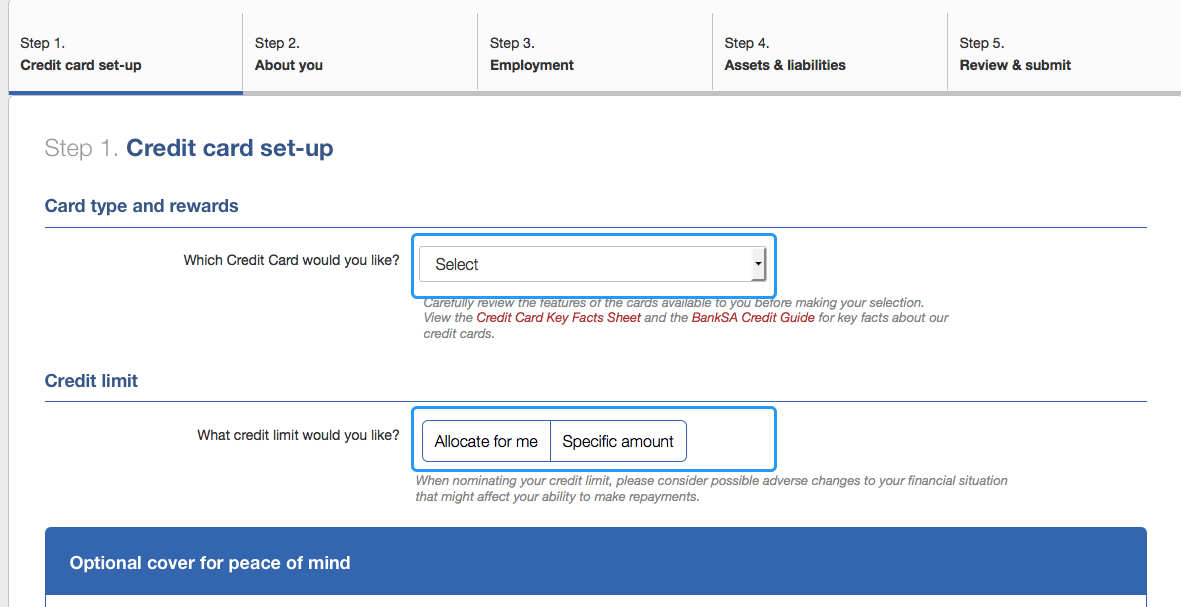 Step 3. About you. If you are a new BankSA customer, you'll need to answer the following questions:
Full name. Enter your name as it appears on your birth certificate.
Name to appear on credit card. Specify how you would like your name to appear on the credit card.
Date of birth. You must be 18 years or over to apply.
Marital status. State whether you are single, married or other.
Driver's licence number. If you have a driver's licence, you'll need to provide the number.
Contact number. Enter the best number you can be reached on.
Email address. Ensure you've entered this correctly so that BankSA can contact you by email.
Residential status. Specify your living arrangements, such as whether you rent or own your home.
Residential address. Provide the address of where you are currently living.
Length of time at address. Specify how long you've been living at your current address.
Mailing address. Provide your mailing address if it's different to your residential address.
Credit limit increase. Specify whether you would like to receive invitations to extend your credit card limit.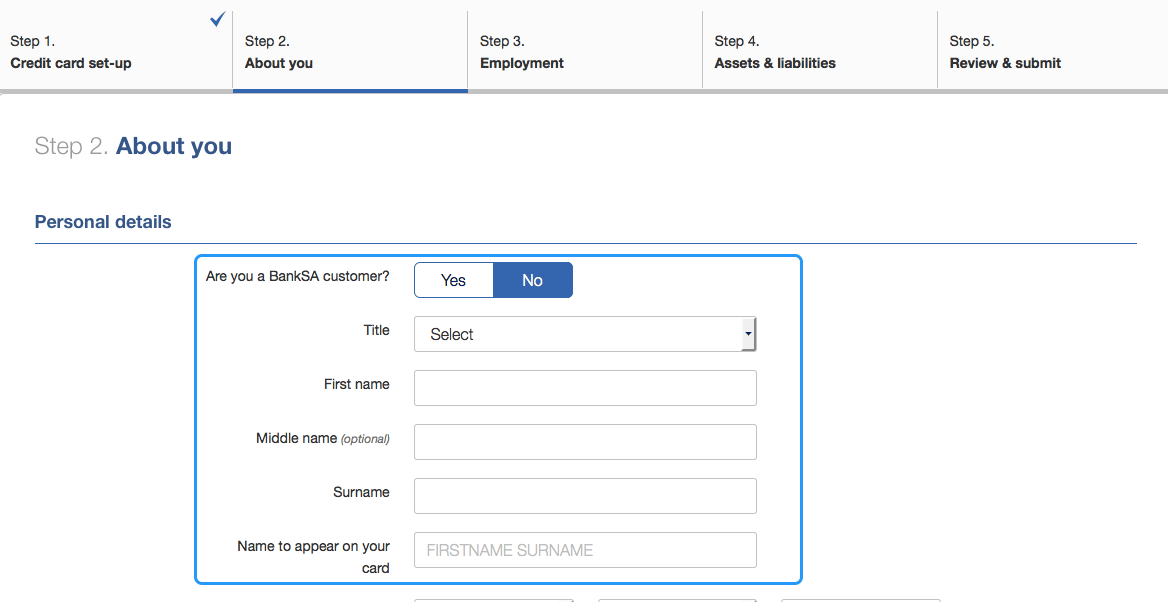 Step 4. Employment. A pay slip will be able to help you answer the following questions regarding your employment:
Employment status. Specify whether you are employed on a full time, part time or other basis.
Employer. Enter the name of the company you work for.
Occupation. Enter your occupation.
Industry. Specify what type of industry you work in.
Employer's address. Provide the main address of the company you work for.
Employee's phone number. Enter the best contact details for your employer.
Time with employer. Specify how long you've been working for your employer.
Primary income. Enter your total income before or after tax.
Any other income. Enter the total amount of other income such as a second job or rental property.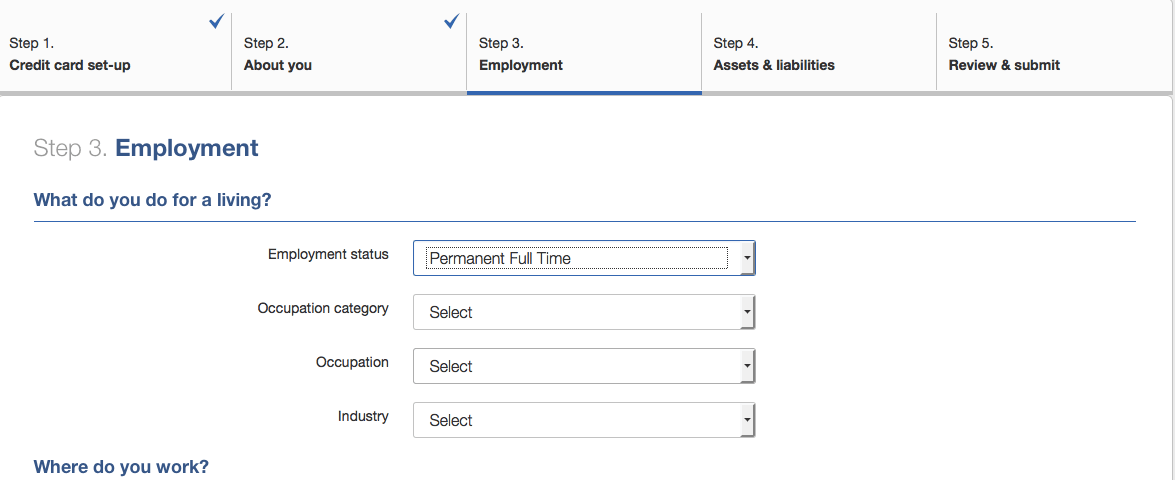 Step 5. Assets and liabilities. Any information you have concerning your expenses, assets or liabilities will help you answer the following questions:
Property. If you own a property, specify what it's worth.
Contents value. Enter the total value of any contents or furniture you own.
Savings. Specify how much you have in savings with either BankSA or other institutions.
Value of assets. Assets may include a car or anything of monetary value.
Credit cards. Provide details of the credit cards you have with other institutions including the credit limit and amount owing.
Balance transfer. Select that you would like to do a balance transfer to your new BankSA credit card.
Loans. If you have any other loans, specify what type of loan it is, the amount you owe and your repayments.
Other liabilities. Provide details of any other liabilities you may have such as maintenance or a line of credit.
Expenses. Outline the total cost of your monthly expenses such as bills, transport and groceries.
Dependants. Specify the number of people who rely on you financially.
Preferred branch. Choose which BankSA branch would be most convenient for you.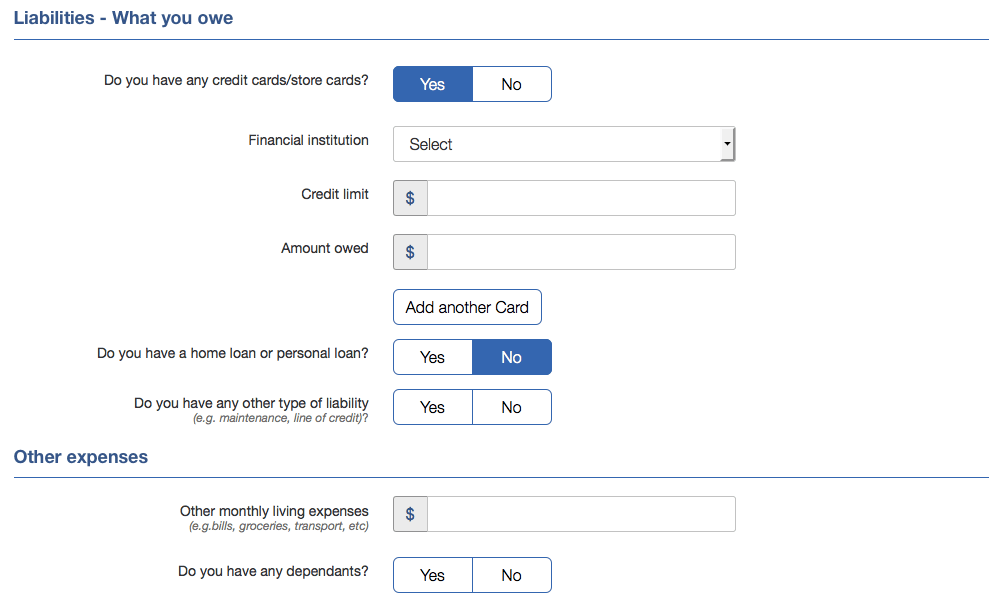 Step 6. Review and submit. Confirm the information you entered is correct. Ensure you have a thorough understanding of the terms and conditions before submitting your application.
Step 7. Application submitted. Congratulations, you've submitted your application! You can expect to receive a reply within 60 seconds. If your application has been approved, subject to verification, you will need to email or fax two computerised payslips that are less than eight weeks old and your year-to-date (YTD) income .
Step 8. Balance transfer process. The balance transfer process could take up to 14 days once you've completed the identification check and activated your card.
Step 9. Repay your debt. Now that you've taken the first step to consolidating your debt, it's time to start chipping away at it. Remember to avoid using your card to make further purchases and remain focused on having your debt repaid before the promotional period ends.
Back to top