Qantas Travel Insurance
Frequent flyer members can earn Qantas Points for getting Qantas Travel Insurance.

We're reader-supported and may be paid when you visit links to partner sites. We don't compare all products in the market, but we're working on it!
Important:
Travel insurance rules continue to change as a result of the coronavirus pandemic. We're working hard to keep up and make sure our guides are up to date, however some information may not be accurate during the pandemic. It's even more important to double-check all details that matter to you before taking out cover. Please know that some policies may not be available through Finder at this time.
Here are some helpful tips:
If you're buying a policy today, it's unlikely that you'll be covered for any coronavirus-related claims
If your travel plans go against government advice, your policy will most likely be voided and you won't be covered
One of the most trusted organisations in Australia and the third oldest airline in the world. Qantas Insurance has policies available for domestic, international and multi-trip travellers, their policies cover a wide range of needs and budgets.
Compare your travel insurance quotes
Type or Select your destination(s)
Popular Destinations
Americas
Asia
Europe
Pacific
Africa
Can't find your destination? Just type it in the box above.
Summary of Qantas's International Comprehensive policy
| | |
| --- | --- |
| Overseas Medical and Hospital Expenses | Unlimited |
| Cancellation and Amendment Fees | Unlimited |
| Luggage and Personal Effects | $15,000 |
| Maximum Age Limit | 69 |
Table updated July 2020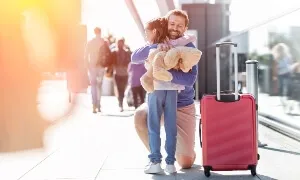 Finder's favourite features:
1. Earn Qantas Points when buying a travel insurance policy
2. Snow cover automatically included on domestic policies
3. Automatically included rental vehicle excess cover available on comprehensive policies
What policies can I choose from?
Qantas Insurance has 6 travel insurance policies to choose from, ranging from Cancellation and Baggage to Annual Multi-trip and Qantas Business Travel Insurance cover.
Earn 1 Qantas Point for every $1 spent when you buy any of their travel insurance policies except for cancellation and baggage.
Below is a breakdown of each policy and an overview of what they have to offer.

International Comprehensive
Unlimited cover for emergency medical and dental (including medical evacuation and repatriation), unlimited cancellation cover and unlimited cover for additional expenses. Car hire excess cover and benefits back home are automatically covered and you have the option to purchase additional cover for valuable items, snow cover and an increased limit for car hire excess (if you need it). This policy also has an extensive list of benefits where the excess amount does not apply.
Australian Comprehensive
This is a top-level domestic policy offered by Qantas Insurance. It includes increased limits for cancellation and evacuation expenses amongst other things. Remember that medical expenses are not included in domestic policies because of Medicare. It's worth knowing that snow cover, car hire excess cover and benefits back home are automatically included which is not common for most insurers.

Australian cancellation, baggage and rental vehicle excess
This domestic policy covers cancellation and baggage with the add on of rental vehicle excess cover. Adding on rental vehicle excess cover onto your policy usually works out cheaper than purchasing it from the car hire company.

Australian, New Zealand and Pacific Islands cancellation and baggage
Cover for the bare essentials when travelling domestically or nearby. This policy can cover you for the unexpected cancellations, and if your baggage doesn't make it to the other side of the carousel. Just keep in mind that it doesn't include medical cover in New Zealand or the Pacific Islands.

Annual multi-trip
Great if you are planning on taking more than one trip, with up to 60 days over a 12-month period. Included is unlimited cancellation and additional expenses cover.

Qantas Business Travel Insurance
What will my Qantas travel insurance policy cover?
While each policy will differ, the main types of cover and features provided by Qantas Insurance include:
Medical expenses. Cover if you get sick or injured while your overseas. This is only available on international policies.
Dental expenses. Cover for emergency dental expenses, this does not include regular check-ups.
Medical evacuation and repatriation. If a medical practitioner advises that your unfit to travel and require transportation to the closest medical facility.
Cancellation and additional expenses. Cover if you're left out of pocket due to the cancellation or amendment of your travel plans. This feature is available on most Qantas Insurance policies but limits vary.
Extra travel cover. This feature includes cover for things such as travel delay and hijacking.
Rental vehicle expenses. Automatically included on comprehensive policies and an upgrade option if you're only after cover for the cancellation and baggage policy only. This covers the excess amount if your rental car is damaged.
Death expenses. This includes cover for accidental death, the repatriation of your remains and even funeral expenses within Australia.
Sports and entertainment package. For those who like to add a little more excitement into their travels. No excess applies except if the claim is related to the loss, theft or damage of sporting equipment where an additional $100 excess applies.
Benefits back home. This covers things that might go wrong at your home when/while you were abroad such as cover for home and contents insurance excess and even if your pets need boarding due to a delay in your travels.
Luggage. Cover for the loss, theft or damage of your property while your traveling. This includes an allowance for emergency luggage if your bags get lost in transit.
Personal liability and legal expenses. Cover of your legal costs if you accidentally injure someone or cause damage to property.
Remember that this is not an exhaustive list and you should always read the PDS to check exactly what you are covered for.
What add ons are available?
Extra rental vehicle excess cover. Pay $20 to get an extra $500 added onto your rental vehicle excess limit. This limit can be extended up to $5000 depending on how much extra cover you're willing to purchase.
Snow sports. Cover for when you're hitting the slopes overseas but FREE in New Zealand. Cover for snow sports is already included in the Australian comprehensive policy but is an cost for international destinations.
Extra cover for valuables. Nowadays it's not uncommon for the cost of your phone to exceed the limit allocated to mobile phones. With Qantas travel insurance, you can purchase extra cover so your phone and other valuables (such as jewellery, cameras, etc.) can be insured to your desired amount.
Can I get Qantas Points with my travel insurance?

Yes. You can earn 1 Qantas Point for every $1 spent on eligible travel insurance policies. You can earn points on most policies with the exception of the cancellation and baggage ones. If you take out an annual policy, you can also earn bonus points.
To redeem these points, you need to be a Qantas Frequent Flyer member, and you'll receive the points a few weeks after you depart for your trip.
What isn't covered under a Qantas Travel Insurance policy?
No one policy is the same but Qantas Insurance will not cover you for any of the following:
If a loss is recoverable under some other scheme such as a private health fund, Medicare or accident compensation scheme. This is why medical expenses are not included on domestic policies.
A loss arising from a criminal or dishonest act by you.
If you lie about any pre-existing medical conditions you have failed to disclose.
For cover with age restrictions, you will not be covered if a traveller is 70 years of age or over.
There is no cover if you leave your luggage and personal effects unattended and it is lost, damaged or stolen.
How do I make a claim?
Qantas Insurance accepts claims 24 hours a day, 7 days a week and you can lodge a claim while you are still overseas or when you're back at home. All documentation will need to be posted to the address below;
nib Travel Claims
PO Box A975
Sydney South, NSW, 1235
Claim enquiries: 1300 783 146
Email: travel-claims@nib.com.au
It's strongly recommended you contact Qantas Insurance as soon as reasonably possible after the event. You should also have the following information available:
Travel insurance policy number
Contact and details of your travel
Particulars of the claim and all the relevant documentation and proof.
Who do I contact if there is an emergency?
nib International Assistance can be reached 24/7, all year round.
Email: travel-assist@nib.com.au
Phone: +61 3 8523 2800 (if overseas)
Fax: +61 3 8523 2815
Within Australia: 1300 555 019 or (03) 8523 2800

Picture: GettyImages
Icons made by Smashicons from www.flaticon.com is licensed by CC 3.0 BY

More guides on Finder
HSBC Platinum Credit Card

This card offers 0% interest on balance transfers for 36 months, a discounted $29 first year annual fee and platinum benefits including airport lounge passes and complimentary insurance covers.

American Express Velocity Business Card

The American Express Velocity Business Card earns points per $1 spent and offers complimentary travel insurance and two complimentary Virgin Australia lounge passes each year.