The best and worst ways to spend Westpac Altitude Points
A flight upgrade or cashback to your account: What's the best way to spend your Altitude Points?
Information about Velocity Points
Due to Virgin Australia entering voluntary administration on 21 April 2020, redemption of Velocity Points has been suspended. As of 15 May 2020, you can redeem points for some domestic flights, however, all other redemption options remain unavailable. In addition, the Altitude Velocity rewards program is currently unavailable when applying for an Altitude card. We will update this page with more information as it becomes available.

Westpac Altitude Rewards credit cards often boast massive bonus points offers. For example, if you apply for the Westpac Altitude Black, you can score 150,000 bonus Altitude Points when you spend $4,000 within the first 90 days. But how much are Altitude Points worth?
Well, the value of your Westpac Altitude Points will vary depending on what you're redeeming them for. To help you get the most out of your Altitude Points, let's look at some of the best and worst ways to spend your Altitude Points.
These examples are all correct at the time of publication on 12 June 2018 and should only be used as a guide.
Westpac Credit Card Offer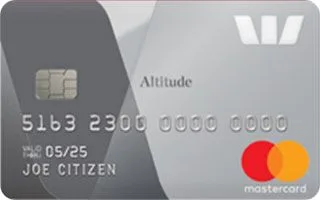 Westpac Altitude Platinum Qantas
Receive
60,000
bonus Qantas Points on eligible spend


Discounted annual fee of $99 for the first year
Offer ends 11 November 2020
Eligibility criteria, terms and conditions, fees and charges apply
Westpac Credit Card Offer
Receive 60,000 bonus Qantas Points when you spend $3,000 on eligible purchases in the first 90 days.
Balance transfer rate of 0% p.a. for 18 months, with a 1% balance transfer fee
$99 first-year annual fee ($200 p.a. thereafter)
Earn 0.5 Qantas Points per $1 spent, uncapped
Complimentary insurance covers on overseas travel and purchases
The smarter ways to spend your Altitude Points
You can use your Altitude Points to redeem everything from gift cards and cashback to flights and merchandise from the Altitude Rewards Store. These are some of the options that will give you the most valuable return for your points.
| Reward | Price in Altitude Points | Retail/dollar value | Value per point (in cents) |
| --- | --- | --- | --- |
| Trip for two to Queenstown (inc. 3 nights accommodation at the Luxury Lake Suites in a 2-Bedroom Lake View Apartment) | 17,975 points + $718 | $1,386 | 3.71 |
| Donation to Cancer Council Australia | 8,400 points | $50 | 0.6 |
| BT Super for Life Transfer | 3,000 points | $15 | 0.5 |
| Taylors Wines, Promised Land mixed 10 pack – The Red Wine Crowd Pleasers with BONUS 2 bottles | 36,050 points | $168 | 0.47 |
Using your Altitude Points to book accommodation through Altitude Travel offers the most value in this instance, with the 17,975 points valued at 3.71 cents per point.
If you're feeling philanthropic, a $50 donation to Cancer Council Australia also offers good value, with each point worth around 0.60 cents. You can use your points to fund your nest egg with BT Super, which offers 0.50 cents per point used in this example. Or you could treat yourself to a mixed 10 pack of Taylor Wines with two bonus bottles, which offers similar value of 0.47 cents per point.
Now that we've looked at some of the best ways to spend your Altitude Points, here are some of the redemptions you should steer clear of if you're looking to get the most value from your hard-earned points.
The less valuable ways to spend your Altitude Points
From headphones and a sandwich toaster to cashback, here's what you probably shouldn't do with your Altitude Points.
| Reward | Price in Altitude Points | Retail/dollar value | Value per point (in cents) |
| --- | --- | --- | --- |
| Bose SoundLink Mini Bluetooth Speaker II Pearl | 69,225 | $199 | 0.29 |
| Breville The Original 74 Jaffle Maker | 26,275 | $90 | 0.34 |
| Pay with Points | 12,500 | $50 | 0.4 |
| Cashback +15% | 119,750 | $500 | 0.42 |
Redeeming your Altitude Points for a Bose Bluetooth speaker is one of the lowest-value ways you can spend your points. It only offers 0.29 cents per point, which isn't competitive compared to some of the offers we've listed earlier. Similarly, the Breville Jaffle maker only has a value of 0.34 cents per point.
Cash-type rewards also don't offer great value. Opting to pay for a $50 credit on your account with points will cost 12,500 points, which boils down to around 0.40 cents per point. Meanwhile a $500 cashback award, which includes the current 15% bonus, is only worth 0.42 cents per point.
Instead of using your points to redeem these rewards, you're better off using your Altitude credit card to pay for them and earn points on the purchase.
What about transferring your Altitude Points to frequent flyer rewards?
As well as redeeming them for cashback or merchandise, you can exchange your Altitude Points for frequent flyer points with Velocity Frequent Flyer, Asia Miles, Air New Zealand Airpoints, Malaysia Airlines Enrich and Singapore Airlines' KrisFlyer.
For example, if you opt to for Velocity Auto-Redemption, you can exchange 2 Altitude Points for 1 Velocity Point (one-off transfers have a reduced rate of 3:1). The value of your points would then depend on what you redeemed with your Velocity Points.
Although earning Altitude Rewards can be a great way to reward your spending, not all rewards offer the same value. Generally, travel and flight upgrades offer more bang for your buck than items from the Altitude Rewards Store or paying for purchases with your points. So before you cash in your Altitude Rewards Points bounty, compare a few options to find the most rewarding deal for you.
Compare Westpac credit cards
Related Posts