Companion Credit Cards
Finding it hard to choose between an American Express credit card and the more widely accepted Visa or Mastercard? You could enjoy them both with companion credit card products.
We're reader-supported and may be paid when you visit links to partner sites. We don't compare all products in the market, but we're working on it!
Also known as dual credit cards, companion card schemes are a clever answer to the whole Amex versus Visa/Mastercard dilemma. While American Express credit cards typically earn more points per $1 when compared to Visa or Mastercard products, they often incur a higher surcharge and are less widely accepted.
But rather than choosing between these types of cards, companion credit card products allow you to enjoy the privileges and perks of both card schemes through one account. This guide will help you decide if a companion credit card product will work for you.
How do companion credit cards work?
For the cardholder, having a companion credit card account allows you to earn a high rate of reward points when you can pay for something on your American Express credit card. If a merchant informs you of a surcharge or doesn't accept Amex, you can pull out your Visa or Mastercard and use that so you still earn points for your spending.
The great thing about the whole arrangement is that you only have one rewards account to manage, so you can keep track of all the points you earn no matter which card you use. Some dual cards may also offer one credit limit, one set of interest rates and one statement to look at, while others may offer an account with the bank and one managed by American Express.
Features of companion credit cards
Here are the general features of these cards:
Rewards. The range of rewards you can redeem through these cards typically includes flights, flight upgrades, hotel stays, car rental, cashback or card credit, gift cards and store vouchers, merchandise, lifestyle products and services.
Amex benefits. American Express credit cards provide access to periodic offers at a range of branded stores. These offers could include complimentary gifts, cashback, or discounts just for having and using an Amex card. You can also get access to pre-sale tickets and other entertainment deals through Amex Offers.
Visa or Mastercard benefits. Visa and Mastercard each have their own proprietary membership benefit schemes (Visa Entertainment and Mastercard Priceless). With these services, cardholders can access offers and services such as pre-sale tickets, exclusive discounts and special holiday packages.
Points earn rate. This is a major draw of the dual-card scheme, where cardholders enjoy access both to the high American Express points earn rates and the stability of a widely-accepted Visa or Mastercard.
Interest rates. Interest rates for premium rewards credit cards like these are typically higher, which make them unsuitable if you wish to carry a balance on your account. While the same rates will apply to both the Amex and Visa or Mastercard, it's still important to check what the standard variable purchase and cash advance rates are to avoid expensive charges.
Interest-free days. You will usually enjoy interest-free days on eligible purchases which can be a useful tool for cost-effectively managing cash flow, such as up to 55 interest-free days on purchases. Note that interest-free days typically don't apply if you carry an outstanding account balance.
Annual fees. Annual fees for companion credit card products are often high, but you can still find some dual cards that charge under $100 per year.
Complimentary extras. These cards typically come packed with freebies such as complimentary travel insurance, purchase protection, travel perks and personal concierge services.
Additional cardholders. As with any standard credit card, your companion card account also allows you to share your cards with additional cardholders. Depending on your card and card provider, this is sometimes limited to only one additional cardholder, and usually involves a fee per additional cardholder. Additional cardholders will get their own cards to use. They will share your card limit and card benefits, but you as the primary cardholder will remain solely liable for all expenses incurred on the account.
Contactless payments. Visa payWave and Mastercard PayPass allow you to make contactless payments at checkout. Where you see the universal contactless payment symbol, you can tap your Visa or Mastercard to process payments below $100 without providing your PIN. American Express cards are now also increasingly enabled for contactless payments. As long as your card has the contactless payment symbol indicated on the back, you can use it to tap and pay at registers displaying both the contactless payment symbol and American Express logo.
Security features. All three card schemes have developed very similar anti-fraud credit card security measures for your protection. These include EMV chips embedded in each credit card for transaction security and counterfeit prevention purposes, and tokenisation which replicates a similar security process for the cardless environment (i.e. Internet and mobile transactions). They also feature zero liability policies that ensure you will not be held liable for fraudulent transactions made using your cards, and may feature fraud-monitoring services.
Example: How to earn more points with a companion credit card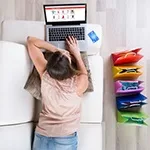 Say you are looking at getting a companion credit card account that offers 1.5 frequent flyer points per $1 spent on and American Express card and 0.5 points per $1 spent on a Visa card. In this scenario, you also plan to use the account for the following monthly expenses:
Supermarket shopping: $400
Petrol: $200
Coffee: $100
Dining out: $200
Total: $900
Amex is accepted at all major supermarkets (Coles, IGA, Woolworths etc.) and service stations, which means you could earn the higher point rate by using the Amex card for those expenses. But if some of your local cafés and restaurants don't accept Amex, you could use the Visa card to pay for all your spending on coffee and dining out. After a month, here's how the earnings would look.
Amex card: Supermarket and petrol spending totalled $600 on this card, earning 900 points for the month.
Visa card: The total monthly spending for coffee and dining would be $300, earning 150 points.
Total points: 1,050 points
To put this in perspective, you would earn 150 more points with this companion card account than you would with a credit card that offered 1 point per $1 spent.
Other factors to consider for companion credit cards
Make sure you also consider these details before choosing a companion credit card:
Bonus sign-up points. Many premium rewards cards will offer attractive sign-up bonuses. For instance, you could earn up to 75,000 bonus points simply for applying and getting approval for a particular card. Be aware that you usually need to do something to activate the offer though, such as spending a certain amount of money on eligible purchases within the first three months.
Points cap. Some card providers may impose a points cap on certain cards. For example, with a dual card account you may only be able to earn 3,000 points per month on the Visa or Mastercard, and 9,000 points per month on the Amex card. This means that once you've reached the points cap on one of your companion cards, you'll have to use the other one to keep earning points for the month. If your average spend is likely to exceed these caps, you are probably better off choosing a card that doesn't limit your points.
Card acceptance. Consider card acceptance where you usually shop and whether this will allow you to maximise your benefit of having a companion credit card account. For instance, if most of your regular merchants don't accept American Express cards, you will be limited in when you can use that card and might be better off getting a single Visa or Mastercard rewards product.
Surcharges. These are payment processing fees that may be passed on to you by the merchant when you use a Visa, Mastercard or American Express card to pay for your purchase. American Express typically attracts a higher fee for payment processing, which is why many merchants are less inclined to accept American Express credit cards and why they may impose a surcharge when you use one. This higher processing fee is also one of the reasons why American Express can afford to offer better rewards.
Other fees. Where relevant, you should also take into account other possible card fees such as foreign transaction fees, ATM and cash advance fees and balance transfer fees.
Card costs versus rewards. Ultimately, a quick summation of all the possible card costs versus card benefits should indicate if dual cards are worthwhile for you. To calculate card benefits, project your average weekly spend over a year and estimate the number of reward points that will earn you. Next, approximate the dollar worth of your reward points by checking what you would redeem them for at the rewards store and seeing how much those items are ordinarily worth in cash.
While companion credit cards are designed to maximise your rewards, you may discover that their costs outweigh the potential benefits to you. In general, such premium rewards cards are more suitable for big spenders who can benefit from a higher points earn rate while also being able to afford the potential cost of these cards.
Images: Shutterstock
Back to top
More guides on Finder