Business credit cards for Qantas and other frequent flyer points
Get up to 150,000 bonus Qantas Points and take advantage of airline lounge passes, concierge services and higher credit limits.
We're reader-supported and may be paid when you visit links to partner sites. We don't compare all products in the market, but we're working on it!
If you run a business, you can choose from a range of credit cards that offer both frequent flyer rewards and money-management features. This includes Qantas business credit card options, which are linked to your personal frequent flyer account or a Qantas Business Rewards account. There are also business credit cards with rewards you can transfer to partnered frequent flyer programs.
You can use this guide to compare business frequent flyer credit cards on the market, find out about the key features to consider and learn the traps to avoid.
American Express Credit Card Offer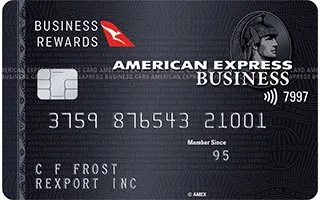 American Express Qantas Business Rewards Card
Receive
150,000
bonus
Qantas Points


$450 Qantas Flight Voucher
Eligibility criteria, terms and conditions, fees and charges apply
American Express Credit Card Offer
Collect 150,000 bonus Qantas Points and $450 Qantas Flight Voucher, plus premium perks including airport lounge passes every year and complimentary travel insurance
150,000 bonus Qantas Points and a $450 Qantas Flight Voucher when you spend $3,000 in the first 2 months
No pre-set limit charge card with a $450 annual fee and up to 99 additional cards
Up to 51 days cash flow
Earn up to 2 Qantas Points per $1 spent and get triple points on Qantas flights
Receive 2 Qantas Club domestic lounge passes per year
Compare business credit cards that earn frequent flyer points
The credit cards in this table directly earn frequent flyer points or bank rewards points that can be transferred to a frequent flyer program.
How do business frequent flyer credit cards work?
Just like other frequent flyer cards, these cards earn points for every $1 spent on eligible purchases. They may also offer thousands of bonus points on sign up, as well as travel perks such as lounge passes. The difference is that many personal frequent flyer products don't consider business spending as part of the eligible purchases that earn points, whereas business credit cards do.
Business credit cards are usually designed for small to medium sized businesses, but you can find cards for larger corporations. To apply for one of these cards, you usually need to have an Australian Business Number (ABN), meet a minimum annual turnover and provide details about your business.
How to compare frequent flyer credit cards for your business
If you're deciding which frequent flyer credit card will boost your business rewards, these are some of the questions to ask yourself before you apply:
Which program is the card connected to?
If your business already earns points with a particular program, you can narrow down your credit card choices based on the loyalty scheme that's linked to the card. Depending on the card, it will be linked to Qantas Frequent Flyer, Virgin Australia's Velocity Frequent Flyer or a flexible rewards program such as American Express Membership Rewards or Citi Rewards.
You can also get a business credit card that partners with a corporate frequent flyer program, such as Qantas Business Rewards, which allows you to pool points for your business and then decide how to use them.
How many points can I earn?
These cards earn a set number of points per $1 spent on eligible business transactions. How many points you'll earn will vary, but at least 1 point per $1 is a competitive offer. The number of points you'll earn per $1 may also vary based on the transaction. For example, you might be able to earn 1.25 points on everyday eligible purchases and only 0.5 points per $1 spent on your ATO bill or other government transactions.
Some business frequent flyer credit cards also come with thousands of bonus points on sign up. So you can also compare cards by the bonus points offered and the spend requirements you need to meet to score these points, as they're an easy way to boost your business rewards balance.
How can I use the points?
You should only collect points if you know there are rewards that are valuable to you. So compare credit cards by the types of rewards you can get. If you and your colleagues regularly travel for work, a frequent flyer credit card that's directly linked to an airline loyalty program could reward you with free flights or upgrades. Whereas if you'd prefer to redeem your points for cash back or gift cards, you might want to consider a card that's linked to a bank rewards program.
Who qualifies for the credit card?
Just like a personal credit card, you'll need to meet eligibility requirements including a minimum annual turnover, a good credit history and an eligible ABN. Plus, you may need to be in a managerial position to apply for the card on behalf of your business.
How many additional cardholders does that card offer?
If several of your employees require a credit card for work spending, you can request additional credit cards that are linked to the one account. This can make it easier to track and report business spending, and can also help you earn more points for a single account.This is because the points earned on the additional card will be debited to the main frequent flyer account.
While some cards may offer an unlimited number of cardholders, others have a limit of how many supplementary cardholders you can add to the account. Make sure you confirm this before you apply so that you know the account is suitable for your business.
What's the annual fee?
You can almost always expect your frequent flyer business credit card to come with an annual fee, which can vary from $150 to $450 (or more) depending on the card. You should make sure that your business can afford the annual fee and that the monetary value of the points and the extra perks can justify this cost.
What is a credit limit?
As well as earning points on business spend, a higher credit limit is another perk of choosing a business frequent flyer credit card. Your approved credit limit will depend on a number of factors including your annual turnover and credit history, but you should also compare cards by the minimum and maximum credit limits to ensure they can support your organisation's spending needs.
Is it a charge card or a credit card?
When you're comparing cards to earn points on business expenses, you can usually choose between a credit card or a charge card. While you can carry balances from month to month (and will be charged interest) with a credit card, you have to pay off a charge card in full each month otherwise you'll be charged a fee. Consider whether your business requires a revolving line of credit or a line of credit to free up cash flow to determine whether you'd prefer a credit or charge card.
What are the extra perks?
Frequent flyer business credit cards are higher tier products, so you can usually expect a bunch of extra perks. Depending on the card, it may offer a flight or travel credit, complimentary lounge passes or complimentary international travel insurance. You might also be able to use a complimentary concierge service for everything from booking a restaurant for a business meeting to organising a corporate trip.
Some business cards also come linked with reporting software (such as MYOB, QuickBooks and Microsoft Excel), which you can use to monitor and download your balance sheets and transaction details.
Pros and cons of a business frequent flyer credit card
Pros
Reward your business spending. Unlike other business credit cards, these cards reward you for every $1 you spend on eligible purchases. You can use these rewards to cut costs on regular business expenses (such as business travel) or to reward your employees.
Extra perks. These cards also come with extra features like lounge invitations, complimentary travel insurance and concierge services which could help justify the cost of the card.
Access credit. These cards usually come with higher credit limits than personal cards and can help your business manage its expenses with a line of credit.
Business reporting. You can monitor your business spending under one account and link it with business reporting systems to help simplify the way you manage your finances.
Cons
Higher annual fees. While some business cards come with low or $0 annual fees, these cards usually come with higher annual fees.
Liability. If you link additional cards to the account, the primary cardholder or the business will be liable for any expenses made on the supplementary cards.
Interest charges. If you opt for a business credit card and carry a balance from month to month, you'll likely collect high interest rates on your purchases.
How to apply for a business frequent flyer credit card
Once you've compared your options and decided on a card, you can apply for a frequent flyer credit card for your business online. Before you begin the application, make sure that your business meets the eligibility requirements and has the necessary information:
Eligibility criteria
Age. You must be at least 18 years old to apply for a credit card in Australia.
Australian residency status. Depending on the card, you may need to be an Australian citizen or a permanent resident to apply.
Credit history. You'll usually need to have a good credit history with no evidence of bad debts or payment defaults.
Corporate spending limit. You may need to meet an annual turnover (such as $10 million p.a.) to receive approval.
Required documents and information
Personal details. You'll need to provide personal information including your full name, contact number and email address. You must also provide the details of your personal pre-tax income.
Business details. This will include your business name, contact details, ABN and other business financial information.
Frequent flyer account. If your business already belongs to a frequent flyer program, you'll need to provider the account number to link the card with your loyalty account.
A frequent flyer business credit card can be a great way to reward your spending while you manage your business expenses. There are many business credit cards that earn points on the market, so make sure to weigh up a few options before you apply.
Want to compare other options for your organisation? You can compare more business credit cards and get your finances in order with finder.
Pictures: Shutterstock
Back to top
More guides on Finder