QBE car insurance
Looking for car insurance? QBE offers a range of feature-packed policies designed to safeguard you financially when you're on the road.

When you own a car of any kind, whether it's an exciting sportscar or just a humble runabout, it's vital that you have the right insurance cover in place. From collisions and third-party damage to fire and theft, there are plenty of things that can go wrong on and off the road and end up costing you a pretty penny. This is where car insurance comes in, offering essential financial protection against a wide range of risks. With a history stretching back more than 125 years, QBE offers an extensive range of personal and business insurance solutions to Australian customers.
Green Insurer of the Year 2020
As part of the Finder Green Awards, we are pleased to announce QBE as our Green Insurer of the Year. It is clear that QBE is an insurance business taking their sustainability efforts seriously. Notably the company is sourcing more than 60% of their electricity from renewable sources, as well as committing to numerous external benchmarks such as CDP and DJSI.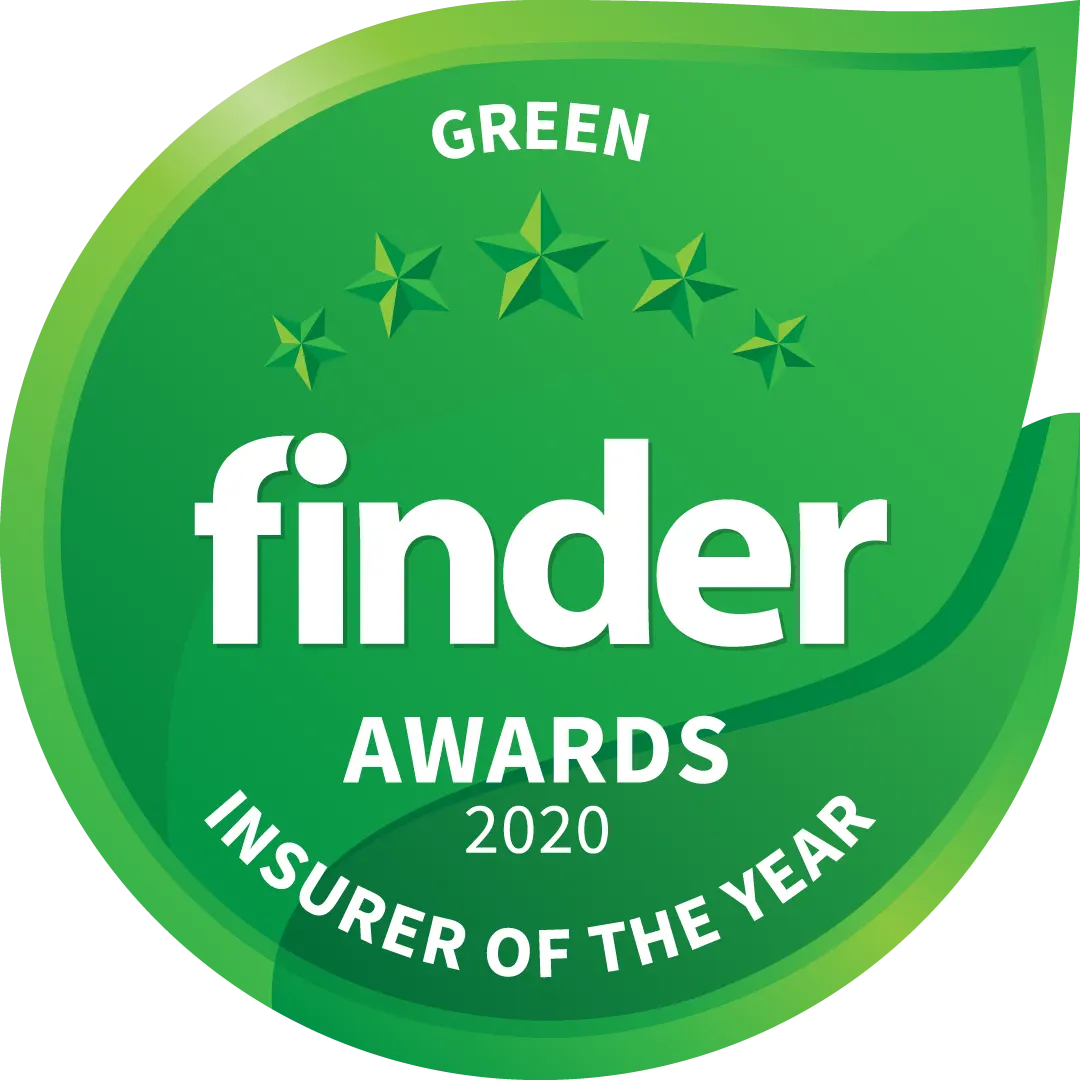 We don't currently have this brand on our panel. But don't fret! You can head to the QBE website or compare a bunch of other car insurance companies with finder.
Compare car insurance fast
QBE Car Insurance policy options
QBE Comprehensive
This policy offers the highest level of protection available from QBE and it covers you against accidental damage, fire, theft and legal liability. The Comprehensive policy is also offered in two other variations:
Preferred Driver form. For drivers aged 24 and over.
Nominated Driver form. If you want to nominate yourself and another person as the sole drivers of your vehicle.
QBE Comprehensive Car Insurance covers:
Accidental Damage
Fire and Theft of your car
No age restrictions on drivers
Any number of drivers
QBE Third Party Fire and Theft
Under this policy, your car is covered for loss or damage caused by fire or theft, while you'll also be protected when your car causes damage to someone else's car or property. QBE's Third Party, Fire and Theft policy offers essential third party cover when:
Damage to other people's property caused by your car
Fire and Theft of your car
Accidental damage to your car not covered
QBE Third Party
This basic policy does not contain any cover for your own car but does protect you when your vehicle causes damage to someone else's car or property. This basic policy provides:
Damage to other people's property caused by your car
Fire and Theft of your car not covered
Accidental damage to your car not covered
This isn't your Compulsory Third Party (CTP) required for registration
Benefit
Comprehensive
Fire & Theft
Third Party Property
After accident clean up
Change of vehicle
Choice of repairer
Emergency accommodation and transport costs
Essential temporary repairs
Fatality cover
Hire car following theft
Lifetime repair guarantee
New replacement vehicle
Personal effects
Re-delivery costs
Replacement of keys and recoding of locks
Towing costs
Trailer cover
Travelling expenses
Uninsured motorist benefit
Vehicle tools
Windscreen cover
Optional
Excess free windscreen and window glass protection
Four year new car replacement
Hire car after an incident
No claim bonus protection
Policy lifetime
When will QBE not pay my car insurance claim?
QBE excludes certain situations, circumstances from events. Your claim will not be paid by the insurer if:
It is for theft or damage to your vehicle when it has been left unattended and unlocked in a public place.
It is for theft by someone acting with your consent.
It is for theft by a friend or prospective vehicle buyer after you have given them permission to use your car.
It is for wear and tear, rust or corrosion.
It relates to structural failure or mechanical or electrical breakdown.
It results from you using the wrong type of fuel.
You have not taken all reasonable steps to prevent loss or damage.
It is for damage to the tyres of your vehicle unless caused in an accident.
It is for personal effects in your vehicle that were damaged by fire or stolen along with your vehicle.
It is for theft or damage to a non-standard accessory not shown on your schedule.
It is for consequential loss.
It is for accidental bodily injury or death to a family member.
It is for any court-imposed fines or penalties.
It is for damage to property owned by an insured person.
The driver was under the influence of alcohol or drugs, or if they refused to submit to a drug or alcohol test.
The vehicle was not registered.
The vehicle was being used for an unlawful purpose.
The vehicle was being used on a race track or speedway.
The vehicle was being used to carry passengers for hire, fare or reward.
The vehicle was being driven in an unsafe, un-roadworthy or overloaded condition.
The claim arises due to an intentional malicious act by you or someone acting on your behalf.
The claim relates to lawful seizure or repossession of your vehicle.
The claim relates to acts of war or terrorism.
How much does QBE Car Insurance cost?
The following factors will all influence the cost of your QBE Car insurance premium:
The sum insured.
The type of policy you choose.
The year, make and model of your vehicle.
Where you live and where your car is kept overnight.
Whether or not you are entitled to a no-claim discount.
Your age and the age of any other drivers.
The driving and insurance history of you and any other drivers.
Whether you have selected any optional benefits.
The level of excess you choose.
The frequency with which you decide to make your premium payments.
How does the excess work?
An excess is the amount you are required to pay towards an insurance claim. Under a QBE Car Insurance policy, you may have to pay one or more of the following excesses:
Standard vehicle excess. This applies to all vehicles.
Age excess. This excess will apply if the driver at the time of the incident belongs to the age group specified in your policy schedule.
Undeclared driver excess. When your schedule has named drivers listed and your car is involved in an incident while being driven by an unlisted driver, this excess will apply.
Imposed excess. QBE may apply a special excess to your policy before accepting you for cover.
Named driver excess. QBE may apply an excess to a named driver when you apply for cover.
Voluntary driver excess. You can elect to pay this excess if you would like to reduce your premium.
How can I save on my QBE Car Insurance policy?
QBE offers a number of discounts and options that can reduce your premiums, although the majority of them require you to be covered by their Comprehensive policy:
Choose a higher excess. In return, you'll receive a lower premium.
No Claim Bonus protection (Comprehensive only). If you haven't made a car insurance claim for 12 months or more, you can receive a discount of up to 60 per cent off the standard premium price.
Policy lifetime No Claim Bonus Protection (Comprehensive only). If you have maintained your No Claim Bonus for two years (with no at-fault claims) you can opt for lifetime protection.
Over 50s discount (Comprehensive only). This makes cover easier to afford for older Australians.
Good Driver Discount (NSW residents covered by CTP only). If you are aged 30 or over with no demerits on your licence you may be able to take out QBE CTP at a discounted price.
How do I lodge a claim with QBE?
Call QBE on 1300 361 516 to notify them of your claim. You'll then typically be required to complete a claim form and provide any supporting documentation and information that QBE may require to process your claim.
Final things you might want to know about QBE Car Insurance
---