Real Car Insurance 
Need to get covered? Compare policies and discover if Real Car Insurance is right for you.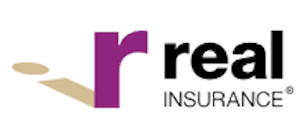 We're committed to our readers and editorial independence. We don't compare all products in the market and may receive compensation when we refer you to our partners, but this does not influence our opinions or reviews. Learn more about Finder .
Real Insurance is a multi-award winning insurance company that has been providing cover to Aussies since 2005.
If you're looking for flexible and affordable car insurance, Real Insurance offers the following policy options to Australian drivers:
Comprehensive Car Insurance
Pay As You Drive Car Insurance
Third Party Fire & Theft Insurance
Third Party Car Insurance
Read on to learn about your policy options.
Finder's 2 favourite features
You could save up to 10%.
Pay-As-You-Drive option for those who don't use their car much.
Review by our car insurance expert Alexandra Koster
What cover options does Real Car Insurance offer?
Real Car Insurance customers can choose from the following four policy options:
Comprehensive Car Insurance
The highest level of cover available from Real, this policy provides the ultimate cover for accidents, theft and damage to your car and possessions. Comprehensive Real Car Insurance includes cover for:
Theft or attempted theft
Fire damage
Malicious damage
Natural events
Legal liability
Optional roadside assistance
Pay As You Drive With Real Car Insurance
Real Pay As You Drive Car Insurance offers the same benefits as Comprehensive cover but can potentially save you money as you only pay for the kilometres you plan to drive.
In order to apply for Pay As You Drive Cover you will need to agree to a set amount of kilometres with Real. This should be the maximum distance you think you will drive during your cover period.
Third Party Property, Fire and Theft Car Insurance
Theft or attempted theft
Fire damage
Malicious damage
Legal liability
Hire car after theft
Trailer and caravan cover
Third Party Property Damage Car Insurance
This basic policy protects you against the resulting costs when you cause damage to other peoples' cars or property.
This no-frills policy is designed to provide essential cover benefits including:
Uninsured motorist extension benefit
$20 million of legal liability.
| Benefit | Comprehensive | Pay As You Drive | Third Party Property, Fire & Theft | Third Party Property Damage |
| --- | --- | --- | --- | --- |
| 10% discount if you buy online | | | | |
| 14 day money-back guarantee | | | | |
| 24-month new car replacement cover | | | | |
| 24/7 emergency claims | | | | |
| 24/7 Roadside assistance | | | | |
| Caravan and trailer cover | | | | |
| Choice of agreed value | | | | |
| Choice of excess | | | | |
| Emergency accommodation and travel costs | | | | |
| Excess-free windscreen cover | | | | |
| Hire car cover | | | | |
| Lock and key replacement | | | | |
| Max $500 for essential repairs after accident/theft | | | | |
| Max $500 for replacement on baby capsules, child seats and prams | | | | |
| Pay for only the kms you drive | | | | |
| Personal property cover | | | | |
| Towing costs | | | | |
| Transit cover | | | | |
What is not covered by this policy?
There are certain situations when Real Insurance will refuse to pay your claim, including:
Your car was driven by someone under the age restriction shown on your Certificate of Insurance
Your car was being driven by someone who was not properly licensed
Your car is driven by a learner license not accompanied by a full licensed driver
Your car was being driven by someone under the influence of alcohol (over the legal limit) or drugs
Your car was driven by someone who refused to undergo a drug or alcohol test if asked by the policy
It arises from your car being used as a courier or delivery vehicle
Your car was being used for any motor sport or racing
It results from you using your car to carry more passengers or tow a heavier load than it was designed to do
Your car is in an un-roadworthy condition
Your car was being driven outside Australia
Your claim results from a deliberate, intentional or malicious act by you or someone acting with your consent
It results from an act of war or revolution
It is for any consequential loss caused by you knowingly driving your vehicle in a damaged condition
For depreciation
For wear and tear or rust and corrosion
For mechanical, electrical or computer breakdowns
For any repairs carried out without the express consent of Real Car Insurance
For damage to tyres by punctures, cuts or bursts
You have failed to take reasonable steps to protect your car and prevent loss or damage
Your car has been modified or fitted with non-standard accessories without the express consent of Real Car Insurance.
How much does Real Car Insurance cost?
There are several factors which influence exactly how much your Real Car Insurance premium will cost, including:
The policy you choose
The claims history of the people who will drive your vehicle
The age of the drivers and how much driving experience they have
The age, make and model of your vehicle
The extras and accessories you have fitted to your car
The postcode where your car is kept and whether or not it will be kept garaged overnight
How you use your car
Whether you opt for agreed value or market value cover
Any optional extras you choose
The excess you choose to pay.
What is an excess and what does it do?
The excess is the amount of money you are required to contribute towards the cost of a claim, however you will not need to pay an excess if you were not at fault for the damage caused and you've provided the insurer with relevant details of the other party.
The following excesses may apply to your cover:
What is a basic excess? This is the excess you chose, listen on your Certificate of Insurance.
How does an age excess work? This applies in addition to other excesses if at the time of the incident your car was being driven by someone below the age of 25.
Will an inexperienced and learner driver excess apply to my policy? This applies if your car was being driven at the time of the incident by a learner driver under 18 years of age or someone over 25 years old who has not held a valid licence to drive in Australia for more than two years.
What is an undeclared young driver excess? If your car is driven by someone under 25 years of age who has not been declared as a driver of your car on your Certificate of Insurance, this excess will apply.
What does special excess mean? Real may apply this special excess depending on your car, how it is used or the claims history of the drivers of your car. This is listed on your Certificate of Insurance.
How does an Outside odometer excess work? This excess applies only to Pay As You Drive policies if at the time of the incident your car's odometer is below the start odometer you provided to Real at the start of your policy or above the end odometer reading as shown on your Certificate of Insurance.
How can I save money on my policy?
Is pay Pay As You Drive right for you? This option means you only pay for the kilometres you plan to drive, so you can potentially save a great deal of money over the cost of a Comprehensive policy if you don't drive much.
Should I get an agreed and market value policy? Agreed value policies may feature higher premiums, though that doesn't necessarily mean they're not the right option for you.
How much cover do you really need? If you don't require Comprehensive cover, you might be able to save money by choosing a more basic level of cover.
Do you really need all those extras? If you're highly unlikely to need the cover provided by extra cover options, consider not adding them to your policy.
What excess should I choose? Adjust your excess to a level suitable to your needs.
Should I buy online? Real allows you to take advantage of a discount of up to 10% when you buy your car insurance policy online.
Real Insurance FAQs
I'm ready to compare policies now
Deciding on the right car for your needs is a very important choice, but deciding on the right car insurance coverage is just as important. Motor vehicle insurance provides financial protection against a wide range of risks, from theft and fire damage right through to liability for causing third party injury or property damage, so you need to know that you have adequate cover in place before you hit the road.
When you're looking for insurance coverage for your vehicle, each of the four policy options from Real Car Insurance is worth considering. Just make sure you shop around and do plenty of research before you choose one of the many policies available.
---
More guides on Finder