Roadside assistance Queensland
Keep the breeze in your hair and your tyres full of air with roadside assistance.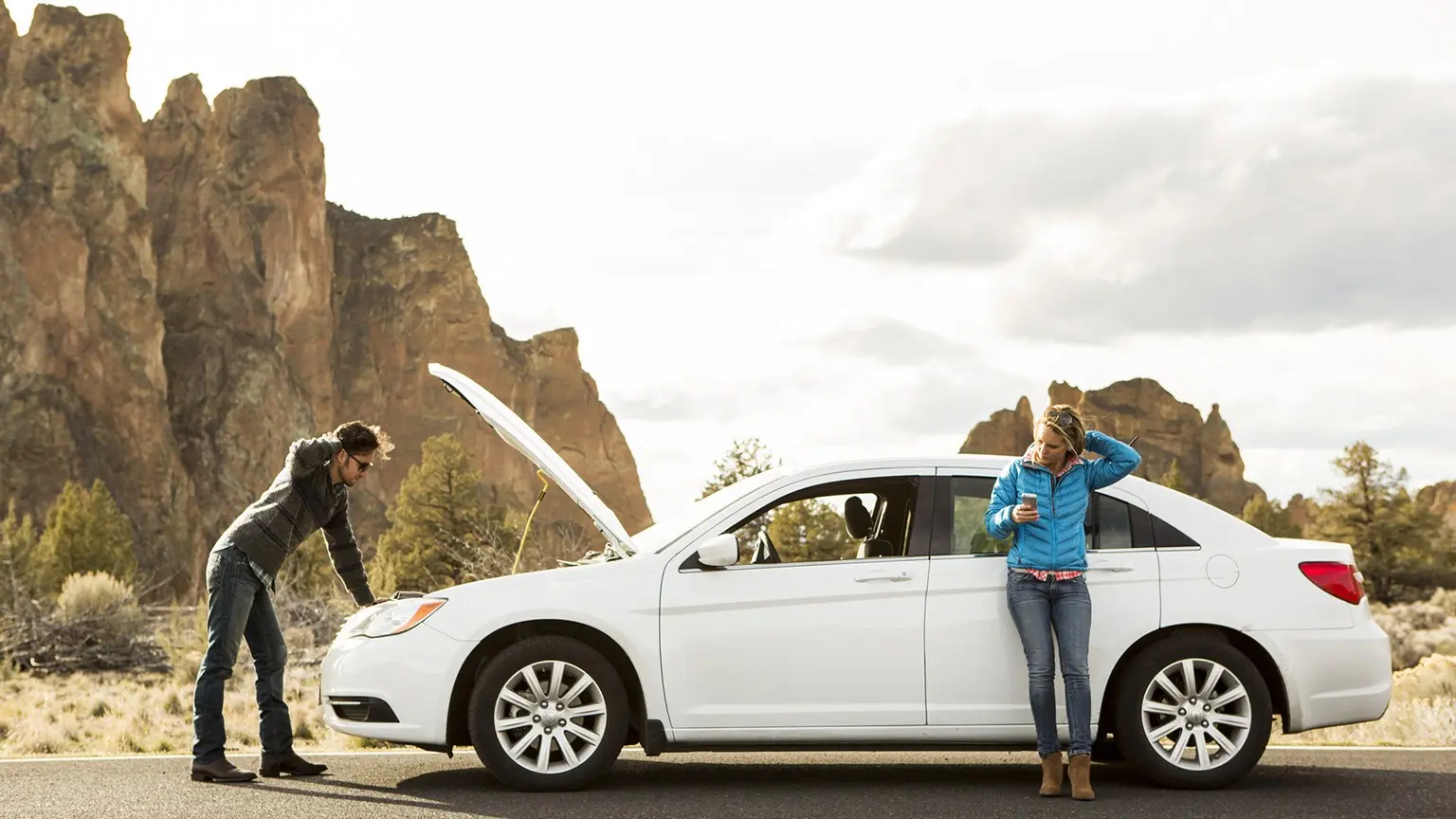 We're reader-supported and may be paid when you visit links to partner sites. We don't compare all products in the market, but we're working on it!
Has your tank run dry just a few kilometres out of Cairns? Engine refuse to turn over after a quick stop for lunch on the Warrego Way? With the many problems you can encounter on the road, it's important to have a plan for what to do when things go wrong. With roadside assistance, you have that plan built in. Don't waste time with expensive towing costs and inaccessible repairs when you could be off enjoying the sun-soaked beaches; invest in roadside assistance.
Get roadside assistance from $7 a month
Who else offers roadside assistance?
| Company | Cost per year | Joining fee | Callout limits | Need to hold a policy with them? | Lockout / Lost key | Out of fuel | Breakdown towing | Get quote |
| --- | --- | --- | --- | --- | --- | --- | --- | --- |
| | Included with a comprehensive policy | $0 | First 2 included | Yes | $150 | 10 litres | 50km in the city, 20km in rural areas | Get Quote |
| | $79.95 | $0 | Unlimited | No | $125 | $15 | 15km in the city, 50km in rural areas | Get Quote |
| | $83/year | $0 | Unlimited | Yes | $150 | Enough to reach the next petrol station | 20km in the city, 50km in rural areas | Get Quote |
| | $113 | $0 | Unlimited | No | Yes | Yes | 20km in the city, towing to nearest NRMA centre in rural areas | Get Quote |
| | $86 | $0 | Unlimited | Yes | $250 | $10 | 20km in the city, 100km in rural areas | |
| | $99 | $0 | Unlimited | Yes | $200 | Yes | 20km in the city, 50kms in rural areas | More info |
| | $95 | $0 | Unlimited | Yes | $250 | $10 | 20km in the city, 100km country | |
| | $95 | $0 | Unlimited | Yes | $250 | $10 | 20km in the city, 100km country | |
| | $84 | $0 | Unlimited | Yes | $250 | $10 | 20km in the city, 100km in rural areas | |
*Always read through the product disclosure statement (PDS) to make sure the product is suitable for you.
What does roadside assistance cover me for in Queensland?
You may get extra options and services depending on who your provider is, but there are certain basic features that are a part of pretty much any roadside assistance plan:
Flat battery. Running out of juice can leave you stranded without even a way to charge your phone. A roadside assistant will be able to provide you a quick jump-start to get you rolling again.
Empty fuel tank. On a long road trip along one of Queensland's many scenic highways, it can be easy to forget or misjudge just how much fuel you have. If you run out, roadside assistance generally carries a bit of petrol or diesel, or will tow you to the nearest pump.
Engine trouble. Whether it's billowing dark plumes of smoke or just acting up, you won't be going anywhere without a working engine. Call roadside assistance to figure out what's wrong and fix the problem.
Lockouts. Don't feel too bad if you're on the outside and your keys are lost or out of reach. Lockouts happen and roadside assistance can help you access your vehicle or even get a new set of locks if required.
Busted tyres. Don't let a nail on the road be the final nail in your holiday. If your tyre's feeling flat, roadside assistance can get it inflated again for you or replace it with a new one.
Towing. Every so often, you'll run into a problem that can't be fixed on the side of the road. In such a case, roadside assistance will tow you to wherever it is you can get professional mechanical help.
What happens if I'm travelling interstate?
If you tire of the beaches and waterfalls of Queensland and take a trip out of state, there's no need to fret about whether your roadside assistance will apply elsewhere in Australia. Whoever you've signed up with should have partnerships with other providers across the country to keep you in good nick on your travels.
How do I choose a roadside assistance brand in Queensland?
There are two options when it comes to securing yourself a decent roadside assistance service in Queensland. One option is to take out a standalone roadside assistance policy from a provider like Budget Direct or 365 Roadside Assistance. These carry no extra obligation, but double check the response time for whatever you choose – it could be worth paying a little more per year to shave a few hours off your wait.
The other choice is to bundle up roadside assistance with another insurance policy. If you take out comprehensive car insurance with a company like AAMI or GIO you could save a bit of money by adding roadside assistance on as an extra. As always with insurance, what you decide should be based upon what you need and what you can afford.
Who has the cheapest roadside assistance in Queensland?
We got the costs of roadside assistance for a few car insurance companies in Australia.
Standalone:
24/7 Roadservices Australia – $69 a year or $110 for 2 years (3 tiers)
Ultra Roadside Assistance – $74.50 (2 tiers)
Budget Direct – $79.95
365 Roadside Assistance – $89 (3 tiers)
RACQ - $97 (5 tiers)
With comprehensive insurance policy:
Youi – free
Apia – $84
AAMI – $86
Which providers offer roadside assistance in Queensland?
Picture: GettyImages, Unsplash
More guides on Finder