How much could I save in interest by paying my balance in full?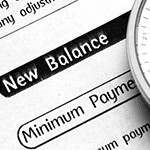 Michelle has a Westpac Low Rate Card with an outstanding balance of $3,000. The debt accrues interest at the purchase rate, which is 13.74% p.a., and she must repay 2% every month. If she doesn't make the minimum repayment, Westpac charges a late payment fee of $15.
Minimum repayment only. If Michelle only pays the minimum amount each month, it will take her 16 years and 4 months to pay off the balance. It will also cost her $2,980 in interest.
Paying more than the minimum. If Michelle increases her payments to $100 each month, she will save $2,351 in interest repayments. She will also pay off the debt in 3 years and 1 month, or 13 years earlier than if she only made minimum payments.