How to earn Flybuys points with your credit card
Turn your purchases into rewards with a credit card that directly earns Flybuys points.
We're reader-supported and may be paid when you visit links to partner sites. We don't compare all products in the market, but we're working on it!
The Coles Flybuys rewards program is one of Australia's largest and most popular loyalty programs with its hybrid supermarket-slash-
frequent flyer rewards program
. The Flybuys program regularly offers cross-promotions with its extensive network of partners, introduces new ways to earn points and expands the ways you can redeem them. Best of all, it's free to sign up. Plus, you can earn Flybuys points beyond Coles and its partners when you sign up for a credit card that's linked with the Flybuys program.
If you already have a Flybuys account or are considering signing up, this guide will teach you how you can earn more Flybuys points with a credit card and discuss the pros and cons of using a Flybuys credit card.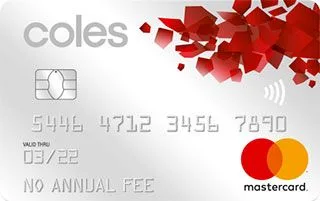 Coles No Annual Fee Mastercard
Receive a $100 off a Coles Supermarket shop

0% p.a. for 6 months on balance transfers
Eligibility criteria, terms and conditions, fees and charges apply
Coles Credit Card Offer
Reward your spending with Flybuys points and $100 off a Coles Supermarket shop. Plus, save with 0% interest on balance transfers for the first 6 months.
$100 off a Coles Supermarket shop when you spend at least $1,000 in the first 60 days
Ongoing $0 annual fee | 19.99% p.a. purchase rate
Earn Flybuys point per $1 spent on eligible purchases
0% on balance transfers for 6 months
Compatible with Apple Pay and Samsung Pay
Compare credit cards that earn Flybuys points
Guide to the Flybuys Frequent Flyer Rewards program
How can I earn Flybuys on my credit card?
Currently, Coles is the only credit card issuer that offers products that let you directly earn Flybuys points on your eligible everyday purchases. When you get one of these credit cards, your credit card account is linked to your Flybuys account and Flybuys points are directly credited for eligible transactions charged to the card. The number of Flybuys points you earn per $1 spent, or your earn rate, ranges from 0.5 point per $1 spent on the Coles No Annual Fee Mastercard to up to 2 points per $1 spent on the Coles Rewards Mastercard.
You can also earn extra (or double) Flybuys points by tapping your Flybuys membership card at the checkout at the same time. With your Flybuys membership card, you earn 1 point per $1 spent, which means that if you use a Coles Rewards Mastercard and tap your Flybuys card when making a purchase, you will earn 3 Flybuys points per $1 spent.
The requirements pertaining to card membership, additional cardholders and eligible transactions differ with each credit card, so follow the individual credit card links to learn more about each card, its features and eligibility requirements.
How can I redeem my Flybuys points earned with my credit card?

In the same way that you'd track and manage the Flybuys points earned using a Flybuys loyalty card, the Flybuys points earned with your credit card can be accessed and redeemed online via the Flybuys website. Simply sign in to your Flybuys account, shop for your rewards and follow the prompts to finalise your redemption. You can redeem Flybuys points for credit off your next shop, or for merchandise, entertainment tickets, flights and hotels, and even transfer them to partner frequent flyer programs like Velocity Frequent Flyer. Alternatively, you may request a redemption by calling the Flybuys service centre at 13 11 16.
What are the pros and cons of using a Flybuys credit card?
Pros
Earn points as you spend. Flybuys-linked credit card will reward your everyday credit card spending. Plus, if you're shopping with a Flybuys partner, you can earn double the Flybuys points by tapping your Flybuys loyalty card at the checkout as well as spending with your credit card.
Instantly convert points to cash. With Flybuys-linked Coles credit cards, you can instantly convert 2,000 Flybuys points into $10 off your next shop at any Coles store.
Free membership. Certain frequent flyer programs require that you pay a registration or annual fee, but the Flybuys program doesn't charge such a fee. Please note that your credit card may come with an annual fee, though.
Get more than flights. You can redeem your Flybuys points for more than flight rewards. You can also get gift cards, convert your points to cash, or choose from an array of merchandise.
Convert points into frequent flyer points. If you'd prefer, you can also transfer your Flybuys points to an Etihad Guest Miles or Virgin Velocity frequent flyer account.
Enjoy bundled discounts. With attractive incentives to spend within the large network of Flybuys partners, you can save money or earn multiple Flybuys points by taking up exclusive partner promotions.
Cons
Few linked credit cards. Not many cards are directly linked to the Flybuys program, which limits your choices to a few card providers.
Higher annual fee for faster earn rate. The Coles Rewards Mastercard charges a $99 annual fee to earn up to 2 points for every $1 spent, compared to the Coles No Annual Fee Mastercard which lets you earn 0.5 points per $1 spent.
Limited travel benefits. You may be disappointed if you're looking for benefits like priority check-ins, travel insurance cover and lounge access. Unlike traditional frequent flyer programs, Flybuys doesn't directly offer these.
Restrictions. Flybuys customers are limited to earning points only with partner merchants, so you'll want to make sure that their network of partner stores caters for your existing spending habits
Expiry. Flybuys points and dollars will expire if you fail to earn or redeem points for 12 consecutive months.
In general, the Flybuys program offers a competitive way to be rewarded for your daily expenses. Using a Flybuys credit card on top of that can double or triple your earn rate to maximise your rewards. However, make sure that you compare your options and ensure that the costs of the card don't outweigh the Flybuys perks before you apply.
Frequently asked questions
Back to top
More guides on Finder
HSBC Platinum Credit Card

This card offers 0% interest on balance transfers for 36 months, a discounted $29 first year annual fee and platinum benefits including airport lounge passes and complimentary insurance covers.

American Express Velocity Business Card

The American Express Velocity Business Card earns points per $1 spent and offers complimentary travel insurance and two complimentary Virgin Australia lounge passes each year.