Travel insurance is important for anyone to have, but when you head off overseas on your own or with other like-minded nomads, there are lots of things that can go wrong when you venture away from the normal tourist routes.
This guide looks at World Nomads Travel Insurance; insurance designed with the independent world traveller in mind. It summarises the various levels of cover for overseas medical treatment, theft or damage to belongings, trip cancellation and personal liability, as well as World Nomads' unique optional covers such as adventurous activities and protection for expensive photographic equipment.
World Nomads travel insurance discount codes and coupons
Interested in other travel insurance discounts?
It looks like we don't have any coupons at the moment. Take a look at our most recent deals
How do I apply for cover with World Nomad's?
How do I apply for cover with World Nomad's?
Applying for World Nomads Travel Insurance is a straightforward procedure. After comparing the policies and levels of cover and deciding which best fits your needs, you can obtain a quote from the World Nomads website in just a few clicks. Follow these easy steps:
Step 1: Obtain a Quote
Simply enter the fields in the featured box on their home page, choosing: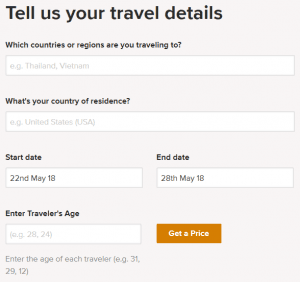 The countries or regions you intend travelling to
Your country of permanent residence
The start date of your journey
The end date of your journey
The ages of those who are travelling with you and who want insurance (or only your age if travelling alone).
Once you've entered your details, click Get a Price
Step 2 – Enter discount code and choose your policy
1. Scroll down to the bottom of the page and enter your finder.com.au code.

2. Click Apply and the discount will be applied!

3. Scroll back up and choose between two policies: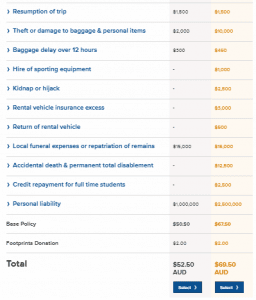 Standard Plan
Explorer Plan
Benefits and drawbacks of each:
Standard: Great choice for affordability but the coverage is limited in comparison to the Explorer e.g. $3,500 in cancellation costs as opposed to unlimited cover in the Explorer policy.
Explorer: This is the policy you would select if you are after a premium level of cover with a comprehensive scope of benefits including sports equipment hire or bungee jumping.
Click the Select button below your chosen policy.
Step 3 - Add extras
Specify High Valued Items
For an additional charge, you can add your important possessions into the policy so that you are covered without any depreciation being applied.
Under "High Value Items" simply:
Click on the item type
Enter the name of the item (eg, 2013 Edition iPad)
Provide a value for item (eg, $200)
Click Add
Repeat these steps for any other high-value items
Add Cover for Adventure Activities
If you'll be doing any adventure activities, make sure you add them in because they may not be covered otherwise.
Under "Make sure you're covered for all your adventures" simply:
Click into the blank field for a drop down box of activities
Choose an activity that you'll be participating in
Click Add
Repeat steps for any other activities you plan to do
Step 4 – Personal details
Here's where you will enter your personal information:
Full name
Date of birth
Email
Mobile Number
Street Address
Suburb
Postcode
State/Territory
Agree to the terms and conditions
Make sure you read the product disclosure statement and then agree to the terms and conditions. Then click "Continue to payment".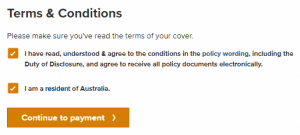 Step 5 – Payment
On this page you will have a payment summary of the policy you have choses, any extras you have added and the total cost. Once you are happy with the quote, enter your payment details.
Enter your payment details
You'll need to enter the following pieces of info:
Name on the credit card
Card number
Expiry date
Security code
Once you're done filling this out, click Buy Now and you're all done!
---
What policies are available from World Nomads?
World Nomads Travel Insurance is flexible travel cover for independent world travellers. With a choice of Standard or Explorer Plans, it covers:
Emergency overseas medical & dental treatment – includes medical expenses for sudden illness or serious injury, emergency dental treatment, chiropractic, acupuncture and osteopathic treatments, clinical psychology following trauma and daily hospital expenses.
Medical evacuation and repatriation – transport to the nearest appropriate medical facility after sudden illness or injury.
Cancellation & trip interruption – cancellations due to sudden illness or serious injury, natural disasters, strikes or lost passports.
Cover for your belongings - theft or accidental damage of gear such as iPads, laptops and digital cameras up to individual item limits.
Personal liability – covers third party compensation and legal expenses.
World Nomad values world travel and adventure seeking, so all policies automatically include special benefits for "adventure, work, study and volunteer". These include certain adventure sports and work-abroad activities that other insurers might charge more for. You can also buy extra cover for a wide variety of adventure sports that aren't automatically provided with the policy. These activities include trekking, scuba diving, skiing, boarding, mountain biking and many more.
---
Who is World Nomads underwritten by?
World Nomads operates out of several countries including Australia, the UK, the United States and Canada. In Australia, World Nomads insurance is managed by Cerberus Special Risks (Cerberus) and underwritten by certain underwriters at Lloyd's.
---
Pros and Cons of World Nomads
World Nomads Travel Insurance has a lot to offer the world traveller. Some of their many advantages include:
Pros
The ability to buy or extend your cover even when you are already overseas
Cover for gear that many travel insurers won't insure, from iPads and laptops to digital cameras and the option to increase benefit limits on these items
Lets you claim online while you are still travelling
Is available to travellers from most countries
Covers most adventure activities (unlike many other insurers)
Has exceptional worldwide 24/7 Emergency Assistance if something goes wrong.
Cons
Most pre-existing medical conditions aren't covered.
---
How do I make a claim with World Nomads?
World Nomads has made claiming easy in an effort to ensure you get paid as quickly as possible. They have worded their policies clearly to avoid any confusion and their Help Desk is always there if you have questions or need help with your claim.
To claim online, even when you are overseas, simply go to the Claims page and enter your member login and password to begin the claims process. You can also call World Nomads in Australia on 1300 787 375 or from overseas on 61 2 82630400.
---
World Nomads F.A.Qs
---
Compare World Nomad's Travel Insurance with over 20 other providers