Aussie
An Aussie mortgage broker can help you find the right loan and walk you through every step of the process.
We're reader-supported and may be paid when you visit links to partner sites. We don't compare all products in the market, but we're working on it!
If you're looking for a good home loan but don't know where to start, an Aussie mortgage broker can help you find a competitive deal.

After entering your details a mortgage broker from Aussie will call you. They will discuss your situation and help you find a suitable loan.
A comparison of home loans from multiple lenders.

Expert guidance through the entire application process.

Free suburb and property reports.
---

The Adviser's number 1 placed mortgage broker 8 years running (2013-2020)
You probably know that when choosing a home loan, you when will need to compare and choose the lender as well as the loan. A choice you may not have known was open to you is using the services of a mortgage broker. A broker has the industry experience and the expert knowledge to help with your choices and comparisons.
Aussie mortgage brokers
Aussie can compare thousands of home loans to help find the right deal for you. You'll get a free appointment and will get to see all the features of a loan, like exit fees and penalties, as well as the rates.
Aussie has won The Advisor's Top Broker award every year since 2013. Aussie is a mortgage broker, not a bank. The company is a subsidiary of the Commonwealth Bank of Australia Ltd. Credit for Aussie's own mortgage products is provided by Residential Mortgage Group Pty Ltd, Pepper Finance Corporation Limited and Bendigo and Adelaide Bank Limited.
Who do Aussie mortgage brokers work with?
When you go to an Aussie mortgage broker they will compare home loans from over 20 different brands to find which one is right for you (keep in mind that not every Aussie broker will have access to loans from all 20 lenders):
AMP
ANZ
Aussie
Bank of Melbourne
BankSA
Bankwest
Commonwealth Bank
Heritage Bank
HomeStart
HSBC
ING
Keystart
Liberty Financial
Macquarie Bank
ME Bank
MyState
NAB
P&N Bank
Pepper Money
St. George
Suncorp Bank
Virgin Money
Westpac
What does a mortgage broker like Aussie do?
A mortgage broker will do all of the hard work and research in comparing loans and lenders based on your needs and eligibility. Your broker will also negotiate with your chosen lender on your behalf to make sure you are getting the right deal.
Aussie mortgage broker services will offer you:
A fee-free appointment. Aussie mortgage brokers are able to offer you their time and knowledge for free, because they are paid a commission by the lender you choose once your mortgage is settled.
Time-saving home loan comparison. The key to finding the right home loan and one which will see you through your home repayments as easily and affordably as possible is taking the time to make comparisons of each loan product. However, there are literally thousands of loans available in Australia at the moment and few people have the time to compare each one. That is where Aussie comes in because they do have the time and tools to help you.
Easy to understand guidance. If you have a host of questions about your home loan and were to spend the time asking a lender for all this information, you might feel obligated to sign with that lender. However, when you deal with an Aussie mortgage broker they will explain the details of each loan and answer all of your questions so you're happy with your choice and can make an informed decision.
Loan application assistance. Filling out the loan paperwork can be confusing and if you get it wrong, you could jeopardise your chances of loan approval. With Aussie making sure your eligibility criteria are satisfied and your application is completed correctly you have one less thing to worry about.
An ongoing service and relationship. You can use an Aussie broker for your first home, your second, third or fourth home, or for an investment property loan. Aussie can also help you negotiate a refinance of your existing loan to help you get a better deal or free up the equity in your property.
What are the benefits of choosing an Aussie mortgage broker?
If you're looking for a few more reasons to instil your trust in an Aussie mortgage broker to secure you the right home loan for you and your family, compare these exclusive Aussie benefits:
Consecutively awarded 'Australia's Top Mortgage Broker'. Aussie has won The Advisor's Top Broker award every year since 2013.
Toolbox. The Aussie Toolbox software compares thousands of loans from a range of Australian lenders, including the big banks. The software is constantly updated and takes into account honeymoon interest rates and other discounted rates to give you an accurate picture of the true cost of a home loan.
Assess your eligibility and needs in minutes. The Toolbox software can also tell you how much you may borrow and what your repayments will be.
Organise preapproval. An expert Aussie mortgage broker can meet with you before you start your search for your dream home, so you can be sure of the budget you have available for repayments, and your borrowing capacity.
Qualifications. All Aussie mortgage brokers are fully accredited by the Mortgage & Finance Association of Australia (MFAA) and have a Certificate IV (Financial Services) Mortgage Broking.
Aussie mortgage brokers can offer you a comprehensive service and personalised advice at a time when there is a lot of information coming at you, and very little time to digest it all.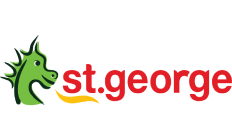 St.George Basic Home Loan - LVR 60% to 80% (Owner Occupier, P&I)
Up to $4,000 refinance cashback. With this competitive variable rate loan from St.George, refinancers borrowing $250,000+ can get up $4,000 cashback and borrow up to 80% of the property's value (terms, conditions & exclusions apply).
Disclaimer
Credit for Aussie Elevate home loans and offset accounts (if applicable) is provided by Bendigo and Adelaide Bank Limited ACL 237879. Credit for Aussie Select home loans is provided by Residential Mortgage Group Pty Ltd ACL 414133. Credit for Aussie Activate home loans is provided by Pepper Finance Corporation Limited, which is serviced by Pepper Group Pty Ltd ACL 286655. AHL Investments Pty Ltd ("Aussie") Australian Credit Licence 246786 is a subsidiary of the Commonwealth Bank of Australia.
Applications are subject to approval. Conditions, fees and charges apply. Please note that you need to be an Australian citizen or permanent resident to apply.
More guides on Finder